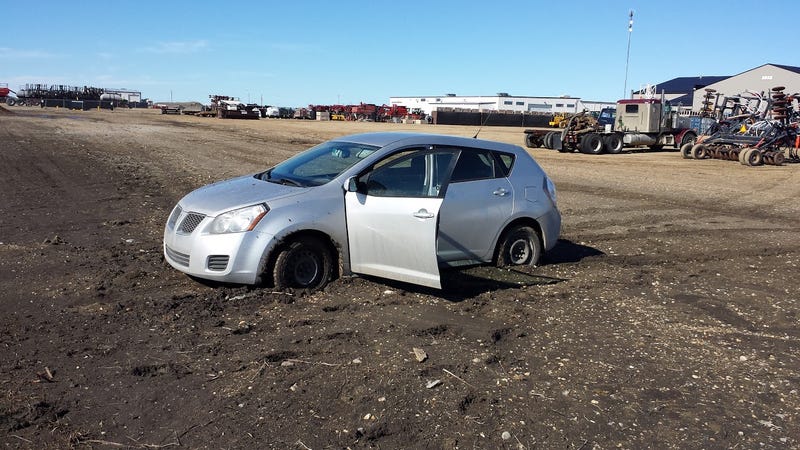 up to the floors in the gumbo. The last time this happened I got out, but but in three wheel drive, and after 2 hours of highway speed in the rain going home, I had a Rear wheel drive only Honda CR-V (only through the magic of viscous power transmission did the car limp home). Fixed that car but replaced it with this vibe. I've been too busy to bullshit about cars on the internet recently, so I'll take this time in the mud to update my internet friends.
Project car season is upon us, and I scored a set of 15" steelies from a 71 custom 500 to allow for baby moons on my toyota, which
will be the only chrome on the finished project. looking to spiff up the vibe with a set of z24 5 spokes painted black or charcoal with a squared off teardrop applied to each spoke mimicking a pontiac rally II as found on the original judge. follwed by either judge stripes re designed to say "vibe" or the ever popular 5 colour screaming chicken on the hood (makes any car faster).
The 65 gmc 910 pickup I completely re-wired with a kit that was all kinds of wrong, barked to life on the first crank with a thimblefull of gas poured in the carb. Ran on it's own after the second thimblefull of gas and so far, everything works, Damn it feels good to be a gangsta, for a minute then I realize I'm that tool with an economy car stuck in the mud.