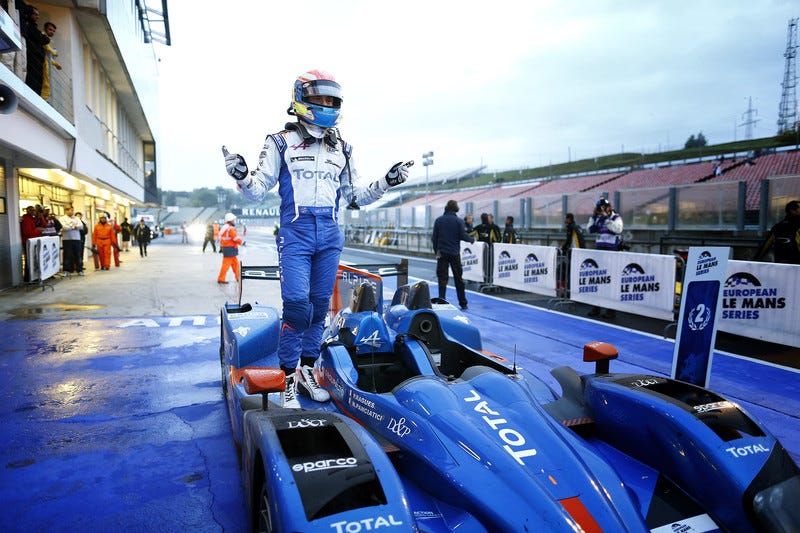 As some of you may know, the Signatech-Alpine team recently won the European Le Mans Series championship in the LMP2 class. Thanks to their definitely brand-new Alpine A450 that is definitely not an Oreca 03 painted blue with Alpine written on it, the French team has secured victory thanks to three podium finishes and a win in Hungary. After a rather good but somewhat disappointing performance at the 24 Hours of Le Mans, Alpine is back to motorsports success, 35 years after the Alpine A442 won the famous endurance race.
Here's hoping that they won't stop there and that we'll get to see a proper Alpine prototype in a few years. In the meantime, I'll go back to eagerly awaiting the arrival of the Alpine-Caterham road car (I don't know about you guys, but there's never been a car I've been more excited about. This may have to do with me being French and whatnot).
In other news, small carmaker PGO have anounced that they will enter a modified Héméra (you know, that weirdly cool-looking thing up there) in the Critérium des Cévennes rally, part of the French Rally Championship. The car will be driven by Romain Dumas, of Le Mans fame. This is particularly appropriate, since both the carmaker and the driver come from the small town of Alès in southern France, where the race will be held at the end of October. They're going to call it the Héméra GT, apparently, but no word yet on wether or not it'll spawn some kind of production version.
They will, however, offer soon a hardtop version of their Cévennes roadster, and I have to admit it looks better than the Héméra.
In the end, it looks like there is finally some new stuff happening in this small and nostalgic world that are French sports cars beyond hot hatches and FWD coupés, and I'm loving it ! Also, does anyone have a spare €240 they're not using so I can buy the freaking awesome official Alpine helmet ?
Pictures : Signatech-Alpine, South Car Photography