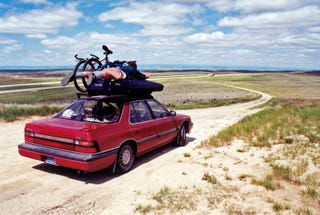 Setup: You've got a year or so to work/travel in Canada and want a car but only have a beater budget: what do you buy??
This came up on a FB group I'm a member of and I figured it made for a good excuse to browse used cars...
Budget: $3000 Canadian inc taxes which is more like $2500 before you pay HST and licensing.
Location: within a reasonable distance of Oshawa, Ontario say 25-75 km since you don't have a car yet...
Brief: you came over with a backpack, you have no tools, no garage, no local mechanic or buddies with welders, oh and you're broke as a joke working short term casual jobs.
Car should probably be at a dealer since you just moved here and have no idea how licensing works.
You want to explore the vast open spaces of North America and there's a Canadian winter coming: needless to say reliability and is your #1 concern here followed by cheapness to keep running.
Manual shift is fine and bonus points if you can camp in it.
To autotrader.ca batman- Go!