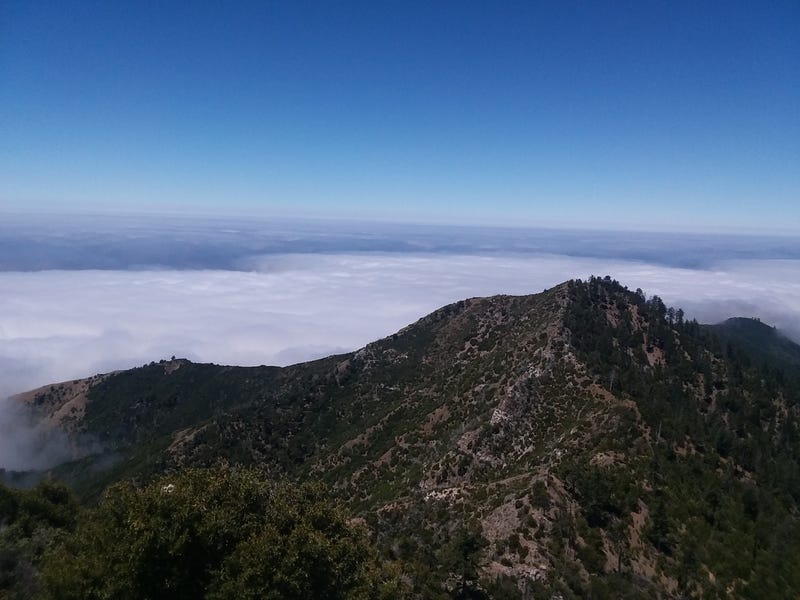 This past weekend I went up the coast to Big Sur in order to do some hiking and camping. It was a pretty epic trip and truly one of the best hikes I have ever done. This was also the first time I've gone on my own with my full gear onto the trail, as opposed to car camping in an established full service campground. In general ive only ever had one other backpack camping trip as well so this was quite the experience. I spent two nights in the woods, hiked 10 miles (~1500 ft up) with 37 pounds of gear, and hiked 13 miles (~4000 ft up) with just water/snacks (~10 pounds). It was definitely an adventure! And of course the drive there and back was a wild ride in the Miata.
The hike with full gear on to get to my "base camp" was definitely rough just due to the pack weight but overall the much more challenging hike up to the peak was still more of a physical challenge. My goal was to hike Cone Peak, which is the highest coastal peak in the lower 48. The 4000 foot climb to a peak of 5100 feet was certainly something within my capabilities so I had a blast. The views along the way and at the top made every bit of effort worth it. The typical coastal cloud cover didn't allow for spectacular ocean views but it just gives another reason to come back! Photo dump from Saturday's peak climb:
Plus my campsite was totally empty unlike the fully booked campgrounds down by the ocean. Although, they did have some pretty sweet views down there with no effort required!

Overall I was more happy to have the quiet solitude of a trail camp rather than the simplicity of not carrying my pack. Plus I wanted to work on my Backpacking skills anyways. My preparation needs more work since 38 pounds of gear is a lot for my 150 pound body weight. Ideally I want to get that closer to 30 to make it a little more pleasant to hike with.

Didn't get time to do any crazy PCH driving but I'll save that for another trip. Climbing over Naciemento-Fergusson road instead was harrowing but not particularly entertaining. It was super narrow and crowded since it's the only open route to/from the South of that area. It was hard to go 20mph so it took a while and wasn't really suitable for spirited driving. I had fun though since Miatas feel fast still at 20 lol.