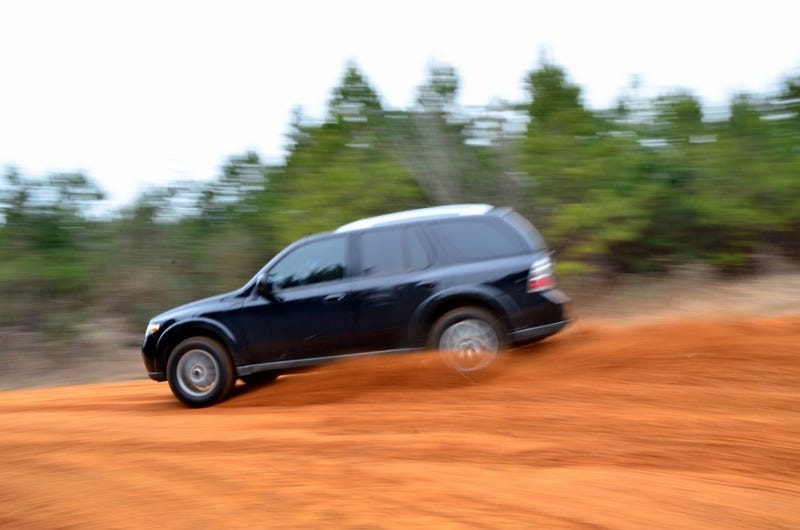 Repost for the read at work on the weekday crowd.
Winter 2013-2014 has been the 100 proof sort of winter that can impair one's judgement; the sort of winter that requires so many layers of pants to perform a timing belt replacement on your 24V Alfa Romeo V6 outdoors, that you start to question your homo erectus ancestors' choices in mates – you couldn't find someone with hairier legs?
In fact, this winter has been so bitter that I agreed to fly to Texas to help my friend Andrew drive his recently purchased Saab 9-7x back to Indiana. Yes, I agreed to a 1,000 mile drudge in an SUV designed to stuff GM's koffers while providing Midwesterners the ability to travel excessive distances by themselves to pick up some Chik-Fil-A, load up their cargo hatches with Duck Dynasty apparel at Wal-Mart, and make it home in time to inhale hours of cable television. Or with the addition of the Saab badge, a Swedish shuttle designed to traverse snowy roads to fish markets, load up on furniture at IKEA, and make it home in time to watch 12 hours of a log burning on television.
Hyperbole aside, I had a few substantial reasons to look forward to the trip. First, the obvious weather relief, and the chance to visit Andrew's family in Houston. Second, we planned on driving up the Natchez Trace Parkway, a scenic path connecting Natchez, MS to Nashville, TN. And finally, because I have a soft spot for the GMT360 platform. Our friend Malhon has a Trailblazer, with which I've gradually bonded each time I've summoned it to tow one of my disabled cars – the GTI when the alternator failed on I-70, the Milano when it threw a rod 300 miles from home, and the 164LS when it spun a rod bearing. Of course, it's an irrational bond, as really most vehicles made of metal could tow my cars. Even a Saturn could. Suffice to say, I've found the platform (and Malhon) to be dependable when my cars are not.
Landing in Texas, we were greeted by Andrew's parents in a Mercedes E320 Estate. Weird. Up to this point, I thought that to qualify as a Saab person, you could only be related to other Saab people. Well, after dissecting the sprawl of Houston and pulling into Andrew's parents' driveway, the confusion began to subside. Sure, Andrew's dad has a M-B, but it's towing implement; a necessity brought upon by dingy ownership, and proximity to the bay. But for motoring, he keeps the 89 Saab 900 Turbo in the driveway. Swedish legend has it that at one point, all three Marracks drove Saabs – a 9-3 Aero wagon, a 9-5 Aero wagon, and a 9000 Aero. If they made a 9000 wagon, I'm sure that it would have rounded out the trio in place of the 9000 sedan.
In Houston, a sweeping tour of the city by means of 900 Turbo was followed by brief stints in a Ferrari 456 and a 996 Porsche 911. In the Dubai of America, we hardly made a scene in either. Though, I nearly made a scene in Bellaire Broiler Burger by almost ordering a single patty burger. I identified my error, corrected my order to a double decker, and order was restored. We even drove East, past the oil refineries, to the bay for some sailing. Out on the bay, some bravado (another GMT360 platform mate) led to a brush with hearing-loss, but a gigantic winter sunset on the water sufficiently atoned.
Anxious to begin the drive up the Trace, we made one last stop at Whataburger, and crossed the swamps of Louisiana into Mississippi. Andrew has family in Natchez, so we stayed with his Aunt and Uncle, who shared Andrew's grandfather's work as a photographer in Natchez with us. The view across the Mississippi to Vidalia, LA was especially impressive to me, having only really experienced the Mississippi in St. Louis, where it's unimpressive and makes me suspect that Mark Twain was a liar. It was impressive to Andrew as well, though proportionally less, due to the Texas coefficient of expansion that factors into his Texan perception.
Within the first minute of driving up the trace, early in the morning, we established that collision with a bird was close at hand. And within the first two minutes of driving, we had collided with one. Once stopped, we pried the carcass from the Saab's grill, but not before Andrew, a Texan and instinctive hunter, was able to photograph our quarry.
Taking a page out of Putin's book, we descended onto a peninsula, protruding into a large reservoir, for some photos. This marked the first display of the Saab's sport/utility – utility for the steep approach to the peninsula, and sport for the massively juvenile all-wheel drive launch to 50 mph in the grass before reentering the Trace. The 285 hp from an updated LL8 or Vortec 4200 straight six on tap provide the Saab with surprisingly brisk acceleration for a vehicle of its heft. In spite of the four-speed automatic transmission, the drivetrain was eager to adapt to different load commands, and reacted to climbs and passing scenarios with aplomb. The GM seats were comfortable on the extended drive, and the self-leveling suspension aptly tuned out any harshness in the ride. Steering feel isn't important to me on a vehicle like this, but the speed and effort are, and the Saab really thrived on the sinuous Trace, providing reasonable reactions to steering inputs, displaying relatively little of the vagueness usually associated with body-on-frame SUVs.
So, for what it is, the GM bits seem to work pretty well, but what about the Saab component? I really like the styling. Saab got a bit desperate at the very end, but 2005 was a decent year for Saab design, and the 9-7X benefits from sharp lines and a dearth of fuss. It really is just a Saab fascia on a Trailblazer, but the transformation is successful, and quite sleek in black.
Now, the fun part: how does it hoon? The Natchez Trace offers few distractions from its seclusion, save for some ancient Native American mound sites, and the spot where Meriwether Lewis was found dead. So, finding a spot to hoon wasn't so straight-forward. From the Trace, you can see plenty of dirt roads and trails, but access to them is limited. When we finally did find access to a clay road, we obliged.
I found a spot to snap some photos of Andrew getting sideways, but the combination of his protectiveness of his new Saab and my lack of aptitude with panning resulted in mediocre shots. We traded implements and got some better results. Andrew's genetic affinity for photography proved to be more valuable than my photography course experience at engineering school. Likewise, my experience driving all-wheel-drive vehicles in the snow each winter beat out Andrew's winters of southern comfort. I broke the rears loose from the clay, dialed in some countersteer, and slid the Saab for some photos. The clay was entertaining in its own right, but in the snow, the Saab should be a riot, SUV or not.
We made it to Nashville right after sunset. The dusk lighting made the minor slog through traffic much more tolerable. Cruise control set, the 9-7X rocketed though Kentucky up to southern Indiana without protest.
Now the Saab is back in Illinois, where Andrew keeps his e34 BMW 535i and his Saab 9000 Aero. The 9-7X lies right in the middle of his straight 6-ylinder / Saab Venn diagram. As a sailboat enthusiast, Andrew will surely see to it that the Saab is put to work towing water vessels from his home to the water. And, hopefully it will see utilization as a creative project enabler – 24V Alfa V6 Saab 9000 Aero swap, anyone?
Original post can be found here. For more stories about life with our 84 GTI, 88 911, 87 2.3-16, Alfa Milano Verde, Alfa 164LS, e30s, and more, check out the BlythBros. Blog or Facebook We promise not to be too bitter. Sort of.
Thanks to the Marrack family for the hospitality. Most photos are from Andrew. Don't like a photo? It was probably taken by Graham.