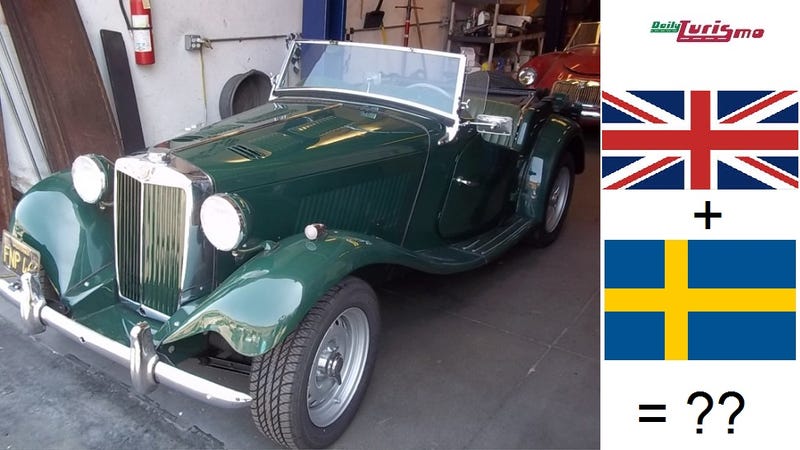 You've just selected a Mulliner Coachworks body for your Rolls Royce chassis and drive train. Too expensive? Perhaps you can get your car's coachwork at London's world famous Harrod's department store then traipse across town to find your drivetrain at an IKEA.
Save yourself the trouble because someone already did the work and now wants to sell it. Find this 1951 MG TD with Volvo B18 inline-4 and 4-wheel disc brakes for sale in Chatsworth, CA currently bidding on eBay for $8,100 reserve-not-met with 2 days to go.
Externally, this MG TD looks like every other TD series car build from 1950 to 1953, which isn't a bad thing. The only thing out of the ordinary cosmetically is the use of non-wire wheels, which is frankly refreshing as they tend to be over used in the classic British sports car world.
Pop the hood and everything in here looks proper as well, some MG embossed air cleaner housings attached to a twin-carbed inline-4...except that isn't the XPAG 1.3 liter that would have barely managed a 77 mph top speed from its 57 horsepower. It is a Volvo B18D inline-4, a 1.8 liter engine good for 95 horsepower and millions of miles with proper maintenance. The final thing we want to point out is the Bosch battery sitting there, which is probably a new piece given the owners admission that the car has sat for 12 years. Why the fuss? If the seller were a cheapskate, he would have picked up the cheapest battery he could find at PepBoys/Walmart etc, but instead he put a good brand name battery into a car he was planning on selling - these little things are always a good sign.
The seller provides quite a few shots of the underside and it does look nice and clean, we especially appreciate the views of the MGA disc brakes at all 4 corners, these are worlds better than the "pump & pray" drums originally equipped.

Even the interior looks nice and clean, especially for the price...which isn't entirely clear given the reserve still in place, but with 2 days to go, the seller shouldn't expect more than a few grand thrown in at the last minute, especially with the reserve not met. This one may show up again.

See a better Swedish powered Anglo? Email us here: tips@dailyturismo.com
Originally posted as 10k: Morris Monster: 1951 MG TD w/Volvo B18 and Disc Brakes on DailyTurismo.com
Photo credits: ebay.