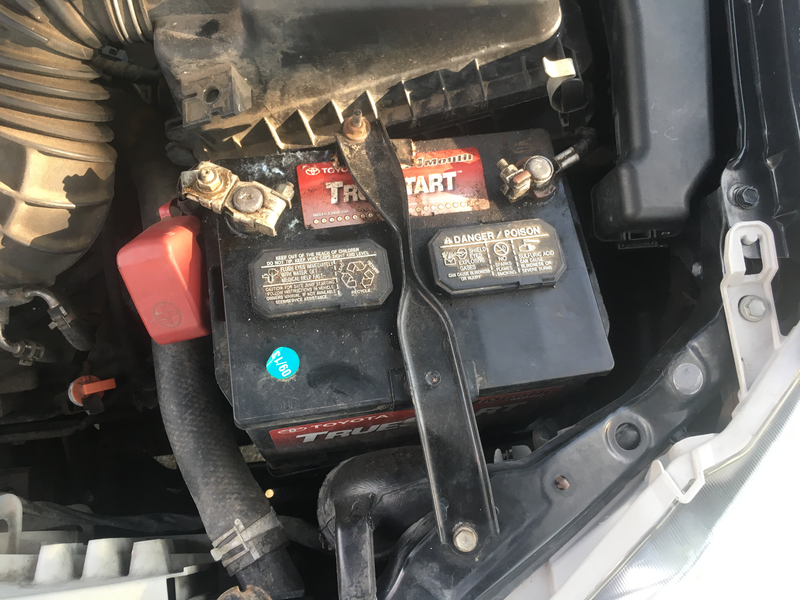 I decided to follow the advice Oppo gave me last Sunday and purchase a new battery. I would like to take this opportunity to thank everyone who commented with their thoughts and advice. It's really nice having a community to be able to go to for advice when I have a question. I also wanted to thank everyone for being so nice with their advice or recommendations.
This turned out to be a lot harder than I initially thought. After some research and recommendations I decided I wanted a Johnson Controls battery. I then decided that I wanted an Interstate Battery (made by Johnson Controls). I then started finding out where I could buy it and found that the closest place was the same Firestone where I got my Tirerack tires mounted. So I went on Monday and ordered a replacement battery. I decided that I wanted the Megatron Plus over the Megatron 2 because for $20 I would get a battery designed for colder temperatures and go from:
A green and white to an all black battery
A five year to a six year warranty
24 to 30 month free replacement and crucially
550 to 640 CCA
I ordered the battery from the manager on Monday with two coupons. The first one dropped the price to the internet price of $120. The second was a $15 off coupon. I was told it would be delivered on Tuesday and that it could be installed on Wednesday. (I could have installed it myself but they won't sell it to you unless they are installing it. The rest of this experience is leading me to just install it myself in the future).
I showed up on Wednesday and had the battery installed. I drove it home and popped the hood to find this:
A green megatron 2 battery instead of the black megatron plus. I double checked my paperwork to find that it was correct and that I had indeed paid for the black plus battery.

Later that night (after taking my medical terminology test which I got a 98% on) I called firestone and explained my situation. They apologized for the mistake and told me to bring it back at my convenience to get this remedied. I was told they would check to see if they still had the battery I ordered and if they didn't they would order one and have it available the next day.
On Thursday I showed up after my dermatologist appointment (gladly knowing the bump on my nose was a benign mole instead of cancer) to firestone. I reexplained what happened and the manager Jason overheard what was happening and came over to investigate. He told me they would fix the situation and went to talk to the tech who installed the incorrect battery. A few minutes later he emerged and told me that they think Interstate sent them a II in Plus packaging. He also had checked and they didn't have a plus in stock for me. He offered me two solutions, he could try ordering another one which could be installed on Friday or he could drive to his other store and pick up the plus and have it installed in about 45 minutes (including drive time). I said I could wait and would be okay with it being done that day. He left to pick up the battery and I walked to starbucks to get a smoothie.
As promised about 45 minutes later the correct battery was installed and I was on my way.
In addition to apologizing he also gave me a card for a free oil change from them whenever I next needed one. I usually do them myself so I don't know if I'll be letting them do that or not because I want to make sure that is done right.
In the future I'm not sure if I'll be having firestone put in a new battery. I think it was probably an honest mistake but it was really inconvenient having to go twice to get a battery especially when I paid to get the battery installed. Hopefully I won't have to do this again for several years.
Thanks everyone for your advice and for reading!