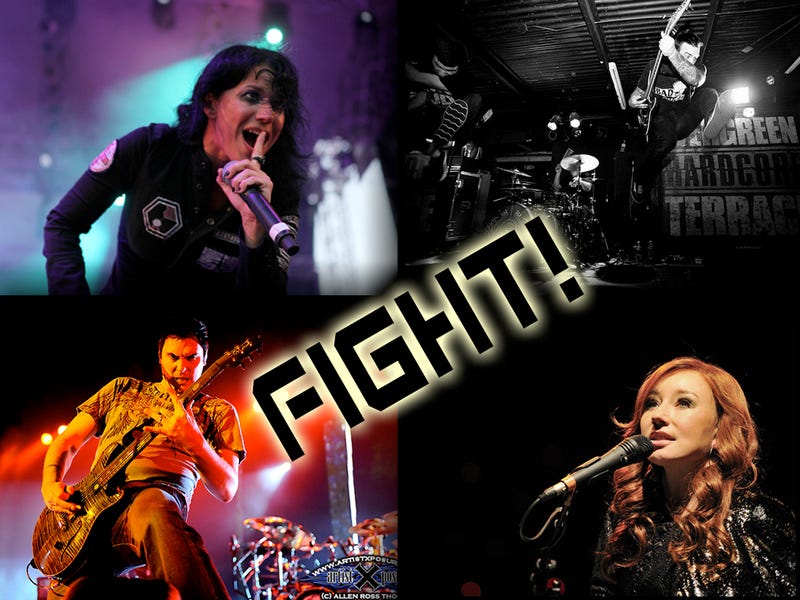 They say silence is golden. As it turns out, singing about silence is platinum. Welcome back to Battle of the Covers, and today we're setting our sights on the hit title from Depeche Mode.
Round three brought us one of those "grey area" covers, where what is widely considered the "original" is really itself a cover. Much like with Black Betty, which fell under the same circumstance, The Animals' original cover was a runaway hit. Unlike Ram Jam, however, The Animals didn't have to worry about fighting off any spiders, and in the end they left the polls with a massive 28 votes, more than twice that of second place Five Finger Death Punch. No contest.
What was a contest was the battle for worst, as the lead was traded repeatedly between Dolly Parton, Muse, and Five Finger Death Punch. At the end of Wednesday Muse had a three point lead. By noon Thursday 5FDP was leading by two, and when the polls finally closed Dolly had eclipsed them both and taken it by one. 5FDP becomes the bridesmaid on both polls.
Enjoy the Silence is, by far, the youngest song to grace our battles thus far, originally being released in 1990 by the legendary electronica/alternative rock Depeche Mode. The song soared to the top of the charts, reaching #1 in three countries (Denmark, Spain, and the U.S.) and cracking the top 10 in eleven others. The single went on to be certified platinum in both the United States and Germany. Since 2000 it has become a staple of the list of "go-to" covers and has been visited by the likes of Tori Amos, Breaking Benjamin, and Susan Boyle.
After admittedly missing a few good covers of House of the Rising Sun last time around I scoured the interwebs for covers of Enjoy the Silence, which I then had to cut down to the best contenders, which is tough. I opted to drop the Mike Shinoda (of Linkin Park) remix, because it still used the original vocals and ultimately I decided if I had to cut something... I also dropped It Dies Today, which admittedly I did mostly because of all the terrible "emo hair" in the music video. Also, Evergreen Terrace is already representing the metalcore genre on this list. There's still more versions than I wanted (I try to limit myself to 6-8), but with each artist providing their own unique interpretation I couldn't bring myself to drop any more.
Don't forget: I'm always looking for suggestions for future rounds!
Failure - (1998)
Tori Amos - (2001)
Evergreen Terrace - (2002)
Lacuna Coil - (2006)
Keane - (2006)
Anberlin - (2007)
Nada Surf - (2010)
Breaking Benjamin - (2011)
Susan Boyle - (2011)