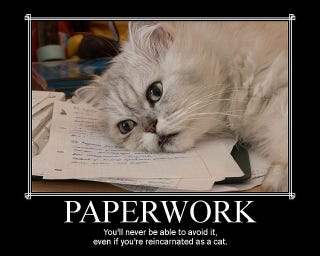 I work as a career services director at a tech school. Before this, I was a recruiter and recruiting manager in staffing agencies and corporate HR departments. I took this job because I was sold on the idea of helping students break into a new career field. But I'm looking for a new job already, because of paperwork and bureaucracy.
What they didn't tell me about at all during the hiring process, is that this job is a paperwork and bureaucratic nightmare. I actually took a pay cut, because the idea of helping people break into a new career, after a bunch of frankly cynical hiring of experienced people, was appealing. The max salary was about $10k less than I had made before.
The problem is the school is so overly paranoid about protecting itself from potential lawsuits, that its lawyers have come up with multiple overlapping processes for how everything should be documented, and it's a giant steaming waste of time. For example, what should be a relatively simple task of documenting that a student or graduate is working in their field of study, looks like this:
1. Have student complete a form detailing their employment including supervisor, wages, etc.
2. Type cover letter to send form to supervisor to verify the student's employment.
3. Print out cover letter, and list of courses for student's degree program.
4. Scan cover letter, employment form, and course list into PDF.
5. Set MS Outlook to request delivery and read receipts on emails.
6. Send email to supervisor with PDF attached, and cover letter pasted into body of email.
7. Print out sent email, and delivery/read receipts for sent email.
8. Have my supervisor review all of these forms generated so far and sign off on them.
9. Enter information on employment form into crappy database.
10. Print out screenshot showing employment info entered into crappy database.
11. Press save button to actually save info into crappy database.
12. Write on printed-out screenshot of crappy database that I have entered the information into the crappy database.
13. Two-hole punch the massive stack of paper all of this process has created, and put it into the student's career services folder, all in the correct order as specified in a gigantic policy manual.
14. If employer actually returns verification request, print that out, update the crappy database to show the employer returned the verification, print another screenshot, write on that screenshot, and file it in the student's career services folder.
Now here's the thing: most of the time, a person's supervisor won't respond to employment verification requests, because companies do employment verification by HR, or an outside verification company. If you want to actually verify employment, ask how that company verifies employment, and use their process. But I don't even have the option to do that.
So effectively, the process, and all that busywork, isn't set up to achieve the goal of actually verifying student/grad employment. It's set up to achieve the goal of producing lots of documentation that we tried to verify the student's employment.
And that's just one little thing.
It's infuriating, and I spend more time chasing bullshit paperwork, than I do chasing jobs for students, or teaching them how to write resumes, how to search for jobs, and how to interview. Which is what I should be doing.
So, even though it's only 5 months in, I said fuck it, I need to get out. I applied to 4 jobs tonight, and I'm going to keep applying until I can escape from this paperwork tornado.