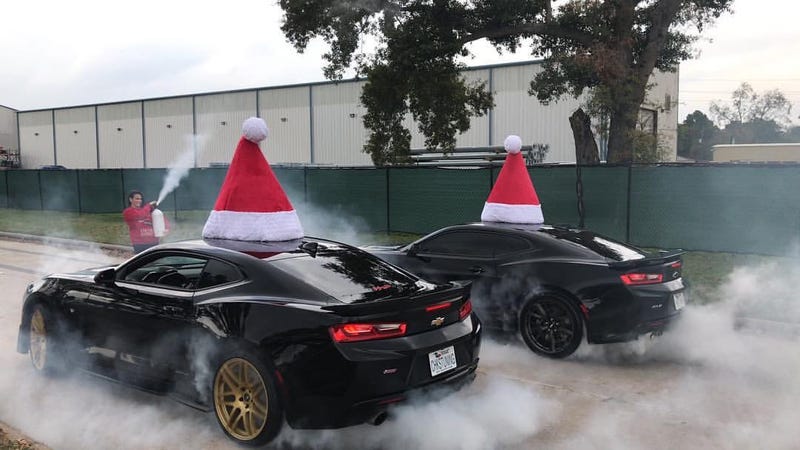 Just recently got back from Houston after spending a month there. Made some upgrades to the Camaro such as ported heads and getting the flex fuel working so I can feed it some corn.
The trip down was the worst. The original plan was for our family to go to Houston to celebrate Thanksgiving with my brother and his fiance who had just had a baby the month before. The morning I was planning on leaving I was sitting around waiting for my sister. She wasn't sure if she would make it since she just started getting sick. Eventually she decided to stay home. So in my haste to get out of there I spaced out and forgot my car was only halfway parked in the garage. So this happened:
Eventually I got on my way and got to OKC for the night. The following day I continued my drive towards Houston with the ever-present disaster of Dallas looming ahead. By the time I got to Denton I was already in stop and go traffic thanks to fender benders littering I-35. My car has had its issues in traffic (things that were fixed during my time in Houston) and I was worried it wouldn't start back up if it died on me.

My worst nightmare happened in the middle of Dallas on I-35. Stopped in traffic and my car died. It wouldn't start back up. I couldn't get a hold of anyone at the Dallas Emergency Assist hotline. Even OnStar couldn't help me. After over an hour someone stopped and asked if I needed a boost. I wasn't sure if it was a starter or battery related issue but they helped anyways. Eventually it somehow started after having the battery charged for a bit. Coolest thing was that the guy actually sort of knew me/my car when he stopped because of what he's seen online. He has a pretty monster GT500 that runs 9's it turns out. He sent me a friend request and I gave him a shout out on this Facebook group we both happened to be in.


Anyways, fast forward a few weeks. I ended up getting the dent popped out and got it looking good as new. Everything else in-between was fairly boring. We did those upgrades and replaced the starter. Haven't had an issue since. After some tuning the car is now at 589rwhp & 572rwtq while still being naturally aspirated. Still no 6th gens even close to my power numbers naturally aspirated. But then again most guys are happy with just throwing a supercharger on their car and calling it good.
My brother persuaded me to stay a little bit longer to be a part of the Christmas video he was putting together. And I'm pretty happy I did:
So thats been my month. Oh, and lots of fajitas. Been home for a couple days now and thankful for it. Missed my friends and family but the cold can go away. Screw the cold. Hope all of Oppo is able to have an amazing holiday with their close ones! Merry Christmas!