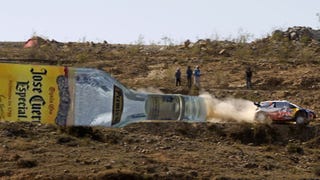 After a week on the road and the subsequent week spent preparing and displaying at an auto show I'm up to my unkempt hair in work. Between that and working on Co-Driving Part 4 I haven't had the chance to do a proper preview for WRC Mexico, which starts tomorrow. So unfortunately it looks like you may have to make picks without my stats and advice, though based on the results from Rally Sweden you may well be better off without me. I will provide the entry list with a breakdown of what driver is on what team. Anyway, for those who are new to the game here's how it works:
There will be the overall points champion, which will be the player who scored the most points in the season, and the "highest average" champion, the player who on average scored the most points per event. This is so people who can't make picks for every single event (time commitments, site issues, crocodile eats your leg, etc) still have a chance at being crowned champion. To win the highest average championship you must make picks for at least four events.
Here's the rules and scoring: Pick four drivers for the rally and one for the power stage (the final stage of the rally). None of your four drivers can be part of the same team (so you can't have both Hirvonen and Loeb, or both Ogier and Latvala). Your power stage driver can be amongst your four main drivers or it can be someone else (team rules do not apply for the power stage driver). List the four drivers in the order you expect them to finish. At the end of the rally you get the cumulative total points from each of your four drivers (an additional 2 points if you correctly guessed their finishing order), plus 2x however many points your power stage driver scored (if any).
Rally Mexico entries:
Citroen Total Abu Dhabi WRT:
*Mikko Hirvonen
*Dani Sordo
Qatar M-Sport WRT:
*Mads Ostberg
*Evgeny Novikov
Qatar World Rally Team:
*Nasser Al-Attiyah
*Thierry Neuville
Volkswagen Motorsport:
*Jari-Matti Latvala
*Sebastien Ogier
Abu Dhabi Citroen Total WRT:
*Chris Atkinson
Lotos Team WRC:
*Michal Kosciuszko
Jipocar Czech National Team:
*Martin Prokop
Hoonigan Racing Division:
*Ken Block
Independents:
*Benito Guerra