The fifth rally of the season will take place this weekend in Argentina, and even if Dusty is out rallying in the woods of Oregon, we must play the game called Fantasy WRC. As a Fantasy WRC regular and lifelong rally enthusiast I felt it was time to step up and write the preview this time. Hopefully Dusty will be back in regular style for Rally Sardegna.
Rally Portugal turned out to be as entertaining as Rally Mexico. A lot of drivers showed the same pace as championship leader Sebastien Ogier, but lack of consistency proved that Ogier is still slightly better than the rest of the pack. It hurts a bit to say that, because I don't want the Loeb thing to happen again.
Well. Things might change in Argentina. The second WRC rally in the new world, but with a lot of history. It's been run since 1980, and is characterized by long, rough stages with several watercrossings. This rally is, like Mexico, run in higher altitudes than most rallies, with rutted roads covered in fog. Should be quite a challenge for the drivers, especially those first on the road. The ruts will only get bigger on the second pass, and getting off the line may cause serious problems.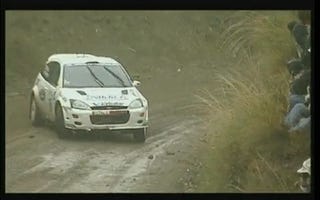 So, this round of Fantasy WRC may be another round where one of the favourites miss out on the big scores. Chosing the right driver in each team is crucial, and predictions are harder than ever. If you've forgotten the rules or are new to Fantasy WRC (WELCOME!) be sure to read them all here. Below are the WRC competitors entered for Rally Argentina. For the full entry list (WRC2 drivers, etc. Remember, you can pick any driver on the entry list) click here. And, as always, the data spreadsheets are available for you numerophiles. (Yes, I know I copied the last part)
VOLKSWAGEN MOTORSPORT:
- Sebastien Ogier - Avg points last 10 races: 20.8 / Avg points Argentina: 13.0
- Jari-Matti Latvala - Avg points last 10 races: 12.2 / Avg points Argentina: 8.2
CITROËN TOTAL ABU DHABI WRT:
- Kris Meeke - Avg points last 10 races: 3.8 / Avg points Argentina: N/A
- Mads Østberg - Avg points last 10 races: 9.5 / Avg points Argentina: 10.3
M-SPORT WRT:
- Mikko Hirvonen - Avg points last 10 races: 9.9 / Avg points Argentina: 10.1
- Elfyn Evans - Avg points last 5 races: 5.6 / Avg points Argentina: N/A
HYUNDAI MOTORSPORT:
- Thierry Neuville - Avg points last 10 races: 11.4 / Avg points Argentina: 10.0
- Dani Sordo - Avg points last 10 races: 9.1 / Avg points Argentina: 8.8
SINGLE CAR TEAMS AND INDEPENDENTS:
- Andreas Mikkelsen (VW) - Avg points last 10 races: 6.1 / Avg points Argentina: 4.0
- Robert Kubica (Ford) - Avg points last 10 races: 0.0 / Avg points Argentina: N/A
- Martin Prokop (Ford) - Avg points last 10 races: 5.4 / Avg points Argentina: 6.5