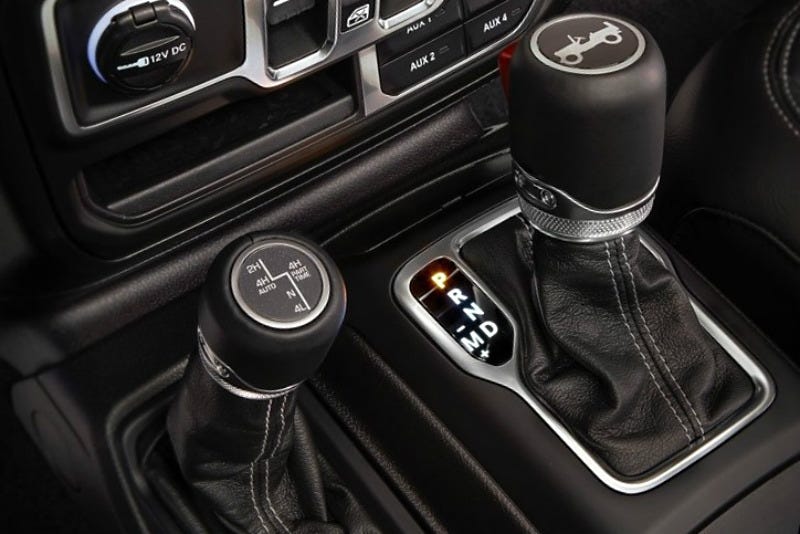 These are the transmission and transfer case shifters of the new JL Wrangler. Specifically, the Sahara trim. If you look closely at the transfer case shifter, you'll notice something never before seen on a Wrangler, and yet only mentioned in passing in most press coverage of the JL.
Look at the markings. Go ahead, I'll wait. They say:
2H
4H AUTO
4H PART TIME
N
4L
That's right, the JL Wrangler Sahara has full-time 4wd. Jeep's using the Selec-Trac marketing name which has been applied to an assortment of different transfer cases over the years. The most common one is the NV242 which came on the XJ Cherokee and the I6-equipped ZJ and WJ Grand Cherokees.
This is a very popular and well-regarded transfer case, but me personally I'm not the biggest fan of its full-time mode because it uses an open center differential, not an LSD. The only time the Selec-Trac brand name has come with a center LSD is on the AMC Eagle. The Liberty had an optional Selec-Trac II system which used an MP3022 transfer case, but this is an electronic on-demand system which engages the front wheels on the fly.
So far I haven't seen what specific transfer case Jeep is using on the Wrangler Sahara, but the Selec-Trac brand name could very well mean it uses an open center differential. If this is the case, it will probably use traction control to brake individual wheels to send power around to where there's more traction.
Full-time 4wd is more desirable for on-road, foul-weather driving. It's not as useful for serious off-roading. But if we're being realistic here, even though the Wrangler is probably the SUV that's most often used for Real Off-Roading™, there's still plenty of people who buy them to drive around town. Those folks would be best served in bad weather by a full-time system.
If, on the other hand, you want the proper off-road goodies like the locking front & rear differentials and disconnecting sway bars, you're looking at the Rock-Track part-time 4wd system on the Rubicon.