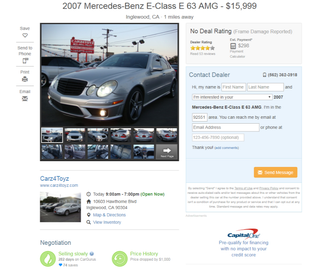 Living in Southern California has perks for an automotive enthusiast. You'll see models here driving around on a daily basis that you proably wouldn't ever get to see anywhere else outside of maybe Cars&Coffee, an auto show or online. With that comes a fantastic used market, especially for performance cars. But with this being SoCal these cars come cheap, hard driven and with lots of miles and are often sold at shady buy here pay here places that target budget ballers. This is still tempting as hell though. Here we have an example near me: an '07 E63 AMG. $16,000. 3 owners and 85 thousand miles.
Downside? Well take a look for yourself. The shitty black grill in the front and the ill fitted fascia and description say this car has been in 2 accidents and has frame damage, though you cant see what that damage entails. It sucks because this is an otherwise nice car with a nice price:
If it wasnt for the accidents I would go for this.