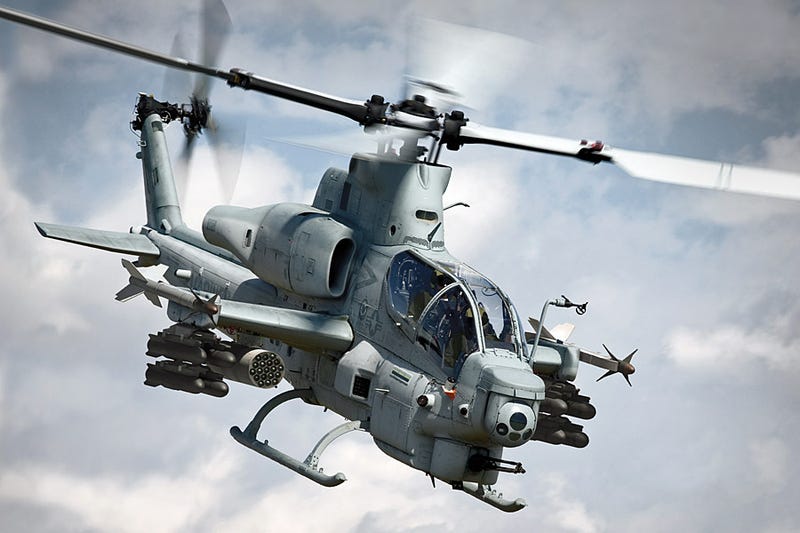 The Bell AH-1Z Viper is a twin-engine attack helicopter based on the AH-1W SuperCobra, that was developed for the United States Marine Corps. The AH-1Z features a four-blade, bearingless, composite main rotor system, uprated transmission, and a new target sighting system. The AH-1Z is part of the H-1 upgrade program. It is also called "Zulu Cobra" in reference to its variant letter.
The AH-1Z's new bearingless, hingeless rotor system has 75% fewer parts than that of four-bladed articulated systems. The blades are made of composites, which have an increased ballistic survivability, and there is a semiautomatic folding system for storage aboard amphibious assault ships. Its two redesigned wing stubs are longer, with each adding a wing-tip station for a missile such as the AIM-9 Sidewinder. Each wing has two other stations for 2.75-inch (70 mm) Hydra 70 rocket pods, or AGM-114 Hellfire quad missile launchers. The Longbow radar can also be mounted on a wing tip station.
The crew are equipped with the Thales "Top Owl" helmet-mounted sight and display system. The Top Owl has a 24-hour day/night capability and a binocular display with a 40° field of view. Its visor projection provides forward looking infrared (FLIR) or video imagery. The AH-1Z has survivability equipment including the Hover Infrared Suppression System (HIRSS) to cover engine exhausts, countermeasure dispensers, radar warning, incoming/on-way missile warning and on-fuselage laser spot warning systems.
It is powered by 2 General Electric T700-GE-401C turboshaft engines delivering 1,800 shaft horsepower (1,340 kW) each.
Armament:
Guns: 1 x 20 mm (0.787 in) M197 3-barreled Gatling cannon in the A/A49E-7 turret (750 round ammo capacity)
Hardpoints: Up to 6 pylon stations on stub wing
Rockets: 2.75 in (70 mm) Hydra 70 or APKWS II rockets mounted in LAU-68C/A (7 shot) or LAU-61D/A (19 shot) launchers
Missiles: AIM-9 Sidewinder air-to-air missiles – 1 mounted on each wing tip station (total of 2) or AGM-114 Hellfire air-to-surface missiles, up to 16 missiles mounted in four 4-round M272 missile launchers, two on each wing.