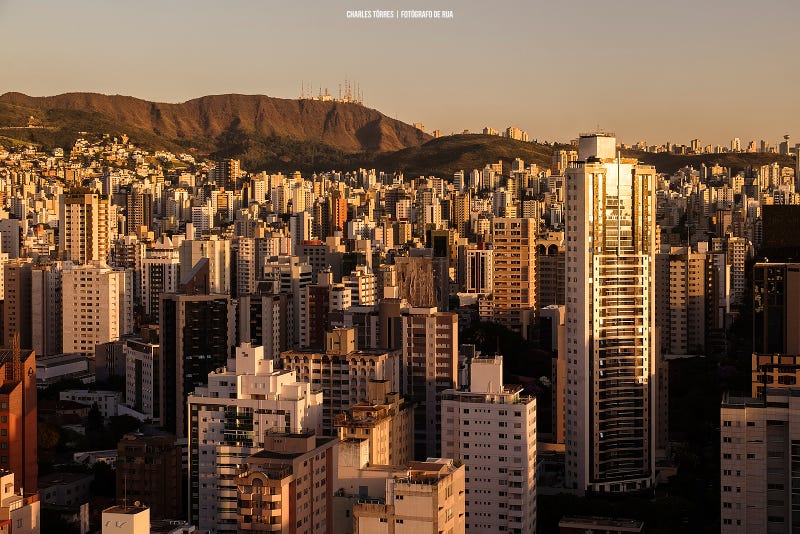 Belo Horizonte is a great city. One of Brazil's first planned cities (heavily based in Paris and Washington at the time), this 120 years old city was originally planned to reach 100.000 thousands habitants in 1997, but is currently home to over 2.5 million and it's metro area has a population of almost 6 million. Although a large verticalization and urbanization in the 50's (when the city had over 700.000 habitants) helped dealing with the initial overpopulation, Brazil's immense population boom in the following decades made BH boundaries expand way beyond the original plan
Although a lot of the new neighborhoods were created in a similar way to the original BH, with geometric, aligned blocks, most of the city expanded in a disorderly fashion, and even then Belo Horizonte lacked affordable housing for all of its population. The city started to gain a lot of slums/shantytowns, and although never in the same level as what happened to Rio de Janeiro or São Paulo, this areas are much less developed than the rest of the city, a failure that only become more apparent as those slums expanded right next to BH's most expensive neighborhoods
Looks really nice, doesn't it? That's Mangabeiras, a mansion-filled neighborhood with a HDI of over 0.955 (Norway's, for comparison, is 0.949, and Belo Horizonte's is 0.820). That tree lined avenue that ends in the Pope's Square (long history...) is the Afonso Pena Avenue, which connects Mangabeiras directly to the downtown, and that green space in the west is the humongous park
These are Marçola and Nossa Senhora da Fatima slums, areas with a HDI in the low 0.600. That lush green east of them is the Mangabeiras park...
Yep, one of Belo Horizonte's many slums and of its most expensive postal codes are separated only by two blocks
And there is even another smaller slum east of Mangabeiras (named Acaba Mundo, or World End)
But there are more fancy neighborhoods in BH than Mangabeiras. Pictured above is Pampulha, home to the Mineirão stadium, the zoo, the municipal airport, the campus of the Federal University of Minas Gerais, a Oscar Niemeyer architectural complex, a amusement park.... As you probably guessed, Pampulha is a pretty wealthy neighborhood
And a few kilometers away, more slums. It isn't as disproportionate as it is with Mangabeiras, but still a pretty good exemple of how even a planned capital couldn't escape the enourmous economic inequality of Brazil
Estoril, Santa Lúcia and especially São Bento are all neighborhoods with a HDI near or above 0.900, and they are surrounded by BH most infamous slum (Morro do Papagaio), and other shantytowns like Morro das Pedras e Vila Antena.
I still love BH tho, the downtown is filled with beautiful and interesting buildings, UFMG is one of the best colleges in the continent (and completely free, by the way), and both the food and the people of Minas Gerais is Brazil's best. But it is incredibly unfortunate how BH and every major Brazilian city fails when it comes to catering and housing its poor population, creating those monstrous reminders that there is a looong way before Brazil becomes a developed nation