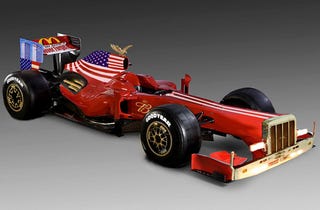 In December of last year, the FIA put out an announcement that asked all those interested in joining as a team in Formula 1 please make their interest known. One of the first teams that expressed their interest was Gene Haas of Stewart-Haas Racing. Now for those that think that team name sounds familiar you're right. If you like cars that go around in circles for many hours, drinking crappy beer, and are possibly a diabetic, you might know that he is the owner and team that races in the NASCAR Sprint Cup Series. This expression of interest comes from the realm of NASCAR. Now American teams have been in Formula 1 before. The last entrant to have American's as the team principle's were the Lola-Hart team back in 1986. However, other American teams have been in the sport before, such as; Eagle, Shadow, and most notably Penske. In more recent years, a US team did try to get back into the sport in 2010, but failed to secure the financial backing it would need to truly compete in the series. But with the likes of Stewart-Haas Racing, their bid to come back to the sport might actually just make it.
So what is really needed to secure a spot next year or in 2015? Well simply just money. A Formula 1 team is hugely expensive, just look at the problems Lotus has been having of late. I mean it took them forever just to pay their drivers. Funding will be key to the success of this team. Nevertheless, if NASCAR knows one thing, it knows how to gain sponsorship. Together that sponsorship and the return of F1 in the United States with the brand new Circuit of the America's track, they just might have the traction to truly get this show going. On the flip side in addition to the massive financial burden they also have the perception of NASCAR around the world. NASCAR isn't viewed that well and the stigma of it might also hurt their chances of gaining entry into the world's premier auto sport that is Formula 1.
However, to be honest Formula 1 isn't doing so hot at the moment. With all the new technical rules and changes to how the race is conducted and the cars in general, plus the negativity that Formula 1 has been encountering since the first race in Melbourne, I feel that an underdog story might prove to be helpful to the sport I love so dearly. Nevertheless, one man really stands in the way of all of this happening, Bernie Ecclestone.
The mad F1 boss has said that it's unlikely the team would succeed and that he doesn't think Stewart-Haas really knows what they are doing with this bid. Bernie is a very polarizing figure, you either love him, or you absolutely hate him. Right now, for me, it's heading towards the latter more than the former. I think that a US led team would be a great thing, not only because I am an American, but because I feel the grid could use another team. With all the technical changes in Formula 1, they wouldn't have as great of a disadvantage as one would think coming into a new series. Formula 1 is where brilliant technical knowhow and expert level talent meet for what can only be described as a wondrous chorus of speed. Stewart-Haas has the first part down right, in addition to the team, they run one of the largest and best wind tunnels around. This means they definitely have access to some of the latest and greatest parts of what makes a Formula 1 car great. Reports are stating that the new team would possibly get their initial parts from Ferrari, using both their engines and chassis's. Haas also met with Dallara who supply the chassis and aero for Indy cars, among other racing series.
As of today, the application for the new spot on the grid has been delayed due to unspecified reasons from the FIA. Two teams, Stewart-Haas, and one led by Colin Kolles who was the team principal of the now defunct HRT team, have both paid the second installment of $130k for the application, and Haas believes that there might be a decision later on this week. So right now, everything is still up in the air. However, this deadline allows Ecclestone to reverse his remarks and help this team into the sport. I guarantee that his backing of the team would help their application. Bernie needs to understand that the sport is in flux right now and potentially adding a team from the US might make more business sense than just dismissing them outright. We are a country in love with the motor and with racing. Give us a chance to come back to Formula 1, my own guess is that if they are allowed into the sport, Circuit of the America's will definitely have to grow a bit more.
Follow me here on Twitter
For more racing, What is Racing Becoming
And check out How we could have a Proper racing series here