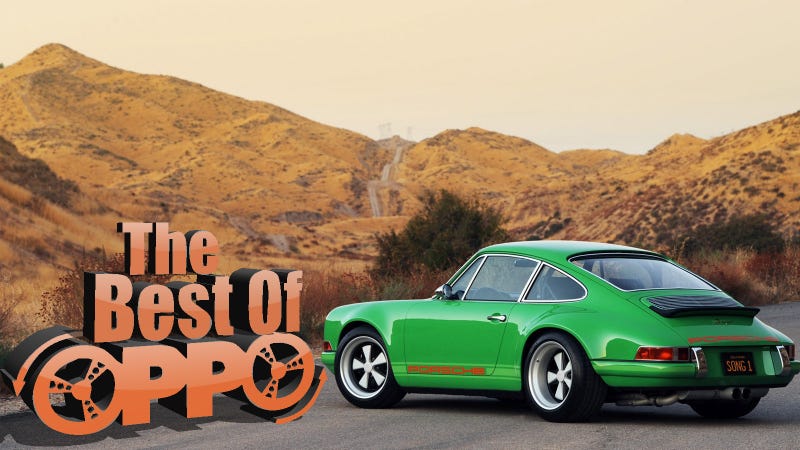 Gathered here are the Oppositelock posts that people have put a good deal of effort into writing from the last 24 hours. Today it includes the Macau Grand Prix Museum, the coolest cars to die in, what it's like to drive a car from 1926 and more.
It's been an awesome week hanging out with StreetsideStig and getting to work on four very different cars. We started off with my '91 Audi 90 Quattro 20V and got quite a bit done with that including a coolant flush, possibly finally fixing the oil leak, and rebuilding the power steering pump. Then we moved on to his '02 WRX and made some visual improvements in preparation for him to take it to Woodward this weekend. Then we finished up today by putting a new starter in his stepdad's '63 Ford Galaxie and got to take that out for a drive. On the way, we picked up the '52 Buick Super and got some photos of the two classics together.
The first generation Opel Manta "A" was a lightweight two-door fastback that shared a chassis and power-train with the Opel Ascona sedan/coupe/estate. It was known as one of the better handling cars of the era and won many races/rallies not due to its engine, but because it was light and nimble.
Originally a page where Maui residents would regale tales of being ticketed by a Maui Police Department Officer, TAGUMAwatch has turned into a page where people report on accidents, speed traps, emergency incidents, and the goings on of the various Emergency Services on Maui. And the County of Maui is investigating whether the page is harassment of the officer that is the namesake of the group.
Over the winter break, I visited my relatives back in Hong Kong. Someone decided to have a little stay in the little island of Macau, a romantic area populated with the glitz of Vegas, the rural areas of a scenic Portuguese hill, and the humble panache of Hong Kong. Lying in that area is a tricky street circuit, famous for its F3 and motorcycle races.
.
There are some cars out there that I wouldn't want to "be caught dead in." Then there are others that I wouldn't mind getting gunned down in. This month, these are the cars I would actively go out of my way to die in should the time come to kick the bucket.
Today is Friday. Work is poopy. Tomorrow is the weekend. That means sleeping in to 9:00 AM! However Today is also sad. Today is my last day with my beloved friend. I have spent the last 2 years with my 633i bmw, and well, they've been fantastic. However, with me working so much, and I'm going back to school because knowledgecar(?), I have to say goodbye.
Right now in the Nevada desert a race known as "Vegas to Reno", the longest nonstop point-to-point race in the country, is underway. This 550 mile course is the distance equivalent of racing from Boston to Richmond, Virginia without ever encountering a strip of pavement or a speed limit sign.
This is The Opposite Locker - FarOut Fridays where we try and sort out the cool from the square when it comes to the automobiles of tomorrow (concept cars). This is a discussion system detailing how cool a car is, not how fast, fun, or frivolous it may be, but how well it looks in the cat's pajamas.
.
.
With the huge response I got on my rant about my 2011 Subaru Impreza WRX, I figured I would post a followup on my new car. First of all, I want to say that I do like the WRX, it just wasn't the car I expected it to be and it didn't meet the needs I had for it at the time.
Bill is my girlfriend's Dad. How he and my boss started chatting was beyond me, but since he and his daughter/my girlfriend have restored both a 1926 Chevrolet Superior V Sedan and a 1954 Canada-built GMC short-box pickup, both purely stock… What Bill had sent to Nathan in response to Nathan's inquiry of "what the 1926 driving experience was like" was an unsolicited but incredibly appreciated essay on driving his Chevy and the historical circumstances that made it the machine that it is. Here it is, for your enjoyment and learnings.
We all have, at one time or another, wished we could be Michael Schumacher or Sebastian Loeb and drive absolutely bonkers cars at ridiculous speeds. Well, racing simulators are (probably) the closest you're going to get, so listen up.
It sucks to be an auto journalist nowadays, especially when you're only a contributor and former editor of Jalopnik. The poor guys on the Pebble Beach road trip have it so bad. For those of you that didn't hear about it, Matt Hardigree, Editor of Jalopnik, organized a small meet at the Peterson Automotive Museum in LA before they left for Pebble Beach. I live in Ventura, about an hour or so from LA, so since I wasn't working, I decided to go, and I'm so glad I did.
Once, I went to the V8 Supercars event at Circuit of the Americas. Even though I lived in Austin, this would be my first trip to COTA, since Formula One tickets are so expensive and I don't really follow MotoGP or care for Grand-Am. The V8SC tickets were a reasonable price, and the V8's are one of my favorite racing series so I jumped on the opportunity and also convinced my friend Nathaniel to go with me.
Car Spotting, Picture Threads
BJohnson11 spotted a Citroen DS on a highway in California. MountainCommand went to the LACE meet and put together some pictures; he also edited together some driving footage. RikVan showed us his freshly wrapped Evo build. Maxyenko shared pictures of his Ford Pinto restoration project.
.
As always, If I've missed something and you would like me to include it, let me know.
Fun Discussions
There were several posts that asked questions and sparked some good discussion over the last day. Take a peek and chime in on some of them listed below:
Just the #tips
Honourable Mentions
These posts have already been shared with Jalopnik directly but deserve to be mentioned again because they were first posted in Oppositelock: