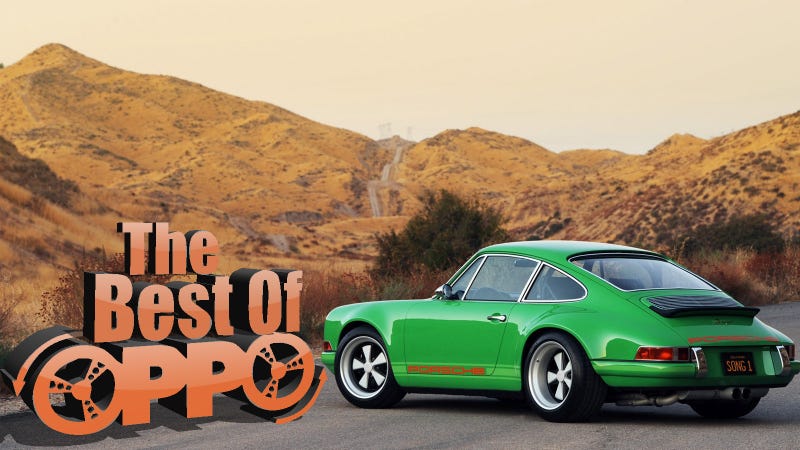 Gathered here are the Oppositelock posts that people have put a good deal of effort into writing from the last 48 hours. Today it includes the history of the C3 Corvette, growing up with non-gearhead parents, a rental M6 roadtrip and more.
Even before the St. Louis production plant started its pre-assembly runs of the C2 1963 Sting rays, Bill Mitchell told his designers to start thinking about the next Corvette. Larry Shinoda had worked on the XP-755 Mako Shark I back in 1961 and worked his magic to design the Mako Shark II in 1965. These combined two prototypes cost GM $3 million to make. In 1965, both of them toured North America and Europe to a frenzy of publicity and wild speculation. Magazines were already touting the Mako II as the next generation Corvette.
We've all come to know the Bugatti Veyron very well over the last decade or so. $1 million+ msrp, 1001hp, 250+mph, $25k for new tires, $70k to get those new tires mounted onto their rims, and two keys. I remember when the concept cars first came out and were plastered all over the internet back in the eighth grade. I even did my final project on Ettore himself. Now I've kind of grown tired of the Bug…
A lot of talk has surrounded Ford's grills recently and they all in some regard mention Aston Martin. Now I'm no expert on car design, but I never really thought the new Fusion or Mustang looked too much like, say a DB9 or Vanquish. I always thought Ford's grill was just following the "catfish style" design element. The more people keep pestering this point though, the more I can't help but think of design elements like the stacked headlights from the mid 60's and the gaping grills of the early 70's.
I want to talk about electric car design, specifically, the Tesla Model S and Fisker Karma. Have you noticed anything different about Electric cars and how they look? Whether we're talking about the $30,000 Nissan Leaf or the $100,000 Fisker Karma, they all have very...unique design. For example the Karma uses all "green" materials on the interior. What was wrong with normal luxury interiors?
This series is devoted to telling you all the fun I get to endure when it comes to every car I've ever owned. I've only been driving for 8 years and already had more car problems than all of my friends combined. Today's part in the series is going to detail my 2004 Dodge Neon SE. This was my first official car that I owned and paid for by myself.
.
There was a time when I thought Motor Trend was a joke. I read Automobile, Road & Track, Car and Driver, and some of the other more esoteric Euro car mags, but never, and I mean never, Motor Trend. I mean seriously, it chose the K-Car as Car of the Year in 1981. But somewhere along the way Motor Trend changed. Last year I paid Motor Trend a visit in Los Angeles and had a great opportunity to sit down with Michael Floyd and Angus MacKenzie.
A couple of days ago, an article went up asking what the most inexplicable car buying decision was. A man identified only as User1312 came to the defense of the Dodge Caliber, the car inexplicably purchased by so many people, by comparing it to the PT Cruiser. As the one time owner of a PT Cruiser, this riled me up so bad that I might have referred to owning a Cruiser as a "holocaust." User1312 stated that the Cruiser "wasn't a bad car, it just never got a refresh." My experience with the car proves quite the opposite, that it was indeed a bad car.
Tomorrow starts the ADAC Rallye Deutschland, also known as WRC Germany. It's a rally held since the early 80's, once won by Mr. Röhrl himself in a Stratos. It's part of the WRC calendar since 2002 and has been won almost entirely by Loeb since then, with the only exception of a win for Ogier in 2011.
Today's edition of May I Introduce is me being kind of selfish. The 1965 Shelby Cobra Mk III is easily one of my favorite cars of all time. I mean, look at it! It's beautiful! Also, I decided to do this weeks on the Cobra because I found one! In Anchorage, Alaska of all places! Unfortunately the owner of this Cobra wasn't around for me to ask a few questions and verify if this is a legit Shelby Cobra or a kit car. Either way, who wouldn't want one?
I don't know about you, but when Subaru started teasing the XV Crosstrek back in 2011, I was giddy with excitement. Nobody knew much about it, but all the signs were pointing in the right direction. A small Subaru wagon, tall ride height, AWD, all the good stuff. Plus it looked good, all shapely and funky and aggressive. It was nice to see Subaru staying true to its rallying roots while doing something a little out of the ordinary. Things were good.
I, Satish Kondapavulur, was born a gearhead. There's no other explanation for being the only one in the family who— can drive stickshift, still buys Hot Wheels cars, wakes up early to watch Monaco, and knows the differences between every generation and variant of the Porsche 911. Jalopnik likes to give tips on raising gearheads, but provides little about the downsides of non-gearhead parents. As a result, I've decided to highlight what a budding car enthusiast goes through in a car-indifferent household, with the best way I know how: a list.
Go down to your local tire store and get some Michelin Pilot Super Sports put on, you won't regret it. I put Super Sports on my Mercedes a few years ago, and oh what a difference they made. They reduced a lot of under-steer, kept the back end from stepping out so much when I wasn't trying to do it, and just grip for days and days, and then grip some more.
The initial idea was to take a trip down to Munich, visit the BMW Welt and museum, have a beer and a sausage, and call it a day. But similar to the Porsche museum we visited that same morning, the BMW Welt parking lot proved to be a great place to spend some time. As we perused through various M offerings, we began to notice that these weren't visitor or factory cars, they were instead cars owned by a rental company located on the main floor of the BMW Welt! As Hans Landa from Inglourious Basterds would of said: "Ooooh we have a bingo!"
Lincoln has been the laughing stock of the luxury car market for decades. Actually, that's not a fair statement. Lincoln has been so pathetic that it is no longer entertaining to laugh at them. Their entire stable is a collection of mediocre, badge-engineered, wrong-wheel-drive Ford's. Despite being one of the largest automobile manufacturers in the world, with an enormous wealth of resources at their disposal, FoMoCo has consistently failed to provide the necessary funding for a proper luxury car worthy of the Lincoln nameplate, and capable of reviving the brand.
I've been the very proud owner of a 2003 CL55 AMG for about a year and a half now. I love everything about this car. The looks, the performance and the gadgets! I can't get enough of the gadgets. Needless to say I nearly lost it when I realized that the car has so much more to offer.
Car Spotting, Picture Threads
NYSS attended the Woodward Dream Cruise and posted some of his favourite pictures. Biturbo228 continued work on his recently crashed e36. Lalevee! took his Saab 9-5 canoeing. BJohnson fabricated a transmission cross member for his 350 RX-7. MKalobin posted pictures of his friend's newly acquired Mustang with a unique non-factory option. CalzoneGolem carried on stripping down his rat-rod truck. Checkin' Pockets spotted a neat Landie in Costa Rica.
As always, If I've missed something and you would like me to include it, let me know.
Fun Discussions
There were several posts that asked questions and sparked some good discussion over the last 2 days. Take a peek and chime in on some of them listed below:
Just the #tips
Honourable Mentions
These posts have already been shared with Jalopnik directly but deserve to be mentioned again because they were first posted in Oppositelock: