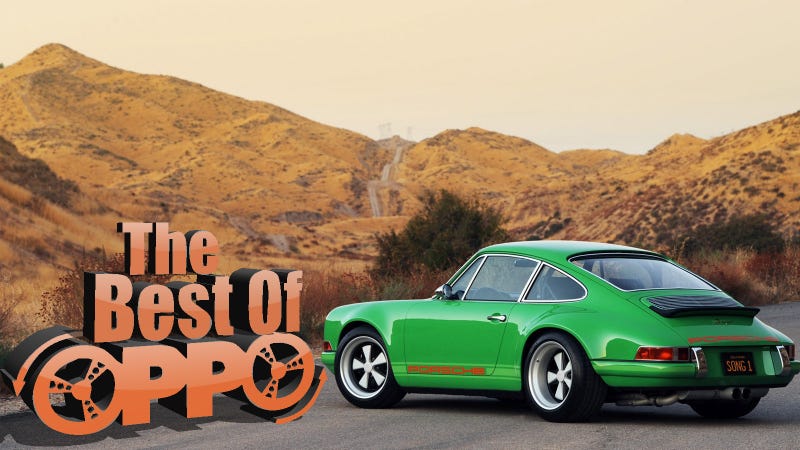 Gathered here are the Oppositelock posts that people put a good deal of effort into writing from last weekend. It includes asshole pedestrians, the (mostly) correct way to measure specific power, discussions about NASCAR and more.
Pedestrians are the bane of the motorist's existence. You idiots in your walking shoes, headphones, cellphones, newspapers, and tall skinny mocha lattes love to walk blindingly into an intersection– crosswalk present or not –fully expecting a 2000-4500 lb. chunk of metal, plastic, and glass traveling at 40 mph to stop on a dime for your useless body. We all know yield-to-pedestrian laws are there for a reason, but you somehow find a way to exploit even that. You asshole.
To set the mood, lets talk about the car; that indispensable tool that opens the world to us. A good car is like a good friend; loyal, ever ready to serve, and always happy to see you. It's there in the garage waiting for you in the morning, and it shines like a beacon in the parking lot waiting for you after work. Yup, the car is awesome. So what is equally loyal and awesome? Dogs. So lets take a look at 5 of my other favourite cars compared to man's best friend.
Some would say that winning the first of three racess in a week is usually the start of an amazing weekend, and if you're Kyle Busch you're certainly hoping that come Sunday there's a big trophy to go with your two little ones. But then again, should Kyle Busch even have his two little trophies to begin with?
I've been hearing this argument a good bit lately. I do agree, to an extent, but not in the way most people think. When people make that statement they are basically saying 2 things: 1. NASCAR needs to adopt the V8 Supercars and ditch the current car and 2. NASCAR needs to ditch ovals and run more road courses. Personally I think the current cars are some of the best looking and certainly the fastest ones NASCAR has ever had (some would argue they are too fast). While I do love the V8 Supercars, there are some problems with adapting their cars for use in NASCAR.
The speed limits in this country suck, it's true. That's why everyone complains about them. 65 is an absolutely useless speed if you want to get from one place to another. We need a speed limit of at least 80 mph if we're to stop complaining, but that won't address the real problem: we suck at driving on highways.
This trip also afforded me the opportunity to figure out just how well the E39 would handle a road trip. Obviously the Estate version would have been preferable for luggage storage and Jalop-ness, but V8/6MT/RWD checks enough boxes on the Jalop-o-meter that I'm ok missing out on wagon greatness. Anyways, I had three days and 500+ miles to answer some very pressing questions about this soon-to-be classic automobile that had mostly seen duty in North Atlanta's commuter traffic where the fastest one wins, and nobody goes fast. Without further ado, here we go.
"An RB26 can get 380HP per liter if tuned!" "Nascar engines take four times the displacement to get the same power as F1 engines!" "All big, fat american V8s are inefficient" "There's no replacement for displacement!" Please stop. Let me explain why you are wrong.
.
.
If you or a loved one/family member is looking for a small SUV/crossover... you can't go wrong with the Forester. The new one has a better ride, a bit more room, and a better drivetrain while still keeping the fun handling. Personally I would choose a Forester over even a BMW X3 and Audi Q5... not just cause they're twice the price but rather I like the Forester THAT much. I don't like small SUVs much and I've been in many, driven a few. This is the ONLY one I have ever liked. I am sure some of you would enjoy it too.
Welcome to One Car Garage, in which I choose a manufacturer, and you decide one single vehicle that they make or made (no matter how old, no matter how exclusive) to live with for the rest of your life. This is your only vehicle, and all expenses are paid for, including price of entry, insurance, gas, etc.
After the summer break, the F1 teams have all returned to fight it out at one of the most spectacular racetracks in the world, Spa-Francorchamps. Nestled in the forests of Belgium, Spa is a favorite with the drivers and fans. It's a long, fast, steep, and sweeping circuit made mostly of formerly public roads. Until 2000, parts of the track were still converted back to road use after the race. This was most notable at the Bus Stop chicane, so named because it was actually a bus stop on the side of the road!
Welcome to Daily Drive, Track, Or Burn! 3 choices, 3 cars, you know what to do. Summer is over and it's time to start going to class again. Since good class schedules are for chumps, I have massive blocks of time between classes which means you guys get these again. I don't actually remember what I wrote the last article was about so we'll just say that the Mazda Miata won daily drive and track and the Mercedes R class got burnt. Today I've chosen three cars that I've seen around campus recently. Get ready to judge what my fellow Aggies drive.
The best of the rest
Jagvar and TheDriver met up with Patrick George and several other Jalops at the DC Car & Coffee meet. Erob599 showed us more of the exotic cars found in Shanghai. CRZRSN ran into a Cadillac 500 V8 powered Pacer wagon. Offroadkarter went late-night car browsing. 190e30 took some pictures of his Audi Quattro coupe. JayhawkJake went to the Blacktop Nationals, as did PlayerWAN. Benzed92 posted about a GT40 at Pebble Beach. Bandit had an impromptu photo-shoot with a '69 Olds Toronado. TwinTurboBMW attended Cars & Coffee in Portland as well as the 503 Motoring Block Party. Mkbruin attended Cars & Coffee in Richmond. Snapundersteer shared pictures and video of his autocross exploits. TheMyth attended Cars & Coffee in Memphis. MR2_FTW continued work on his project Cressida wagon. Audi for Life posted photos from PDX Cars & Coffee. Chase introduced his new Saab Sonnet. Agrajag took his 240d to an autocross event. Maximillious shared his photos from the Milwaukee Masterpiece, especially notable was this '84 935 Street 3 Kremer Porsche.
As always, If I've missed something and you would like me to include it, let me know.
Fun Discussions
There were several posts that asked questions and sparked some good discussion over the last day. Take a peek and chime in on some of them listed below:
Just the #tips
Honourable Mentions
These posts have already been shared with Jalopnik directly but deserve to be mentioned again because they were first posted in Oppositelock: