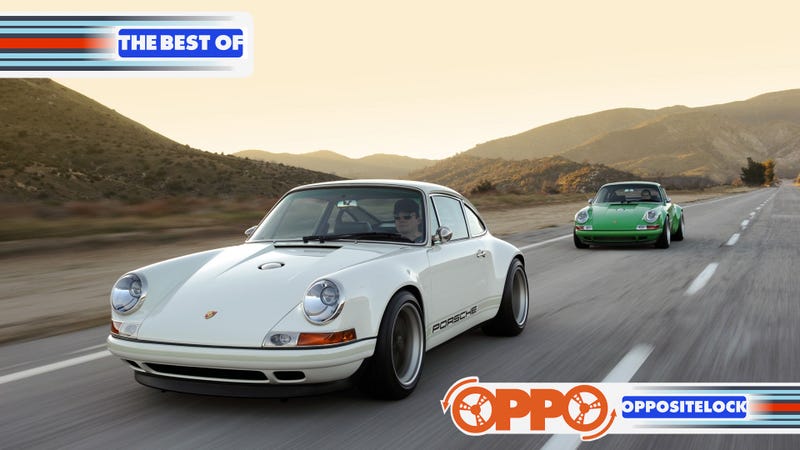 Gathered here are the Oppositelock posts that people put a good deal of effort into writing last Thursday and Friday. It includes a slammed W108, driving a boring car, a love for Aston Martins, Baja Bugs and more.
For better or worse the Mercedes-Benz W108 should be on your short list of good classic sedans to own and drive. Most W108s are somewhere between minty clean museum pieces and mouse eaten monsters, but seldom are they modified by the stance crowd. Get out your pitchforks because this W108 is slammed on airbags and lower than the Fisker stock options. Also check out A Museum Quality V12 Lincoln For The Price Of A New Camry, You Won't Be Mistaken For Yakuza In A Canary Yellow Cressida and In 8.5 Seconds, Skyhawk Will Change Your Mind About Buicks.
I'm just going to get this out of the way: I drive a horrible car. In almost every respect. It's late nineties and beige, with a slushbox, bad gas mileage (without the accompanying fun), large, slow, and unmanueverable. It's not even that reliable! That doesn't mean I'm not an enthusiast.
Maybe the title is a little misleading, after all not everyone loves Astons. I'd wager there are people that don't even like Astons (though I can't even begin to imagine such a world where such people exist) but I think what I can say with some certainty is that we all like flawed cars. Yes, flawed. Mechanically, emotionally, philosophically flawed cars. Cars that have such glaring issues that you are compelled to look to something else entirely, yet you end up simply looking the other way and embracing the madness. The weird. The downright silly.
Maybe the title is a little misleading, after all not everyone loves Baja Bugs. I'd wager there are people that don't even like Baja Bugs (though I can't even begin to imagine such a world where such people exist) but I think what I can say with some certainty is that we all like flawless cars…
There are many stories and anecdotes and what fuel octane is best and what effects it has on a vehicle. One of the most common discussions is whether higher octane will give you a benefit. There are many myths about fuel octane and power and gas mileage and I will try to break them down using real world data.
In my never ending quest for unconventional power, another swap that I worked up was a 2JZ on a budget. The research originally started as a way to upgrade my brother's IS300 for boost and make it reliable. This swap uses a mix of Toyota and GM parts and get the job done. The end result is a boosted 2JZ with a 5 speed manual that can handle 400 ft-lbs of torque.
The Hyperloop was recently introduced by Elon Musk as an alternative to the Californian High Speed Rail Authority's $68 billion dollar proposal for a new high-speed rail linking San Francisco and Los Angeles that, so far, has only secured about 1/6th of the necessary funding for construction. Due to Elon Musk's desire for the Hyperloop transportation system to be crowdsourced, many may speculate that the system will be introduced as a public good; however, this may not be the best scenario for the social benefit of society.
Aircooled VWs have, and always had, a cult following. People who would do almost anything to keep their early Beetles and Type 2s on the road. Unfortunately, there was a time when VW was busy making Golfs, and Polos, and Passats, and didn't give a rodent's behind about those old cars. "They are old and stinky, why don't these freaks buy a shiny new Passat?" They couldn't even be bothered with keeping spare parts for these old clunkers in stock...
It's not often that I'm invited to anything interesting anymore. It's not often that I'm invited to anything at all. My recent time commitment to Oppo has left me completely devoid of friends. Thanks guys. That all being said I did get outside this week. After the few minutes of being blinded by this "sun" thing, I made my way to meeting a few friends and heading out to Summit Point, West Virginia. For those of you that may be from far off lands such as Mongolia, South Africa, and Florida; it's a neat little track about a little over an hour away from Washington, DC. and home to Stasis Revo Group.
My friend picked up a Dodge Avenger with the 2.4L and 4 speed as a rental until his Golf TDI comes out of the bodyshop. Here's my quick review. Broken image formatting brought to you by Kinja!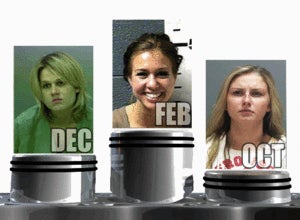 Ladies and Jalops, thanks to your effort in 2012 Batshit Elimination and Final Rounds , It is my honor to present you with the winners of the 2013 Miss Jalopnik Batshit Babe Pageant. Also check out the Special Awards.





Introducing the ALL-NEW infotainment app, Bluetooth Roulette. Using your car's infotainment system and a paired mobile device you can now randomly connect to owners of similar vehicles, interests or age groups for endless hours of awkward conversation during your drive.
The Best of the Rest
MountainCommand met an owl. Klaus Schmoll spotted a Renault Twizy. Krieger won a Porsch poster signed by their Le Mans drivers. Matthias Rios installed a CR-220 radio in his 944. NotInDetroid shared the story of his Jetta. BrownDogWelding went to Detroit to pick up a custom Mustang with its owner. Chris Harris visited CCC Manhattan. EL_ULY foiled some asshats trying to steal his tailgate and got an E63 AMD S in for a PDI. PushToStart spotted a Hertz Penske GT. HammerheadFistpunch hooned his Land Cruiser in some snow.
---
As always, If I've missed something and you would like me to include it, let me know.
Fun Discussions
There were several posts that asked questions and sparked some good discussion last Thursday and Friday. Take a peek and chime in on some of them listed below:
Just the #tips
Honourable Mentions
These posts have already been shared with Jalopnik directly but deserve to be mentioned again because they were first posted in Oppositelock:
Want to participate on Oppositelock? Check out the general handbook for posting on OppositeLock as well the Oppo tools to help you get started.