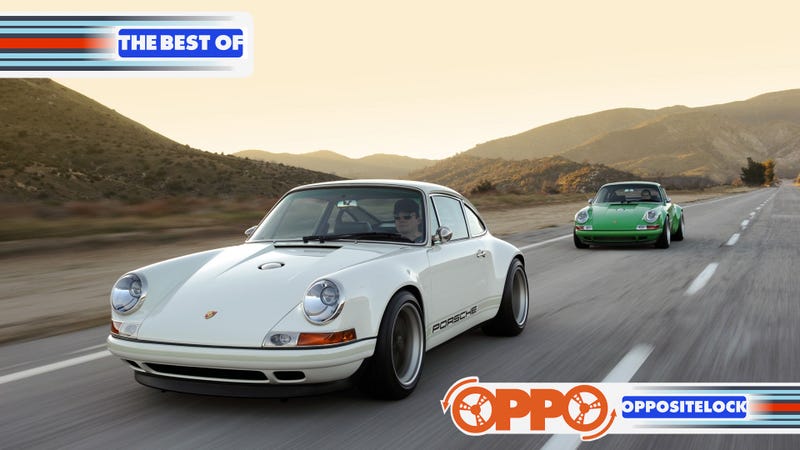 Gathered here are the Oppositelock posts that people put a good deal of effort into writing last Monday through Wednesday. It includes why car companies shouldn't pay too much attention to enthusiasts, the privilege of driving, the ineffectiveness of car alarms and more.
What are the characteristics of a Jalop's dream car? Lightweight, Diesel engine, reliable, driver-oriented/ less gizmos, easy to work on & (relatively) cheap to maintain, manual shifter... oh and it should be a wagon or hot hatch! Jalops like to cry that there really is no modern car that matches all the characteristics of the one above and how this or that company has lost their way.
I will never forget the day my grandfather was lying on his would-be death bed in a hospice after beginning to make slight health improvements. He had been battling respiratory issues due to decades of smoking cigarettes, fallen to critical condition, only to make a little forward progress and all he could talk about was how he was going to drive his car once he recovered… My grandfather did pass away a few weeks later and while I loved him and respected him, he didn't share much regard to road safety which was probably just a product of his stubborn and resilient nature.
BEEP! BEEP! BEEP! BEEP! I was in the parking lot of a wholesale club when I heard the unmistakable assault that was a car alarm. "People need to disarm their cars before they open a door dammit!" I plainly told my buddy I was with as we loaded the car up with our purchases. That was the end of our conversation and we got in my car and drove off. But while I was driving home I asked if he had ever actually thought a car was being stolen when he's heard a car alarm.
I'm going to start this article with a question. What makes the styling of a 1959 Cadillac stand out so much? Is it the enormous fins? The yacht like proportions? The ridiculously over the top use of chrome? Or is it something else entirely? I think what makes it stand out so much is that it perfectly represents the era that it was produced in.
Compact cars were a different breed back then. They stood for something special. Now the game has changed and art of the compact is perishing. Compact cars were honest means of transportation. It was meant as a no frills transportation for the lowest msrp in a given manufacturer's line-up with little to no optional accessories.


Could gambling make motorsports more popular? Let's take a look… Like horse races, auto races compete at a variety of tracks of different lengths, surface textures, and complexity (a Steeplechase is like a Rally, for instance). Horses and their stables are owned by individuals of substantial wealth, much like the owner of a race team. Jockeys are intense athletes, a perfect mix of strength and anorexia, much like pro race car drivers.
It's summer in NZ, and that means car events. Last weekend was the NZ Historic Racing Club's Tasman Revival meet at Taupo. This was a pretty low key event, with many of the usual suspects saving themselves for the higher profile NZ Festival of Motorsport meet next weekend. The meet featured a couple of grids of single seaters, a few of BMWs, some Japanese, and a mixed bag of 60s-80s, mostly Euro, saloons and GTs. Be sure to check out parts 2, 3, 4, 5 & 6.
Who cares if it's near freezing, roads are slippery and it's night time? When you got a car like a Peugeot 205 CTI you take it out any time you can. The car is a fun street legal go-kart. But... I was out for a drive tonight when I had total electrical failure on my 205. It was in the middle of a small forest between two rural villages; I was going over 100 km/h going up a hill, went over the crest and my headlights flickered once.
It's auto show season in the good ole United States of 'Murica. Damn right, time to show the world how awesome we are at building cars. And we are pretty good at it, have you seen the new ZO6? It's pretty badass. With 625 horsepowers and 635 torques, it will be a track beast to be sure. But it's not a supercar, and GM needs one.
I came across this story a couple of years ago, and while it isn't as mindblowing as the greatest ground speed check ever, it's still pretty awesome. Brian Shul is a man among men and author of one of the definitive works on the SR-71, Sled Driver. He is also a wonderful orator and storyteller. Needing no fiction whatsoever to captivate his audience. In this story, which was originally published in Plane & Pilot by Mr. Shul himself, we get the other end of the speed spectrum.
Welcome, friends, to week two. We have reached the half way point of the rally (on the calendar at least) and the end of the Argentine section. At the end of this week we will crown a new Dakar champion, and at the moment team Mini is looking good for their threepeat. But Ginel de Villiers and Carlos Sainz have no intention of making it easy for them.
WE'RE BACK! After an off season that seemed to last years we are finally ready to start the 2014 WRC season, and with the biggest shuffle the WRC has seen in years this could be one of the most interesting seasons in recent memory. We have a new manufacturer, Hyundai, returning for the 2014 season after a ten year absence, but beyond that of the thirteen "main" drivers named for the 2014 season only four of them (Ogier, Latvala, Mikkelsen, and Prokop) are in the same cars they were in last year.
Start with a stock/restored Lada, add period type accessories, and lower it as much as possible. We've got our basically stock Lada, and since it's in such nice original shape, we won't be doing very much restoration at this point. We do have a few things we want to take care of though. Our front badge is incorrect, and evidently the correct part is very rare, so we'll be trying to source one of those. The side mirrors are from a later model Lada, and will be replaced as well. Our last issue may actually be the easiest to deal with…plastic hubcaps pry off pretty easily!
In terms of exotic car visibility, Northern Virginia is in no way comparable to Hollywood. I've never been to LA, or Hollywood, or anywhere in California south of San Jose but I'm still sure of this. That said, northern Virginia has it's share of wealthy upper class. We have Ferrari of Washington – a dealership with all glass walls showcasing Ferrari, Lamborghini and Maserati models of all years. It's located ten feet from CARMAX and without a doubt attracts more tourists than potential buyers.
The Best of the Rest
Wonk Unit attended the Arizona Concourse de Elegance. More Power!!and also some brakes picked up an F100… pickup. Several Oppositelock authors got together for a meet; Velocity and DancesWithRotors posted photos from the event while Godspeed11 focussed on Battery Tender Unnecessary's SLS. Makoyouidiot attended C&C in Dallas and Austin. Arch Duke Maxyenko shared pictures of the first Z06. MR2_FTW installed coilovers, replaced some ball joints and made some home-made urethane bushings for his Cressida. Sn210 bid farewell to his Civic and bought a TL. Msatlas visited the Porsche exhibit at the NC Museum of Art. Offroadkarter posted photos of his newly acquired 745i. Aaron Vick Starnes replaced the rockers on his '49 Ford. TwoFortified's S13 was stolen but recovered quickly. DancesWithRotors bought a thing. 505Turbeaux got some very extensive service records with his Audi. Slow4o started installing his Watt's link. Ryjacobs played around in the snow with is STI. It's a "Porch-uh" got his 944 running. EuroJosh pulled the transmission out of his Saturn.
---
As always, If I've missed something and you would like me to include it, let me know.
Fun Discussions
There were several posts that asked questions and sparked some good discussion between last Monday and Wednesday. Take a peek and chime in on some of those listed below:
Just the #tips
Honourable Mentions
These posts have already been shared with Jalopnik directly but deserve to be mentioned again because they were first posted on Oppositelock:
Want to participate on Oppositelock? Check out the general handbook for posting on OppositeLock as well the Oppo tools to help you get started.