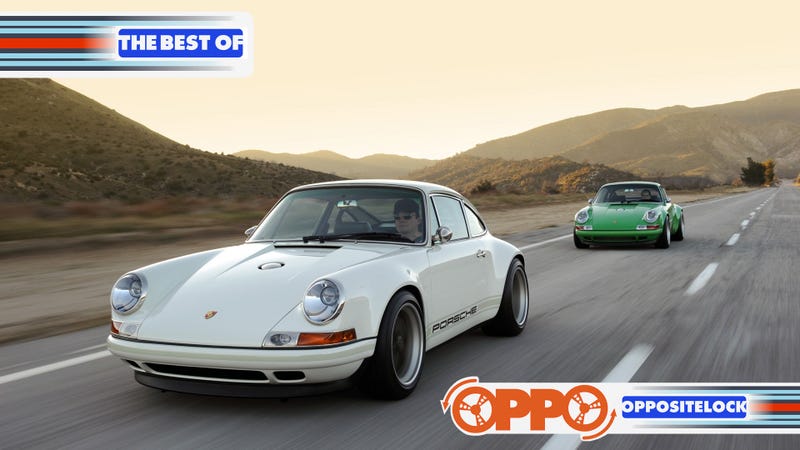 Gathered here are the Oppositelock posts that people put a good deal of effort into writing last Monday through Wednesday. It includes bumper installation 101, entry level luxury cars, forgotten race cars and more.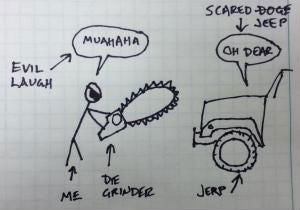 I would fist like to apologize for the lack of potato shots for this narrative. Since I know many of you are like me and don't like reading, I drew you pictures! I purchased a Smittybilt XRC bumper PN 76806. Removing the factory bumper is pretty simple task and doesn't require much more than removing (breaking) a few clips and bolts.


A3, CLA, ATS – they all have one thing in common: the promise of luxury ownership at non-luxury prices. But does this new crop of enter-level luxury cars, with barrier-to-entry so low a grocery bagger could afford one, have the potential to damage the brand?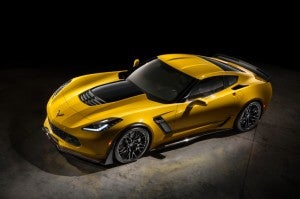 Let me start by saying I'm a devoted Corvette guy. I've had two C5s and three C6s. And I love the C7. But seeing the new Z06 in person I couldn't help but think it looked like it was one big forum-lead DIY project. The new C7 Z06 looks like it drove through a JC Whitney catalog and was attacked by stick-on parts.


The sun was setting just right today on my drive home from work. As I slowly made it through traffic, I was left to wonder why I so quickly fell out of love with my old car, a 2011 Kia Optima EX. For three years, it had been a wonderful friend. She successfully survived NYC, Baltimore, DC, Detroit and South Carolina, with nary a hiccup. Every time I drove past a glass window, I'd try to catch a glimpse, lovingly taking in her dark cherry red paint, and snarky look. Yet, today, she sits at home, unloved, and forgotten, largely because I've traded her in for a new friend.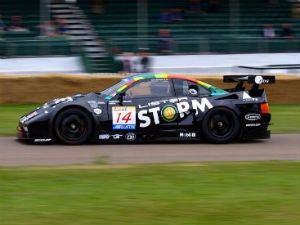 To some of you, the car pictured above, the Lister Storm. will evoke memories of a fire breathing, Jaguar V12 powered GT racer from the 1990s. But for most, it just brings up the question "What's a Lister?", and that's kind of sad. Well, for those of you who don't know of the Storm and its history, let's take a trip down memory lane and learn a little about it in this first edition of Forgotten Race Cars.
The new United SportsCar Championship [kicked] off its inaugural season this weekend with the Rolex 24 at Daytona with a massive grid of 61 cars, including 27 prototypes. However, as you probably know already, there [was not] an LMP1 car among them. The elimination of the top prototype class has caused a lot of outcry from sports car fans since it was announced, and it is undeniably sad to see its death in North American series. But it's going to be okay.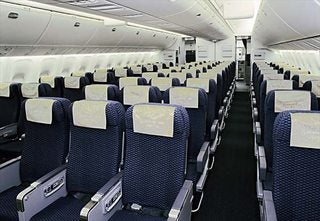 Air travel used to be very awesome. You even dressed up in a suit and tie just to sit in a metal tube! Now, for many passengers, it's a pain in the ass. What happened? The short answer is probably what you're expecting: $$$





Many of the FWD coupes that have been passed off as consumer products are legitimately terribad. The Altima coupe is a pretty good example - Nissan still played with the structure a bit to get a car a good deal smaller than the sedan but at the end of the day it's still bloated, still too large. The so-called Monte Carlo was an even worse offender, especially in its very last iteration - not necessarily any smaller than the Impala, the exact same engine options (granted they included a V8 and a 300-HP V6) and perhaps maybe some lightly tweaked suspension. But I still very strongly feel that there is a place for the FWD coupe. They are a thing of beauty.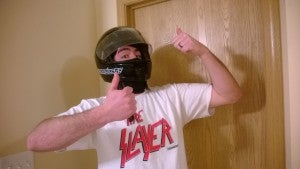 Ok so maybe I didn't become a racing driver, but I did get taught by one and you actually can too! For cheap! Because one thing is for certain about us Jalops, we are all fairly broke! Me very much included. However, after my wife got us tickets to last year's F1 race, I decided that this year I would try my best and pull a Caswell and just do as much as I could in the Motorsports and Automotive realm as money would allow! Which is not that much, and consists of a lot of looking on Groupon and ways to sneak into places so I don't have to pay. So essentially exactly what Bill does. Except I don't have a rally car.
I've been reading a fair bit lately about the hatred towards the pending double points rule in the 2014 F1 season. In the interests of fair debate (and because I'm a fence sitting asshat), I thought I would offer the counter points. Feel free to hate away in the comments.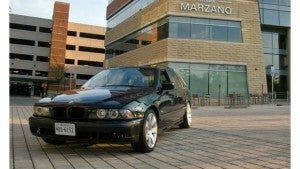 The E39 BMW 5-series (sold from 1997 to 2003 in North America) was an evolution from the outgoing E34 5er, but the classy styling was one of the last pre-Bangle designs and penned by Tokyo born Joji Nagashima. The touring version was particularly pretty and available with a manual gearbox. Also check out This Is What A Pre-Orloved V8 Corveetle Looks Like.
For all of us, they go hand in hand, don't they? Whether its cruising down Main Street bumpin' Still D.R.E, or ripping through canyons blasting Radar Love, music seems to have an integral role in the driving experience for a lot of people. I feel that none of my driving journeys (besides track days [in a Camry of all things]) would be the same without music. But why is that?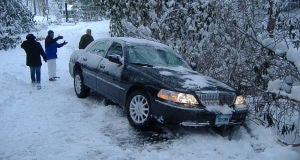 At the risk of being painfully obvious, winter is cold, summer is hot, and being broken down on the side of the road sucks. I think everyone can understand these three facts. So that being the case, how can you make sure that these three insignificantly minor facts don't end up being Extremely Deadly?


So far in my largely-theoretical (at least, until the summer, maybe, cross your fingers!) quest for the ultimate budget screamer, I've examined Some Ford blocks, some low-stroke Dodge Blocks, and the possibility of building an gen I based Chevy 302, as well as toyed around with the idea of an LT1-based 302 or 327. Both are possible, but I've decided to apply the same idea to LS-based engines, which are known for being unusually high RPM V8s to begin with, especially with their hydraulic cams.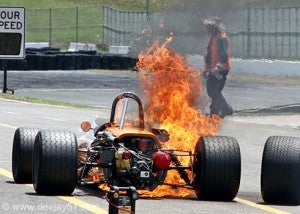 A general instructional guidey thingy based on my knowledge of Motorsport, fire safety, and seeing and hearing about the kinda stupid stuff some people do at racetracks. A lot is common sense, but I see a lot of it ignored every weekend. Let's begin.
---
The Best of the Rest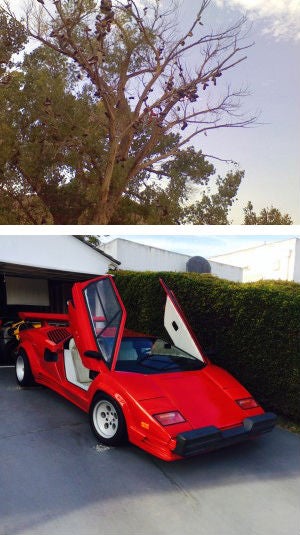 Demon-Xanth visited the shoe tree seen on Top Gear. Brian, The Life of's neighbour unveiled his Countach. Ricepuddin auto crossed his 'murica-mobile. Jbh photographed the snowy streets of NYC. Cazzyodo attended the Boston Autoshow and played around in some fresh snow. DatASSun picked up an LS v8 for his Datsun. Aaron Brown's Porsche 944 didn't like its exhaust system. CrzRsn went to the Detroit Auto Show. Rory Farrell bought himself a JDM coupe. Offroadkarter documented his drive home through a snowstorm. MR2_FTW took some pretty snow pictures. Wolfezx visited PSI. NinetyQ sold his Audi 90.
---
As always, If I've missed something and you would like me to include it, let me know.
Fun Discussions
There were several posts that asked questions and sparked some good discussion between last Monday and Wednesday. Take a peek and chime in on some of those listed below:
Just the #tips
Honourable Mentions
These posts have already been shared with Jalopnik directly but deserve to be mentioned again because they were first posted on Oppositelock:
Want to participate on Oppositelock? Check out the general handbook for posting on OppositeLock as well the Oppo tools to help you get started.