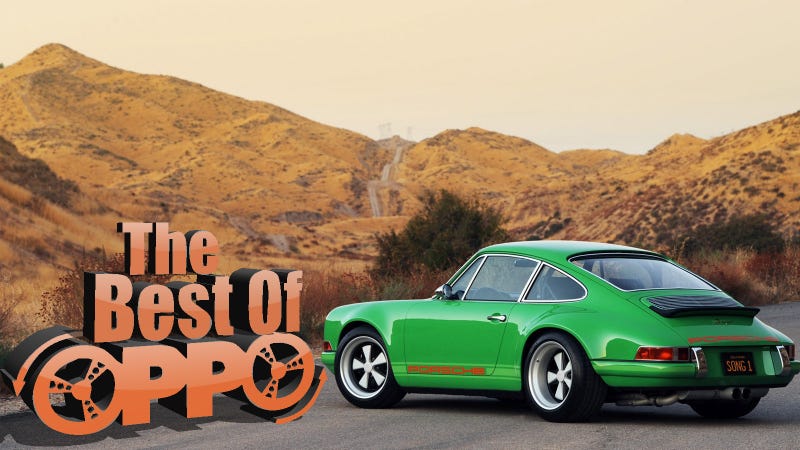 Gathered here are the Oppositelock posts that people have put a good deal of effort into writing from the last 24 hours. Today it includes a Concours event, Cars & Coffee, the 2002 Prius and more.
I should have known what I was getting into by the lack of an e at the end of Concours. This denotes the French pronunciation, (say: kahn-core), which can be roughly translated as "a show full of cars too beautiful to imagine and nearly impossible to afford." But I didn't. I've been to countless car shows, sure, but this was a concours, an event generally prefixed by words like Pebble Beach and suffixed by others like d'Elegance. I spent Sunday afternoon awash in a delirium of heat and beauty, and I saw things I never thought I would. Not bad for Kansas City.
"At least once in your life, you know you should drive something British with two seats and a soft top. It might break down, but while it's running it will be the most fun you've ever had in an automobile." My uncle would tell me this during one of our many Christmas time conversations about cars.
You know a C&C is going to be good when you have a 930 turbo parked right next to a 996 GT3! BTW, my pictures are kind of crap, so don't go running to the comments posting about their quality. I know. Also, there were a lot more cars there (including a sweet restomoded Camaro and E28 M5 that left before I could take I picture of it), but I didn't have enough time to photograph them all.
Reader TwinTurboBMW also attended a C&C event, this time in Portland
I'm not a huge fan of convertibles but I can definitely see where the allure comes from. My personal friend for example, wouldn't trade his beloved Miata for anything. He and I had the pleasure this past weekend of spending two days at Grattan Raceway in Michigan as workerbees with two of our friends for a performance driving school put on by Windy City BMW.
As promised, I became a Prius driver yesterday. For those that don't recall, my grandma lent me her Prius for the summer because of my 80+ mile/day commute. Here's a review of the car based on the little driving I've done.
.
Many of us on this website love us some big engines. Whether they be in the form of a hand-made Italian masterpiece or a monstrous creation straight out of Detroit, brawny power plants have molded auto-related dreams for generations. The disheartening reality, however, is that we may be a decade or two away from eight cylinder engines going the way of the dinosaur.
This is The Opposite Locker where we try and sort out the cool from the square. You are free to discuss your point of view of the cars, on the board and up to bat, within the comments with an optional use of the "Anna Kendrick Test." This is a discussion system detailing how cool a car is, not how fast, fun, or frivolous it may be, but how well it looks in the cat's pajamas.
I liked GT5, I thought it really did a much better job than previous titles of adding a little good, old fashioned fun to the mix of a rather serious racing sim/game. That being said, There are plenty of improvements, namely online, that I can think of.
As always, If I've missed something and you would like me to include it, let me know.
Fun Discussions
There were several posts that asked questions and sparked some good discussion over the the last day. Take a peek and chime in on some of them listed below:
Just the #tips
Honourable Mentions
These posts have already been shared with Jalopnik directly but deserve to be mentioned again because they were first posted in Oppositelock: