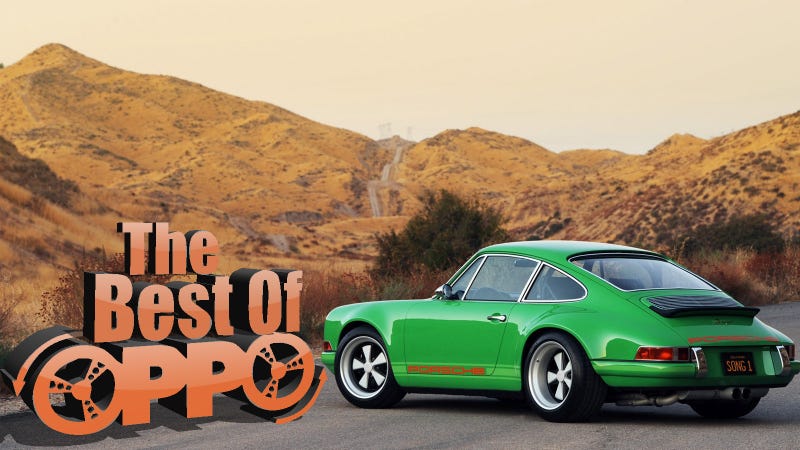 Gathered here are the Oppositelock posts that people have put a good deal of effort into writing from the last 24 hours. Today it includes Naples' forgotten cars, a daily commute in a 60's beach buggy and more.
Naples, Italy's third largest city and the eighth largest in the EU, is a place with a lot of history. In fact, it's one of the oldest continuously inhabited places in the world. Remains of Greek settlements from the bronze-age can be found in the area, and the city later played a vital role in merging Greek culture into Roman society. With such a rich history it's easy to see how stuff that's a bit newer (let's say around 1850) can get a little lost for a while.
As some of you may remember, when I published my unsolicited review of a 1999 E39, I mentioned that the transmission was rubbish aside from the fact that it was manual and offered six gears. Is a rubbish 6 speed manual still better than an automatic? Of course. Was I satisfied? Not at all.
Recent hype has surrounded a camper conversion once owned by Steve McQueen, and while he certainly was a legend, the car is just another Chevy pickup with a camper conversion. Nothing to see, move along please. Move right along to the strangest camper you'll find on the web. This is a 1935 Graham Housecar, for sale in Mohawk, NY for $5,500 buy-it-now or best offer on ebay.
I'm bored so I came up with a top ten list of cheap cars good for peeling out, doing donuts and participating in general automotive tomfoolery. I've narrowed my list to cars that can be bought used for less than ten large. The cheaper the better. I've also only included rear-wheel-drive cars, because trying to do donuts in front wheel drive cars makes you look like an idiot and any sub $10K awd car that can be convinced to do donuts, is about 3 seconds away from breaking.
I wish I knew how to make pictures big in the header and all of that bologna, but I don't, and I don't care enough to figure out how right now. Just put in my two-weeks with my current employer, and accepted a new position with a new firm doing something I will enjoy MUCH more, so I'm in a good mood. The benefit to you? I have a small cache of wallpaper sized car-deliciousness that needs preserving. Check out Part 2 and Part 3 for more wallpaper-y goodness.
The days of the manual transmission with a stick and a third pedal may well be coming to a close. Given the sales numbers, the technology and money behind the newest generation of manual-automatics, DSGs, DCTs and so on is just so impressive there isn't much of an incentive for automakers to put dollars into developing new, proper manual transmissions.
As promised, I returned to my local shady dealership. I apologize for the not-very-good picture quality, these photos were taken quickly and quietly, because of the evil looks I get, and you don't want to start trouble with them. I entered their main building where they have their most expensive cars, like Porsches (many Cayennes and Panameras), AMG's and Audi's. They even have a classic Ferrari in there. I wonder how it ended up there...
Tonight while reading a copy of the New York Tribune from 1903 I came across a story titled, well, I'm not real sure which title is the correct title since this story has what appears to be 5 various levels of titles. Here I thought the SEO ninjas of today's online world were title-crazy. Aside from the awesome fact that this was a 110 year old Cannonball Run and that the New York Tribune was writing about it was just how detailed and blunt the account of the injuries and deaths were from that race.
In the Philippines, we follow the number coding scheme to lessen the volume of cars during the rush-hour traffic. The last number of the plate will determine what day your car/s are not allowed to be driven (weekends are not included). However, registering fresh-from-the-showroom cars takes a lot of time for it to have a license plate. Therefore, many drivers would have a chance to be exempted from the rule. To solve this, conduction stickers are used as temporary.
So my wife has decided to finish her masters in Communication Disorders. That means she will be driving roughly 100 miles, 5 days a week. Currently she drives a 2008 MINI Cooper S which we both love. Luckily when we bought it used we purchased 100,000 mile extended warranty and it has paid itself off threefold. In 18 months she put 40,000 miles on it and I worry it won't make the next two years of grad school without being in the shop again. Now, as I said we love the MINI, BUT the closest MINI dealer is 2 hours away. That brings us to New Car Search: Wife Commuter/Husband Toy Edition!
I needed to get a lift in to work this morning, so I called round to see one of my colleagues who conveniently lives in the next street. Among his vintage motorcycles and classic scooters, he has a 1969 Beach Buggy. It's quite an endearing device. The paintwork is faded and worn, the fibreglass underneath crazed, and everything has the patina of a well-used toy. It's also very noisy, although the owner has taken sufficient pity for his neighbours to install a Supertrapp muffler onto the end of the rather short exhaust to keep it just below deafening. As always, If I've missed something and you would like me to include it, let me know.
Fun Discussions
There were several posts that asked questions and sparked some good discussion over the last day. Take a peek and chime in on some of them listed below:
Just the #tips