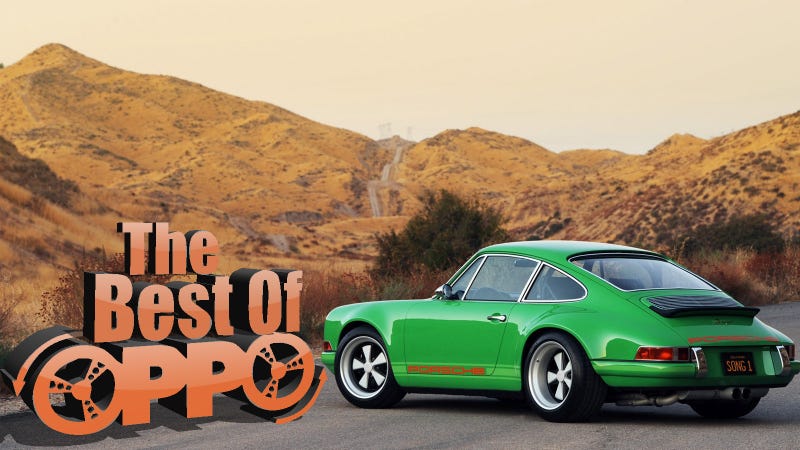 Gathered here are the Oppositelock posts that people have put a good deal of effort into writing from the weeked. Today it includes a river yacht tour through Europe, a first time autocrosser, an FR-S roadtrip through the Rockies and more.
By now you're well-versed in my…"eccentric" taste in weird forms of racing that don't "exist outside of my imagination." A minor setback, at worst. And while Endurance Drifting, Flying GP, and Perpendicularcross will probably never exist, today I came up with a "brilliant" idea that could just work.
After a quick trip to Canada, the teams have returned to Europe and one of Formula 1's most hallowed events, the British Grand Prix. It was here at Silverstone in 1950 that the modern world championship began, and the British GP has been contested every single year since. The fact that only the Italian GP shares the status of having been run every year helps to illustrate the significance of the event.
It's not often I get to take vacation, however, my bride and I recently took a few weeks off and spent some time floating through the EU on a barge. (This was not the barge we were on.) I snapped more than 2700 pics in 18 days, she snapped 1300. It's going to take an extended sick-leave or another vacation just to go through them all. Oy, what have I done ?
On Saturday, I decided to go ahead and enter my Cirrus in my local autocross event. The plan was to meet my friend,who is out of town, at 8 AM and enter both of our cars in the competition. I have a completely bone-stock 2000 Chrysler Cirrus 2.4L with all-season Kumho 195/65/16 tires with a treadwear rating of 680 (!). My friend has a 2008 Civic Si Sedan with tons of engine mods, suspension/camber adjustments, but looks stock from the outside. As it was my first autocross event, I had little expectations from me and my lovely ol' cloud car. However, I was excited and curious to see how we would perform.
I recently stumbled on a few old photos of my visit to the Simeone Automotive Museum in the Philadelphia area a few years ago. It's a fantastic place, showcasing the history of racing, from pre-WWI races to mid-60's LeMans. The museum was a little dark inside so I didn't get great pictures of some early cars, like the awesome American Underslung, but below is the better pick of photos.
After a period of unemployment, the piggy bank is low. I don't have the capital to up and buy a car, I'd have to use my future earnings for it. Problem is, I want a car as soon as possible. This means that I have to play near the bottom end of the used-car market, $1000-3000. I don't have to describe what these bottom feeder vehicles are like - tons of future scrap, abandoned projects and ticking time bombs.
I just got back from a walk in my uncle's neighborhood to see a little "lawn ornament." This vehicle is fully functioning and registered in the state as an antique. It seems that the owner parks it in his front yard with a write up on it so people can stop and check it out. Pretty cool little thing. I don't know anything about it and I'm on my phone so I won't be doing a history of it. Just enjoy the images.
This is The Opposite Locker where we try and sort out the cool from the square. You are free to discuss your point of view of the cars, on the board and up to bat, within the comments with an optional use of the "Anna Kendrick Test." This is a discussion system detailing how cool a car is, not how fast, fun, or frivolous it may be, but how well it looks in the cat's pyjamas.
Today was a huge shock. At least 10 car clubs representing all kinds of makes were there and did a "parade lap" on the track. They also did an exhibition with a 917K driven by former F1 driver Brian Redman (who also had at least 1 Top 10 finish in the car). If you've seen Le Mans with Steve McQueen, you've apparently seen this 917K.
.
It was my great fortune to enable my friend Matt to attend his first-ever automobile race this weekend with the ALMS/Pirelli World Challenge meets at Lime Rock. (Actually it was our other friend Lou who made this possible with some freebie passes, so respect is totally due in that way. But onward.) I got to thinking about this situation a bit, because it seems that trying to bring an interested novitiate into the fold takes a bit of skill and a bit of discretion and a bit of luck. We'd like to think this is an automatic thing and an obvious attention-grabber; it isn't. So after some consideration over a crab-cake dinner this evening, a few basic rules about introducing someone to racing in real life.
Took my brother to Whistler today for the FR-S' first real run in the wild. It. Was. Epic. A little over 600 km round trip through the heart of the BC Costal Mountain range on a beautiful summer day in the darling of the sports car world. What more can I say? We brimmed the tank at Costco and hit the highway mid day. Traffic was light and the roads were clean. We blasted out of Kamloops on the Trans Canada Highway with QOTSA setting the pace on the stereo.
This has been on my mind recently. A couple of posts have catalysed it, and I even said this to a newly-minted opponaut just yesterday, but, again, Any car, when driven by a jalop, can be a cool car. What makes a car cool isn't the styling, or the engineering, or the heritage, or the performance. What makes a car cool is the link with its driver.
Well I was planning on doing this as a live blog from the track but due to a combination of immense alcohol consumption, a redneck pool party and poor cell phone reception I decided to do it when I got back. So now that I am back to work and forced to be sober again here you go. After 360 days of waiting I was able to make my yearly pilgrimage to Lime Rock Race Park in Lakeville CT for the NorthEast Grand Prix. I really only get about 5 days off during the year and every year I choose to spend those days with some fantastic people watching some of the fastest race cars in the world.
Ever since I was a kid I, like most of you, wanted to drive race cars. Two years ago in the Nevada desert I finally got to realize that dream, and it was far greater than anything I could have ever imagined. Battling the brutal terrain, chasing down and overtaking my opponents, getting to drive as hard and as fast as I dared for hours, it was amazing. But along the way to realizing this dream I discovered co-driving. And as it turns out co-driving has proven to be nearly as great.
A rally was held this Saturday 20 minutes from where my parents live (and me when I'm not at away at school). Since my father is a member of the group that organise it, I went to help. On Thursday evening I had the chance to ride shotgun in a Renault Clio R3 during practice. On Friday we installed barriers, signs and tapes in the two stages as well as the parc fermé.
Car meets
Several Jalops attended car get-togethers this weekend; MountainCommand attended the Rockland County Mega Meet, TwinTurboBMW went to C&C Portland and AudiForLife happened to be there too. Check out this post for more of that Carrera GT.
As always, If I've missed something and you would like me to include it, let me know.
Fun Discussions
There were several posts that asked questions and sparked some good discussion over the the weekend. Take a peek and chime in on some of them listed below:
Just the #tips
Honourable Mentions
These posts have already been shared with Jalopnik directly but deserve to be mentioned again because they were first posted in Oppositelock: