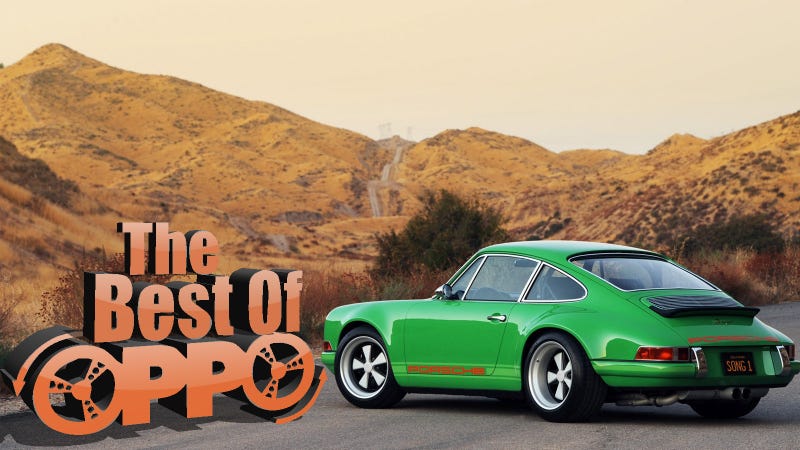 Gathered here are the Oppositelock posts that people have put a good deal of effort into writing from the last weekend. Today it includes the Greenwood Revival, the Lamborghini LP670-4 SV and more.
Glen Shepard said, "I think the race car is a denominator that brings people together." This was certainly my experience earlier this month at the Greenwood Revival. I've already covered the course and the cars, but to leave it at that would be to rob Greenwood of its true mortar. That Saturday, just as in many Saturdays in the '60s, it was the culture that held the Greenwood Roadway together.
The time was the early-mid '80s in the windswept borough on Lancaster, CA in northern LA county, my hometown and where I spent my formative years until I was old enough to get out for college and never look back. During high school I worked for a friend of my parents, Gary Fisher, an intimidating but in retrospect genuinely nice man who was the proprietor of what was then one of the best places to stay for those who had reason to spend more than the time required to stop and grab a bite and/or refuel as they passed through town (as most everyone else did). The hotel was called the Desert Inn. It was a full service hotel with two restaurants, two pools a bunch of rooms, conference facilities, and a Hertz agency. The latter being the subject of this post.
...called ARC Automotive. My uncle knows the owner, Albert, so he let me go with him and allowed me to take some shots! (more after the break!)
.
.
Long story short, earlier in the week I was out on a date. Just watched Furious 6 with friends, and I was driving her home after midnight. Stopped at a Tim Hortons to get some Timbits and drinks. As I was heading out of the parking space in a fairly empty parking lot, I stepped on the wrong pedal as I looked at her when she gave me my drink and I drove (at 15 kmph) into a light post.
When you think of Saab, what comes to mind? Is it Vampire Weekend's horrible demise to one? Or the Saab and GM merge? Whatever you think, I doubt it involves today's Craigslist find, a 1974 Saab Sonett III.
.
"Each of us has a certain vehicle we simply can't help lusting over. Whatever quirky four-wheeled shape we first identified with in our formative youth, whether it was from a toy or a television program, or a magazine, or an older family member—that initial moment when we locked not just eyes, but heart on the vehicle and immediately without self control whispered "woah..." or some other non-descript term expounding the pleasure our coronary system was experiencing. That's why there are no boring cars—just the ones we find fascination with because like knowing the voice of a mother, we know just what makes us feel love in sheet metal."
This is The Opposite Locker where we try and sort out the cool from the square. You are free to discuss your point of view of the cars, on the board and up to bat, within the comments with an optional use of the "Anna Kendrick Test." This is a discussion system detailing how cool a car is, not how fast, fun, or frivolous it may be, but how well it looks in the cat's pajamas.
Shirt, shorts, sunglasses, top down and pedal to the metal. What will the sportscar industry have in store for a fast, wild and roofless summer adventure this year?
They planned to make 350 (351) but only got to 186 since they had to make room for the Aventador production lines. Then people started crashing the things like it was their job. So now I reckon there's about 150-165 top dog Murcielagos still out there, making this an even more rare and desirable car indeed.
.
I'm still in the honeymoon phase of parenting, meaning I only have one kid. Everything he does is just too cute. This weekend, after pushing him all over the place on his battered car (?), I decided to shoot some video.
Finally, after 7 years of trying, I made it the Ferrari Festival. Here is a massive photo dump of every ferrari at the fest.
.
.
As always, If I've missed something and you would like me to include it, let me know.
Fun Discussions
There were several posts that asked questions and sparked some good discussion over the weekend. Take a peek and chime in on some of them listed below:
Just the #tips
Honourable Mentions
These posts have already been shared with Jalopnik directly but deserve to be mentioned again because they were first posted in Oppositelock:
As you all know, the 24 Hours of Le Mans was run this weekend and I just want to give a thanks to Porsche9146, Nobody and Axel-Ripper for running the 81st 24 Hours of Le Mans Live Blog.