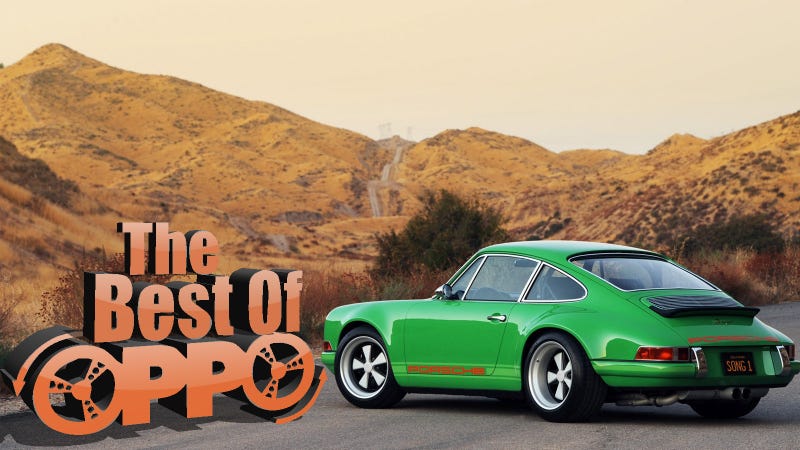 Gathered here are the Oppositelock posts that people have put a good deal of effort into writing from the last 24 hours. Today it includes Pikes Peak tech inspection, the LaForza SUV and more.
The LeMay car collection contains 3500 cars, with this museum showcasing 350 of them. This museum contains cars mainly from the early post war era as well as post muscle car era cars. It also showcases some unique cars like a flintstone car, a Ferrari engined (Modern Ferrari) Volvo wagon, and BMW Isetta.
Every Saturday (weather permitting) a Cars and Coffee style event is held at Redmond Town Center however the event is more focused towards exotics, although there will be M3s, S4s, Supras, Mustangs etc. The best part had to be the real Ferrari 250 GTO 3413GT.
They'd be better, and more plentiful, but it was as I reported yesterday: "hot as balls outside". All pics taken with the best camera I own: my phone.
.
.
.
Regulation changes are not evolutionary in this case, they are revolutionary. Just basic points: NO engine intake restrictions. NO displacement limitations. NO boost limits. How will they control some out of control mad-science group-B-proto-cars? Well they can't except for a little thing called fuel allowance per lap.
A quietly-kept collection of the finest examples of priceless pre-war automobiles are yours to enjoy – for free! Just stop by the Academy of Art University's ongoing exhibit at San Francisco's Palace of Fine Arts.
.
Picture this: You're driving down a major road. The speed limit is 50 and you're at a stop light. You see this car in front of you, not in great condition, it's loud, you can hear it idling and smell it too and you see a kid in the driver seat. The thought you're having is "damn what a tool.. hes going to rocket away and kill somebody in the car he built to impress his friends and get girls." This is a comment rooted in ignorance.
Race officials just don't take the teams' word for whether a given car is safe or not, they follow the dictum President Reagan used: Trust, but verify. Today saw the technical and safety inspection for the upcoming Pikes Peak International Hill Climb. It's also the fans' first shot at seeing the race cars and competitors up close.
Welcome to "Is it bad if I want a...." - a feature where I post some of the stranger, more obscure, or different cars from my wishlist. The Bronco Centurion was Ford's answer to GM's Suburban a decade before the Excursion. Not much to say about this one other than that it started off life as a Ford F-Series then was unfitted with a Bronco rear end and a 3rd row bench by Centurion Vehicles.
It's pretty hard to get any official details on the ZIL-41047; the diplomatic limo that carried the last of the Soviet dignitaries (and some of the more recent Russian ones). Some have fallen into private hands, but every time I see one for sale, its somewhere in the range of $150,000 and in the UK.
Welcome to In Plain Sight, where I make myself late for things to stop and admire one of the many fascinating, Jalop-worthy cars parked right on the street amidst the hustle and bustle of New York City. Between the terrible road conditions, dense street grid, abundance of pedestrians, and maniacal cabbies and panel vans, New York is not a friendly environment for cars. So it's always a pleasant surprise when you come upon something unique and unusual braving the conditions, and such is the case with this 1999/1989 Laforza.
As always, If I've missed something and you would like me to include it, let me know.
Fun Discussions
There were several posts that asked questions and sparked some good discussion over the the last day. Take a peek and chime in on some of them listed below:
Just the #tips
Honourable Mentions
These posts have already been shared with Jalopnik directly but deserve to be mentioned again because they were first posted in Oppositelock: