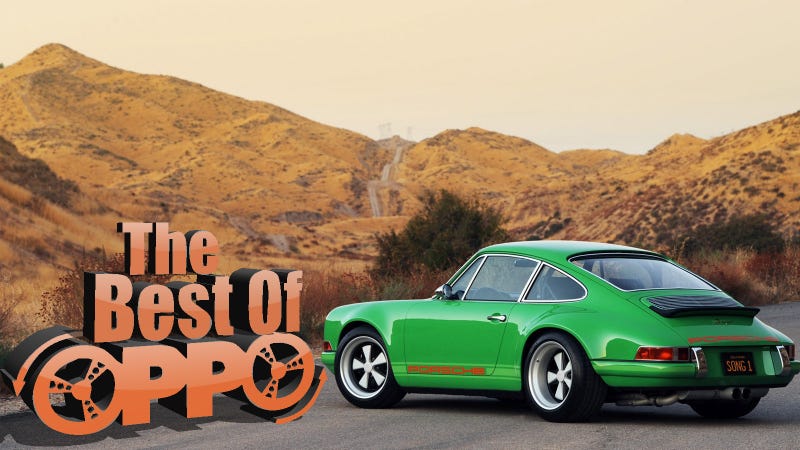 Gathered here are the Oppositelock posts that people have put a good deal of effort into writing from the last 24 hours. Today it includes an adventure with a truck, how to drive a quirky 20 year old jeep and more.
Something wasn't sitting well with me Sunday morning, but I couldn't quite figure out what was bothering me. I just started a new work-from-home job the previous Monday so my work life was full of exciting possibilities. My romantic endeavors hadn't been working out as of late, but that was nothing new. The preceding Saturday night was a relaxing one - no late night bar hopping or misadventures of any sort had transpired. It should have been a peaceful Sunday at the house, but I was discontent. It was begging for some adventure and I was happy to oblige.
A truck ready for the Baja 1000 after you fuel it up for the first time five minutes after you buy it. A gasoline engine that cranks out horsepower and torque that leaves you with smiles (just don't think of the gas mileage you're getting). Exterior lines and color schemes that make people think you're driving a dune runner. These are just some of the aspects that make the Ford SVT Raptor the King of Trucks in my eyes (also, it will baby).
It's a matter of proportions that make a car unique: massive wheels, massive brakes, massive engine and massive power. Tiny mirrors, impossibly low, impossible speed. And yet it takes more than changes from the standard car formula to make a car special, you can't simply throw all the ingredients in to a pot, stir, bake and reveal a classic. So what is it?
The Renault Caravelle was a small convertible from Renault based on the Dauphine. It was marketed around the world as the Renault Floride, except in the US where this would have been confused with a dental hygiene product, but it was actually named after the sunshine state, Florida.
Over the course of it's life every vehicle acquires it's own set of quirks and foibles. Our '91 Wrangler has plenty of them, some much more annoying than others. Step 1) Open door and get in. Do not wear pants you love, a belt loop will catch on the door latch and get ripped off. 2) Promptly burn yourself on the vinyl seat that has been baking in the sun all day. 3) Start the engine. The barrel is worn so no key is required...
CBS News reports New Jersey is only a day away from passing a law to beef up its Left Lane Law. It turns out the Garden State's legislators are fed-up with drivers who sit in the left lane impeding the natural and safe flow of traffic. "It puts people in danger, because they never really know what, you know, they're doing," said Nate Lofland of Long Branch. "A lot of people use it as a cruising lane," added Mark Villani of Shrewsbury. "It backs traffic up, and, you know, it's an encumbrance to traffic, which is a major problem in the state."
We started off with the Arizona. A somber experience. All those lost ... No wonder this is hallowed ground. After all these years she still weeps her "black tears" morning the loss of her crew. Difficult to make it out, but the bridge to Ford island is super neat. It's one of only two submersible bridges in the world. The center low section has two ballast tanks that allow it to be submerged deep enough that an aircraft carrier can pass over it. Fascinating!
How is the King of the Mountain climbing it this year? Well, in the Electric class! How could I have not heard this news? It makes a lot of sense too, if if you think about it. A hill climb is the perfect opportunity for electric race cars, particularly at Pikes Peak. Unlike most other forms of racing, they need less than 11 minutes worth of electric charge, which is quite possible with current technology.
As always, If I've missed something and you would like me to include it, let me know.
Fun Discussions
There were several posts that asked questions and sparked some good discussion over the the last day. Take a peek and chime in on some of them listed below:
Just the #tips
Honourable Mentions
These posts have already been shared with Jalopnik directly but deserve to be mentioned again because they were first posted in Oppositelock: