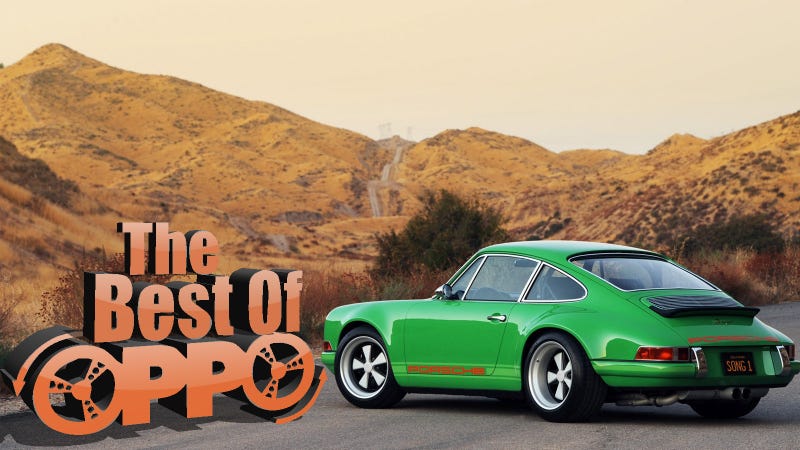 Gathered here are the Oppositelock posts that people have put a good deal of effort into writing from the last 2 days. Today it includes Italian designs on American cars, a guide to attending Le Mans and more.
Well it finally came, it was supposed to be delivered Last Thursday, then Friday afternoon…then Saturday night…then Monday and FINALLY it came late Tuesday Exactly 1 week after it had left its destination 600 miles away and 5 days AFTER they promised me it would be here.
The 80's are fondly remembered for talking cars, car phones and digital gauges, but the decade is not usually seen as a golden age of automobiles. These vehicles would beg to differ: presenting the Ten Best Cars of the 1980's!
I just got back from the Formula SAE competition in Lincoln, Nebraska. I have a lot of cool things to share, so come on inside. For those that don't know, I'm on the Cal Poly San Luis Obispo Formula SAE team. This year I did a lot of machining and fabricating, a little bit of on the fly designing, and overall put in a ton of hours on the car. I got invited to comp, so I went.
.
You see that guy up there? That's what most of us are. We're all just normal people who visit Gawker media sites because we're bored or trying to avoid work, and we'd rather read about stuff that we're interested in or agree with. Though that's probably the case, I still can't help visualizing the authors and regulars of each site as very different people...
The diamond-water paradox challenges how something essential to survival like water is much, much cheaper than something decorative, like diamonds. Therefore, cars like the Jeep Patriot ought to be more expensive than a gullwing SLS... Full Disclosure: Jeep wanted me to drive the Patriot so badly that they made me rent one for my 800km trip. Thanks, guys.
Automobile manufacturers spend millions of dollars building concept vehicles to prove a design for aesthetics, packaging and performance before releasing them to cookie-cutter production facility. The seller of thinks he has a custom Volkswagen Beetle Limo, but we know better, it is a Porsche Panamera Concept car.
Italian design, automotive design especially, is regarded by many as the best in the world. Italian designers and craftsmen have given the world countless lusty Ferraris, DeTomasos, Lamborghinis, etc.. But The italians have always had a secret love affair with American cars. Well, it wasn't a secret exactly, but an interesting trend of Italian design houses presenting their own semi-official renditions of iconic American cars. Here are a few notable examples of the best Italian carrozzerie re-imagining American icons.
That's right, Welsh motorsport has a home. The self proclaimed 'home of Welsh motorsport' is Pembrey circuit. It tends not to attract so many entries as it is far off the beaten track and rains a lot, but as everybody says it is worth the visit. But I would say that wouldn't I, taking part in any race is awesome.
.
Cars are sometimes described as 'nippy', the definition of which seems to be small, with a small engine, sharp steering and chuckability. But when I drive cars that other people call nippy I just get frustrated at the massive slowness of them. The new Renault Clio is a good example. Most reviews call it nippy. I called it slow. Well, OK I said the steering was sharp and precise as well but you get my drift.
I'm writing this while on the train from Le Mans to Paris. The 2013 race ended a few hours ago and Audi won again. Many things happened during the race, including the death of a driver, but I'm not going to dwell on that here. What I want to provide is some info on how to attend the race as a normal fan. No special treatment, no media credential, no PR rep driving you around in a golf cart, no suite and no place to sleep.
As always, If I've missed something and you would like me to include it, let me know.
Fun Discussions
There were several posts that asked questions and sparked some good discussion over the the last 2 days. Take a peek and chime in on some of them listed below:
Just the #tips
Honourable Mentions
These posts have already been shared with Jalopnik directly but deserve to be mentioned again because they were first posted in Oppositelock: