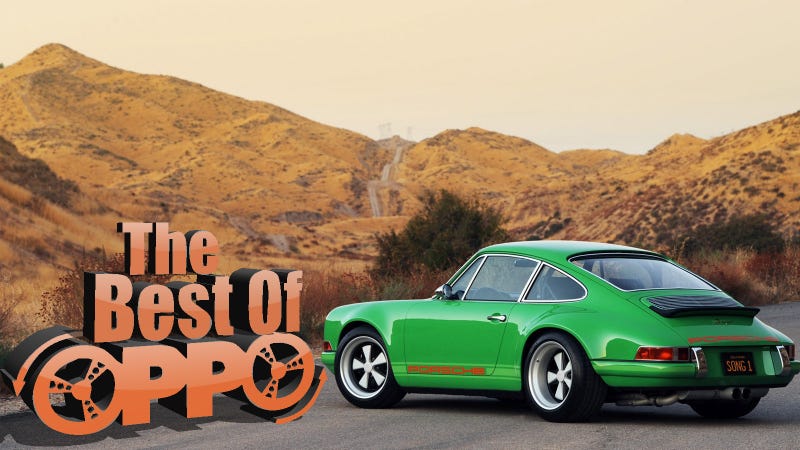 Gathered here are the Oppositelock posts that people have put a good deal of effort into writing from the last 24 hours. Today it includes headlight restoration, trying to get your car's rated mpg, photobombing the V8 Supercars at the COTA and more.
Today's Project: Headlight Restoration - TTYYMMNN
In preparation for the family odyssey to San Diego in the Odyssey (see what I did there?), I wanted to restore the headlights since they had gotten pretty cloudy. I picked up this 3M Headlight Restoration Kit from Wal•Mart. It's about $20, and one kit will do two headlights. You'll need a drill, and the kit contains varying grits of sandpaper, a buffing pad and polishing compound. You'll also need a spray bottle of water. Read more…
Turbo V6 Powered Beetle, Meet Telephone Pole - TheDailyTurismo
There is something about the Volkswagen Beetle that brings out the Mr. Hyde in normally mild mannered people. Perhaps it is purgatory-slow speeds and clack-ity-rackity noise from the stock Beetle engine that drives its owners mad and convinces them to transform the egg shaped coupes into wheel-standing coffins. Whatever the reason, we can't think of one not to buy this 1973 Volkswagen Super Beetle with 513 horsepower turbocharged Acura V6 available in Reno, NV for $6,500. Read more…
I'm still here and I come bearing reviews - YouCanTellAFinn
Or at least my thoughts on the 2013 Escape. Last summer we got an Escape for the wife and I gave some initial thoughts on it. As of then we very much liked it. Well, last week we put on 1200 miles and 20+ hours driving, so I think I can add to the initial impressions. Read more…
You CAN get the rated mpg (almost!) - Bozla
Klaus Schmolls recent article here on oppo really hit a cord with me. About a month ago I started to make a real effort to maximize my fuel efficiency. I try and outdo myself every day and the reason I do it is purely because fuel is so expensive here in the UK. Klaus is paying 1.50 Euros per liter of fuel, but here it spiked (although it has eased a little bit recently) to 1.72 Euros per liter of diesel. Read more…
The Bizarre European GP of 2007 -or- The Short F1 Career of Marcus Winkelhock - Macshome
In the annals of Formula 1 history there are few stories stranger than that of driver Marcus Winkelhock at the European GP of 2007. In a single start, he managed a feat that has never been equaled by anyone. He managed to start last (P22), first (P1), and lead the race at one event. How did he manage this? Read more…
Why Dubai And The UAE Should Have A Derestricted, Autobahn-Style SuperMegaHighway - Accordian 97
One, they're rich Two, supercars everywhere. Three, they're rich. Well, that's a good chunk of it. By now, I think most of us acknowledge that Dubai is well-known for being over-the-top in many regards (especially lately with their police stable). The world's tallest building, the world's most luxurious hotel, so why shouldn't there be an over-the-top derestricted superhighway with the latest technology incorporated to potentially give the German Autobahn a run for its money? Read more…
NPoCP.ph: For P365,000/$8,760, get the best wrong GTO. - Jus1029
Yesterday, a Toyota-powered Plymouth Valiant was featured, and 53.33% of the voters prefer to throw away the engine or crack pipe. Today's NPoCP.ph, we take a look at a Japanese grand tourer, the Mitsubishi GTO/3000GT. (or if you are heavily American, Dodge Stealth). Read more…
They don't make Vettes like this any more! - Dan Mosqueda
Back in the day we had all kinds of really cool cars: Ramblers, Pintos, Gremlins, Pacers, and Chevettes. Behold the Chevette. "The Chevrolet Chevette was introduced in September 1975 and manufactured for model years 1976-1987 based on GM's worldwide T platform and superseding the Vega as Chevrolet's entry-level subcompact. The Chevette was the best-selling small car in America for 1979 and 1980. It was popular in South America as well, where production lasted until 1998." (Wikipedia - becuase I didn't feel like writing in this much detail, but you needed to know). Read more…
White cars - from rustbucket 'death colour' to gleaming supercars - Speedmonkey
White was once crap. A white car was a bad car. In the nineties, eighties and beyond white cars sold in low numbers, were hard to keep looking good and highlighted the inevitable rust for everyone to see. White paint used to be flat. A white car on a dealers forecourt was known as the death colour because it would just sit and wait - unloved and unsold - rusting away in the corner. Read more...
Fluffy Bunny and the Most Last-Minute World Challenge Entry Ever - NinjaCoco
I spent all weekend getting sunburnt and photobombing things with my LeMons team mascot, and all I have to show for it is a bunch of awesome pictures. Enjoy (lots of pictures of V8 Supercars)…
.
.
As always, If I've missed something and you would like me to include it, let me know.
Fun Discussions
There were several posts that asked questions and sparked some good discussion over the last day. Take a peek and chime in on some of them listed below:
Just the #tips
Honourable Mentions
These posts have already been shared with Jalopnik directly but deserve to be mentioned again because they were first posted in oppositelock: