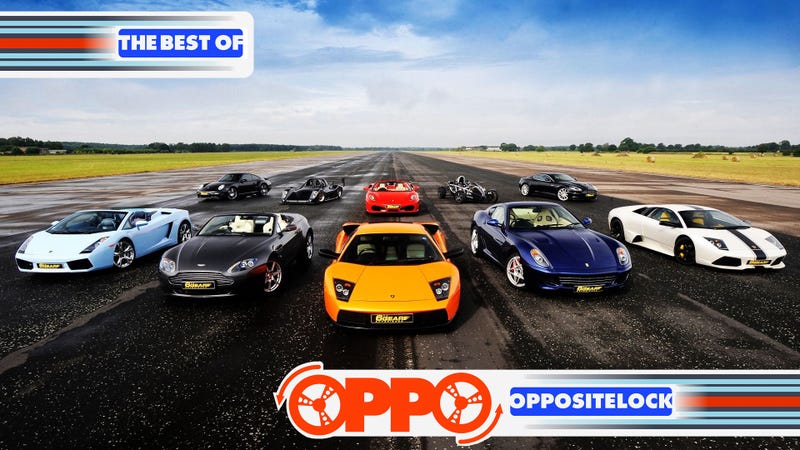 Gathered here are the Oppositelock posts that people put a good deal of effort into writing on Thursday and Friday. It includes Asshat parking, the Kroboth Microcar, Formula D and more.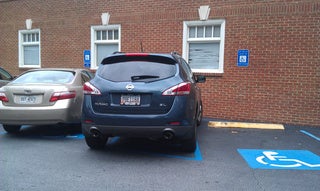 Well Jalops... as someone with a disability (a real one!), I finally had it with seeing yet another jerk blatantly disregard other people's rights and disabilities all in the name of laziness. Once again, I pull into a parking lot for a morning meeting at a local coffee shop and witness the worst offender of all... Mr. or Ms. Murano illegally parked right smack dab in between two handicap spots. Why is this worse than illegally parking in an actual handicap spot? Because by doing this you are potentially preventing someone with a disability to access their car entirely (unless going through the trunk is an option but that's pretty tough with a wheelchair and legs that don't work). And in this particular case you are preventing possibly TWO people from accessing their cars or even parking there!
If the answer is always Miata, Insto-Facto, the answer is always Mazda. You know for it to be true. Building RWD roadsters and rotaries, what's not to love? Mazda builds cars to satisfy the enthusiast. There aren't very many of us left in today's world but Mazda doesn't care if there's just one of us left.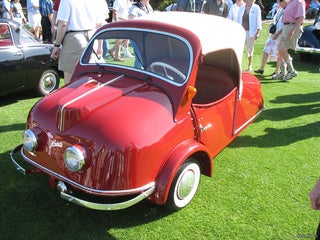 Gustav Kroboth was a longtime tinkerer who had built his own engine and tiny car in the 1920's. After WWII, he lived in the Bavarian countryside where he built all manner of things including poppyseed grinders and toys made from salvaged tank parts. He eventually got the money together to manufacture a scooter.
.
Our new champion has been crowned and the greatest of all time has retired, by that mark alone Rallye de France was a historic event. A close fight among not just the two Sebs but Latvala, Sordo, and Neuville as well made it one of the best events of the year. Add to that live coverage of virtually every stage via Canal Sport and it was exactly what many say is what the WRC needs to be. Absolutely the diamond in the rough on the 2013 season.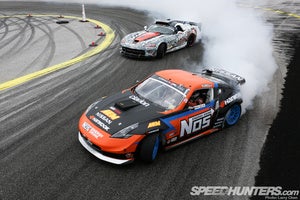 I am an avid follower of Formula D. It's a very interesting series to watch, what with the entire goal of it being to see just how sideways you can get (or in the case of the chase car, just how sideways and close you can get). However, I have realized that there a good few here that have some objections against drifting, or in this case Formula Drift. Most of you guys don't follow it. Some have no idea how it works. Others don't like the idea of any motorsport that's based around judging. Hell, there are even people who flat out think drifting should not be a motorsport.
All of us have busy-body neighbors with the proverbial shrieks of "Get off my lawn!!!" spewing forth from their mouths. These are the grumpy know-it-alls leaning over the fence complaining about trouble in the hood who have high on their list of complaints "that kid in his hot rod tearing up the neighborhood." Sometimes they're right and other times they're imagining things since any motion over 5 mph in their little corner of the world translates into "they were driving like a bat out of hell." Well, the city of Columbia, Missouri is either going to empower them or shut them up.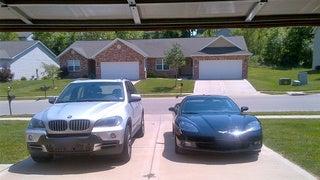 "Value: 2/10: This is not the droid you're looking for. It has an unquenchable thirst for 93 octane, it depreciates like organic fruit and is expensive to repair if you're out of warranty. The only saving grace is that if you buy a CPO BMW, all maintenance is covered up to 60,000 miles and the warranty goes to 100,000. It blew a water pump 2 days before Christmas this year and it only cost me $50."
On my way home yesterday, I came to the realization that American cars have reached a point where there are more good ones than bad. There are so many good ones out there these days that are actually just as reliable as the Toyota's and Honda's that shamed them before, and are way more interesting! Case in point: the Fusion is just miles ahead of the Camry. I want to know, what American cars need to be pruned, so that the good ones can flourish and develop to be even better?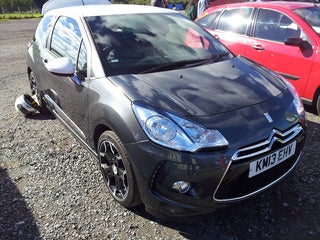 Yesterday was a good day. Just like last year, the Uni's karting team is running an event each term for students, and the first one was yesterday, once again at the Llandow Circuit, which is near Llandow in South Wales. Because none of us dare keep our cars in Swansea, we decided it would be best to rent something, like I did myself last year when I got a Vauxhall Corsa. This time, we got something much cooler, and I was driving again. So here's a 100-mile road test!
The Best of the Rest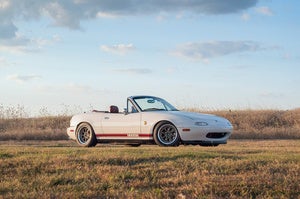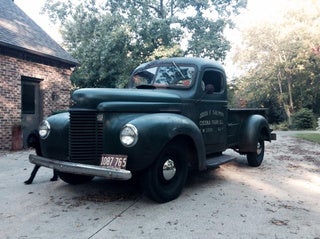 Revrseat70 bought a spiffy Eunos Roadster. Bandit showed us his family's very original International K1 truck. AndersSim shared his trip to Monaco and the Meilenwerk V8 Hotel. Robert Maxwell shared his experience as a car enthusiast Navy man in Japan. Davesaddiction found a nice Porsche 930 in his parking garage. Turk shared some videos from a track day on his bike. Sean Bartlett ran into some of the Tour Americal procession. Mehugtree spotted a BMW X4 being tested. MaykoKetchup shared photos from a Corvette Show in Puerto Rico. ShiftsAndGiggles attached a GoPro to the vertical stabilizer of a plane. Tiny Toy Viper saw his first C7. JayhawkJake captured the turbo noise of his Sonic. Velocity shared some of the cars he saw on vacation. Vee Ate Injun celebrated his Corvette's birthday. Yowen did contractor duty with this Taurus SHO. Grawesome installed new wheels on his Range Rover.
As always, If I've missed something and you would like me to include it, let me know.
Fun Discussions
There were several posts that asked questions and sparked some good discussion on thursday and Friday. Take a peek and chime in on some of them listed below:
Just the #tips
Honourable Mentions
These posts have already been shared with Jalopnik directly but deserve to be mentioned again because they were first posted in Oppositelock:
Want to participate on Oppositelock? Check out the general handbook for posting on OppositeLock as well the Oppo tools to help you get started.