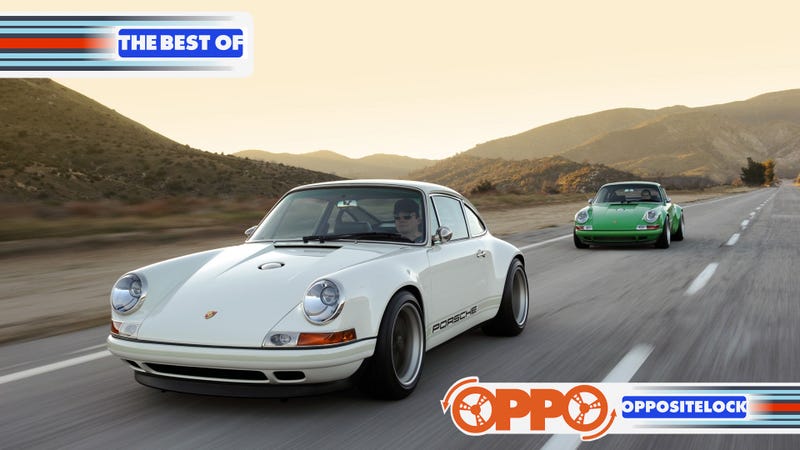 Gathered here are the Oppositelock posts that people put a good deal of effort into writing last weekend. It includes a week with a Saab 96, Formula D Irwindale, vintage BMWs and more.
James May's latest article on the fundamental crappiness of old cars comes at an opportune time, because now that the honeymoon period's over, reality is setting in and I'm starting to see the flip side of this vehicle. The shattering of my rose-tinted glasses may also be driven by the fact that I have had to pay quite a bit to replace a transmission mount, of which there were only three left in the entire country, and which became a powertrain-out procedure taking my local Saab specialist a full day.
To make one thing clear, not just any mass produced sum of parts can be this special. It takes a certain sum of parts certain circumstances to achieve this level. First, let us start with this 1974 Plymouth Voyager. You may be thinking; "How is this van from the 1970's special?" You also might be thinking; "There was a Plymouth Voyager before the ubiquitous Plymouth minivan we've all come to know?" The answers, in order, are; We'll get to that, and Yes.
If you've never been to a drifting event you need to go. What Jalop doesn't enjoy spending a day around exhaust fumes, tire smoke, and revving engines? I've been a fan of drifting for several years now. I knew it existed, but didn't pay much attention when it first came to the US. It wasn't until several years ago I worked on a commercial with Samuel Hübinette. Sam had an event at Infineon Raceway (Sonoma) right after we finished shooting, and a midweek practice right in the middle of our shoot. A bunch of us went out to practice and I was hooked. I and 2 other crew members ended up cancelling our return flights to LA and staying behind to see the actual event.
Welcome to World War Oppo, where two similar cars yet different from each other battle it out and you decide on who wins. 2 weeks ago, two differently-bodied Honda Civics were the fighters of our ring, but 68% of the voters led the European model to victory. Today, I decided to do things differently by choosing very different cars to battle in our war zone. They are the Pontiac Fiero and the Toyota MR2, the Budget MRs.
The Saratoga Automobile Museum tends to draw in some great cars in any show - vintage Porsche racers, Gullwings, 250 TRs, 507s, and Z1s have all graced its fields in Saratoga Springs, NY in the past year, but last weekend was the car show series' final event of 2013 - the BMW-specific Vintage show.
Tonight's subject, greatest car songs of all time. Now, I know that its been widely accepted that "highway star" or some other, similar era, big money cock rock song its the greatest car song of all time but I'm here to shatter that with 2 songs. The first of which you may be familiar with, the 2nd you probably aren't.
This was a promotional vehicle created for 100+ Alloys to show off their Interstate 1 and 2 wheels. They started off building it in 1978 off a XJS shell and a second XJS back end. They cut the full one just behind the rear axle and extended it 30 inches with the other XJS rear and axle. They stylized and flared the rear-end to give it the appearance you see now.
.
The Best of the Rest
My batch URL shortening spreadsheet is broken (or rather its link to bit.ly is broken) and I don't know how to fix it. I don't feel like putting each url into a shortener and filling it the captcha every fucking time. If anyone has a solution PLEASE let me know. This link will take you to a post containing the links that would normally be in this section.
As always, If I've missed something and you would like me to include it, let me know.
Fun Discussions
There were several posts that asked questions and sparked some good discussion over the last day. Take a peek and chime in on some of them listed below:
Just the #tips
Honourable Mentions
These posts have already been shared with Jalopnik directly but deserve to be mentioned again because they were first posted in Oppositelock:
Want to participate on Oppositelock? Check out the general handbook for posting on OppositeLock as well the Oppo tools to help you get started.