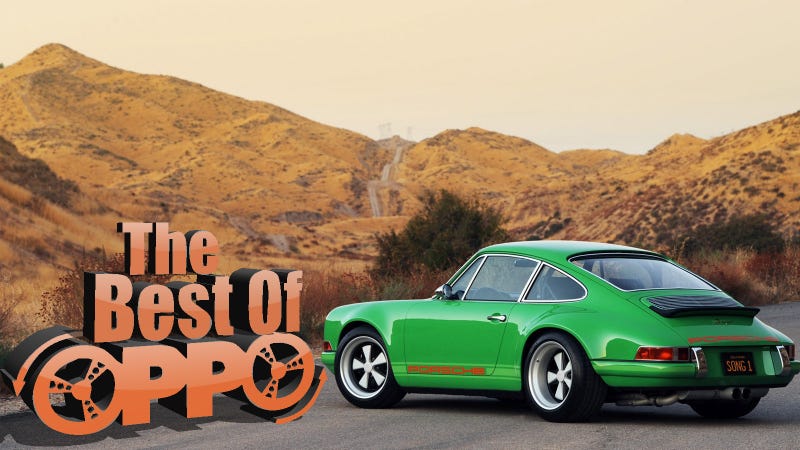 Gathered here are the Oppositelock posts that people have put a good deal of effort into writing on Tuesday. Today it includes Euro cars not available in the US, automotive culture on the Champs-Élysées, the Honda N360 Kei car and more.
I've noticed that when I mention certain cars that are commonplace here in the UK the majority US based Jalops bemoan the fact they can't get them in the US - and how they'd love to be able to get them. In the main these seem to be diesels, hatchbacks (in particular hot hatches), wagons and anything French. So I asked on Oppo what cars you can't buy in the US and got a load of responses. I've driven and owned most so here is my rough guide to Euro cars you can't get in the US and what they're really like.
Alpina, or Alpina Burkard Bovensiepen GmbH for those wanting that piece of information, is a manufacturer working closely with BMW producing their own branded and registered cars. Alpina cars have always aimed to have a different, complementary personality to M cars. Their emphasis is on luxurious, higher torque cars than BMW M, with distinctive features like the 20' spoke alloy wheels and the Alpina Blue metallic paint. They lack the outright sportiness of M cars, due to often not being as high revving, offering automatic transmissions, and lacking limited slip differentials, but they offer a unique experience, with higher end materials and a more useable powerband in daily driving than high revving M cars.
One of the advantages of having migrated from New Zealand (with it's Australian muscle and abundance of tasty JDM imports) to the grey isles if Britain (with its.... ummm.... diesels?) is their proximity to the continent. A week or so ago I took advantage of this handy quirk of geography and spent a weekend in Paris. I was expecting a few days of wine, cheese, architecture and as many rich, buttery pastries as I could cram into my face-holes. I wasn't expecting some of the most rewarding car-spotting a Jalop could ask for.
Most people around Jalopnik and Oppositelock seem to want the 25 year law on importing non-U.S. market cars eliminated. I suggest a much more drastic change. I propose that we severely cut the role of the NHTSA. They will still be allowed to do crash tests and provide the information from these tests to the public. However, they will no longer be able to mandate safety equipment for vehicles...
So, originally, today I wanted to try an old 1970's Subie. But, somehow this chap has stolen my interest from the Subie. It's a 1972 Honda N360, one of the first Kei cars designed by Honda. Because I'm always [in] love the Kei cars, I definitely love this one. The engine was an air-cooled, four stroke, 354 cc, 31 hp (23 kW) two-cylinder engine, borrowed from the Honda CB450 motorcycle.
Throughout this post and several of my upcoming ones, I will preach to you all about my time in Europe. In this series, I will attempt to explain German automotive culture, European motorsports culture (Le Mans, DTM), and my personal experiences as a young automotive enthusiast traveling abroad to different automotive museums, races, and other automotive landmarks.
I don't really know how this car got to be one of my favorites of all time, but it has. And as much as I look to find another, it always eludes me due to how many of these hit the crusher. In all honesty, it only hit the States with a slushbox, no wagon version (Europe got the funky 100/200 Avant hatchbacks, and sticks, and 2 door sedans), and the Turbo was good for a whopping 130 horses through the front wheels. But it remains in my mind one of the most comfortable, fun cars I have ever driven.
The Best of the Rest
Moarpowerr volunteered at the Cobble Beach Concours D'Elegance over the weekend. BJohnson11 got the seat re-upholstered in his truck and tested some electrical issues. TheJWT shared some of his finds from around Brooklyn. Turbineguy got to road test a Tesla Model S. Offroadkarter posted some video of a Panther platform drag racing event. Speedmonkey bought a spiffy e36 323se Touring. Andy Sheehan spotted an e30 M3 in KC for an autocross event. Dumpring took his GTO out for a drive. TheSupremeLou cleaned up the headlights on his Jetta.
As always, If I've missed something and you would like me to include it, let me know.
Fun Discussions
There were several posts that asked questions and sparked some good discussion over the last day. Take a peek and chime in on some of them listed below:
Just the #tips
Honourable Mentions
These posts have already been shared with Jalopnik directly but deserve to be mentioned again because they were first posted in Oppositelock:
Want to participate on Oppositelock? Check out the general handbook for posting on OppositeLock as well the Oppo tools to help you get started.