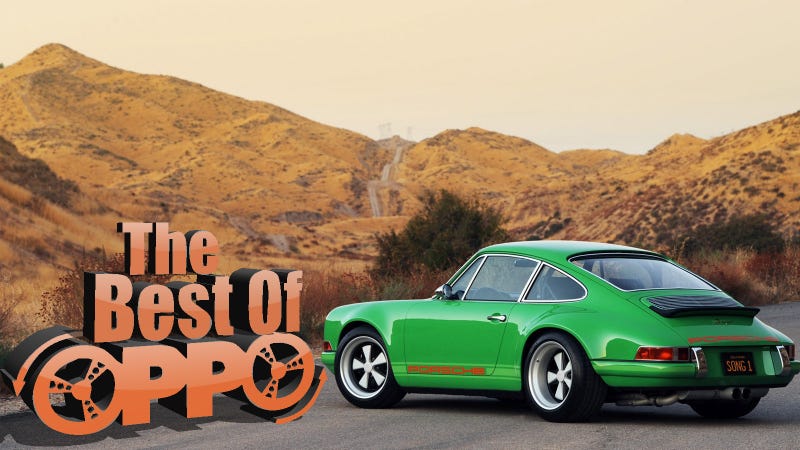 Gathered here are the Oppositelock posts that people have put a good deal of effort into writing from the last 24 hours. Today it includes the Subaru BRZ, cars you didn't know came with a manual transmission, a modern 2CV and more.
You don't ask to drive a man's car unless that man is in the business of selling it. But when my friend Greg asked if I wanted a turn in his brand new Subaru BRZ, the Six-star version of the most anticipated sports car of our age, I didn't turn him down.
.
.
I grew up a race fan without cable and only dial-up internet so I was effectively raised on NASCAR with the occasional Indy race thrown in. As a result I became used to seeing 43 individually painted cars battling it out on a track, that was my norm. Once technology (read: youtube) made it possible for me to escape those shackles of limited motorsports exposure I watched and became a fan of a multitude of forms of racing… But through it all there's one main gripe I have with the way much of the world handles team cars. In short: STOP PAINTING YOUR GODDAMN CARS IDENTICAL YOU ASSHATS!
I know I'm not like "most" Oppo-ites. I don't enjoy cars because they're cool, expensive, fun, or a good hobby. I'm the type of person who gets squirrely and irritable if I haven't been in a car for a week. If I don't go over 100mph once every few months, I get depressed. But I do share one thing: I love all cars.
.
Of course you haven't, and hopefully you'll never have to. This post on oppo last night, however, reminded us that it's something you could be faced with… The quick and dirty details; it involved an unsuspecting Kia, a crash diet, and enough suger-free gummy bears to induce more liquidity then the fabled "brown note"… Poo clean up can be an unfortunate chore. It can be done, and it is as bad as you think.
Boom, bicycles. Bicycles are a perfectly valid form of transport and since I feel there is a bit of animosity between cyclists and motorists in the US of A, I, as a Dutchman, feel obliged to do my best to spread the relative peace and harmony between motorists and cyclists here to the rest of the world.
.
With the impending death of the third pedal, let's look at five obscure cars you didn't know were sold with a manual, most of them in Europe. The Jaguar XJR, Mercedes ML, Volkswagen Phaeton, Ferrari California and e38 BMW 7-series.
If you're a Citroën fan, you've heard it time and time again : "Citroën is preparing a true successor to the legendary 2CV !" There's been the C3 Pluriel, the C-Cactus, the Lacoste, the Révolte... And we've always been disappointed. The projects have either remained pure concepts or gave birth to production cars incredibly far away from the spirit of the 2CV : simplicity, usability, comfort, and above all, out-of-the-box solutions to every problem, even the ones that didn't really need fixing.
2K Drive unexpectedly dropped into the app store this morning at a price of $6.99. I'm always excited when someone has a go at making an at least semi-legitimate racing sim for any platform. While iOS devices suffer from some control issues, I have greatly enjoyed the Real Racing series in the past and I recently got into Colin McRae Rally for a spell. Owing to this, I bit the bullet and paid my seven dollars. So far, I've spent roughly forty minutes with the game, not enough for a full review but certainly enough for first impressions.
Many of you may recall the article I wrote a few months back about Why More Cars Should Come With Paddle Shifters. I wrote such a compelling argument for DCTs that I actually went out and bought one. [A 2011 Audi S4. Pretty much fully loaded with all the options, including Audi's "Stronic" Dual Clutch Transmission.] Here is my review...
Aswath Damodaran is one of the preeminent voices in the nation (world) on the valuation of businesses. The dude literally wrote the book on the art of valuation; I should know, as I perform valuations for a living and am up to my neck in his work and his books. My point in all of this is that, when Damodaran speaks, the investing community pays heed to what he says. That's why it's a big deal that he came out today and said he believes that Tesla is overvalued; massively so, in fact, calling it 67% overvalued, even using what he said was an "optimistic narrative."
The Best of the Rest
Doodon2whls posted his photos of some rare exotics. BiTurbo228 shared some videos after getting his Fiat X1/9 running. Ricerocketeer told us about some of his misadventures in tuning. Matthias Rios and Aaron Brown went to check out a Porsche 944. SonorousSpeedJoe took some pictures of a Tesla charging on the UMD campus. ScoobSTi inappropriate touched some cars at the Classic Car Club in Manhattan. Ad Astra serviced his car at an Automotive Skills Center on a Military base. CalzoneGolem tore down some more of his rat rod truck's frame. Checkin' Pockets told us the tale of an $800 paintjob. Hoccy was seeing double in spotting two eerily similar Beetles on the street.
As always, If I've missed something and you would like me to include it, let me know.
Fun Discussions
There were several posts that asked questions and sparked some good discussion over the last day. Take a peek and chime in on some of them listed below:
Just the #tips
Honourable Mentions
These posts have already been shared with Jalopnik directly but deserve to be mentioned again because they were first posted in Oppositelock: