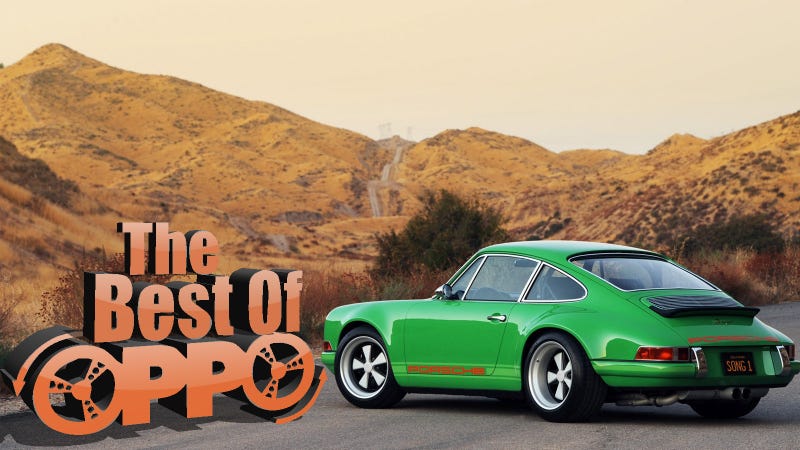 Gathered here are the Oppositelock posts that people have put a good deal of effort into writing over the last 24 hours. It includes falling for a beater, the golden age of Formula 1, '8 ways to be a better driver, you asshat' and more.
I moved to beautiful Northern California 4 years ago and discovered two things: mountain bikes and Yosemite. I love riding and I love camping and hiking. Of course, partaking in any of these activities is hard on a Civic. Muddy mountain bikes, filthy camping equipment, and dirty boots are all hard on the little guy. I had to do something, so I bought a used-up 1991 Jeep Cherokee.
.
Coming out this month is a little flick called RUSH. Ron Howard is putting Nikki Lauda and James Hunt on the silver screen in his depiction of the Golden Age of Formula 1. So I wondered what made it the Golden Age. Was it the rivalry? Maybe the pureness of the cars? Maybe it's even the near death risk of driving formula cars of that era? Let's say it's all of these things. If that's the case, then that era was just a Golden Age as opposed to the Golden Age.
It's always sad to see a car go up like it was trying to be a Ferrari, but this is extra close to me because it's a BRZ that belongs to a fellow FT86Club member. This car was being driven by John Visconti while he tuned it when it went up in flames about 3 weeks ago. Was there evidence that Visconti may have been to blame for the fire?
.
A couple of months ago, while watching a race and hearing one of the commentators talk about how application of throttle and turning the wheel has to be immaculately smooth to avoid burning up your rear and front tyres respectively set me thinking. Could I make my tyres last longer and make my driving a lot more efficient by doing that.
I live in California, but I'm sure what I'm about to say applies everywhere else in the States: Everyone either rolls through stop signs and red lights, or they don't even do that and just go right through. There's a good goddamn reason they're there, and I'm sure the pedestrians you're about to hit would appreciate you actually stopping BEHIND the line and not rolling over it and them in the process.
This generation of the Silverado is far from the best looking, best engineered, fastest, most accomplished, most reliable, most anything, of any of the other generations. It's from the '80s, after all, a decade where little was good, and most things were viewed through a lens of crack cocaine. So, then, what is it about this truck that I like so much?
For those who will try to use the base cost of No. 2 Diesel as an explanation for why it's not as economical as gasoline, here is the math which will systematically quantify the value of Diesel ownership. Due mostly to my own vanity, I have chosen to submit my own 2000 VW Jetta TDI against a similar Gasoline-fueled Jetta. The TDI is a 5-speed with 1.9L turbodiesel motor, and the competitor is a same year 5-speed 1.8L petrol turbo.
The basic question, as it relates to the argument of diesel VS hybrid is; what is the bases of comparison? Is it Economic? Is it Environmental? Is it driving enjoyment? The facts support whichever side of the isle you lean to as it most often does but here are my experiences with said facts.
So ... I found this car is parked in my neighbourhood today and nearly ran into something. It is a pretty rare sight after all. It is part of a fleet of about 30 (don't pin me down on that number) that are currently used to get some real-world data on the car, using both employees and a few select people outside VW, including some customers.
Contrary to popular belief, the pre-trip inspection is not just for Class 1 drivers. Us lowly Class 5'vers are supposed to do it too… Can you recall your instructor talking about a vehicle walk around? And how this walk around was to be done every time you drive your car? Sure you can. Think I'm being overly paternal and condescending, and that it's a waste of precious seconds? Seconds that could be better spent in the Timmie's drive through dreaming of that sweet sweet maple glaze on your way to work? You'd be wrong, and here's why.
The Best of the Rest
Aya took some photos of a rare and interesting Toyota Century in need of some work. Feather-throttle-not-hair put together a nice video of some RC hooning. Kmatth shared some of the sounds of the Baltimore GP. BJohnson11 bought a truck. RotaryLover changed the brakes on his Miata. B_Dol made a photo journal of his first year of FR-S ownership. CalzoneGolem removed a leaf spring form his project truck. Lemonhead spotted a 1955 Rocket 88 on his way back from lunch.
As always, If I've missed something and you would like me to include it, let me know.
Fun Discussions
There were several posts that asked questions and sparked some good discussion over the last day. Take a peek and chime in on some of them listed below:
Just the #tips
Honourable Mentions
These posts have already been shared with Jalopnik directly but deserve to be mentioned again because they were first posted in Oppositelock: