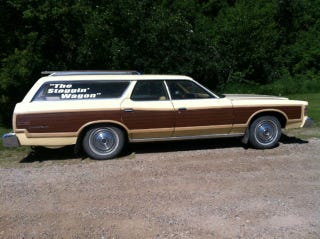 1978 FORD COUNTRY SQUIRE LTD STATION WAGON | classic cars | Regina | Kijiji
Are you tired of blending into the crowd? Have you always wanted to stand out and grab the attention of your peers? Well, look no further than this 1978 Ford Country Squire LTD Station Wagon. This whale measures a staggering 19 feet from bow to stern and is no stranger at the gas pumps. With a hefty 351 under her flawless cream coloured hood, this big old girl will get you where you want to go - like a rocket sled on rails. I will pre-warn you though, this rear-wheel-drive Iron Giant's 15" tires are very capable of blistering the asphalt into plumes of thick milk-white smoke - potentially attracting the attention of most rural Saskatchewan fire departments.
Don't let the name "Country Squire" fool you. This high-powered beige beauty is more than comfortable on a quiet country road, however, She's best showcased on the hot pavement under the the big city lights. This head turning mega-tank is about as loaded-up as a steak house baked potato. Some features include: power tail-gate window, luggage rack, illuminated entry system, parking brake and lighted ash tray.
About now, I am sure you picturing yourself behind the wheel of this cream coloured behemoth, the light smell of Aqua Velva in the air with "Copacabana" softly playing through the dash speakers. You and your best buddy sipping on a cold glass bottle of Fanta and sharing a club sized bag of Hickory Stix with high anticipation of what the hot summer evening will hold. Well, friends, I will break this to you gently, there will be no "Copacabana". This primo unit is sans radio (apparently it was optional that year) and only boasts a decorative plate where the radio coulda, rather, shoulda been. This wood-paneled war horse is showing a modest 54,000 original kilometer's so I can only assume a few Sunday afternoon picnic's to Crystal Lake or even a family vacation to Mount Rushmore are both very real possibilities.
By now, I'm sure you are asking yourself, "Why for the love of Zeus would anyone voluntarily sell the Staggin' Wagon?" Well, the short answer is "The times, they are a changin." Gone are the days of mis-spent youth only to be replaced by the slightly more responsible days of yard work, soccer practice and diapers. I have decided that watching her collect dust is selfish and just plain unfair and I must share this piece of history with another lucky lad. Over the last number of weeks, I have tried unsuccessfully to contact Chuck Norris as I am confident this unit would certainly be of interest to him. At this time, I am yet to hear back from either him or his publicist and have decided that I am now offering Lola to the general public. After multiple luncheon meetings, 4 conference calls and much discussion with Barrett Jackson, the agreed list price on this executive panel wagon is starting at $2499 or best offer. I will also throw in a half tub of fresh night crawlers to the winning bidder. The plates expire in 2 weeks, so I would like to end this relationship quickly and, if at all possible, with minimal tears.