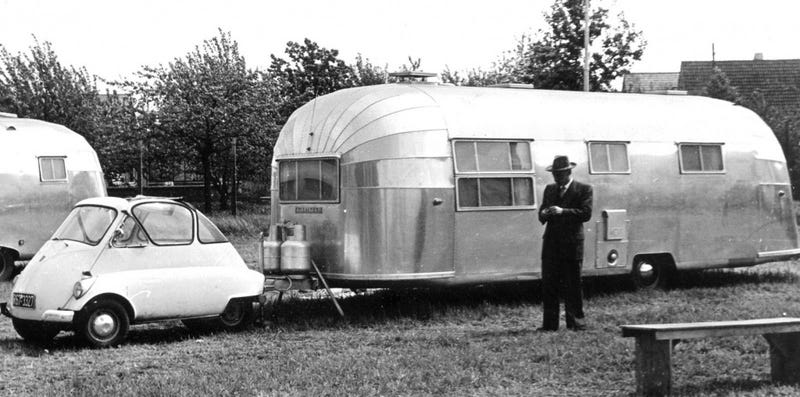 It doesn't matter if you're hauling a Hot Dog stand or a 32′ SeaRay , towing can be stressful. When you tow with a vehicle that's not up to the challenge, you strain the engine and drivetrain which can result in costly repairs. Inferior towing vehicles won't brake as well, be as stable at highway speeds and are generally less forgiving to inexperienced towers.
Aside from experience, having a capable towing vehicle is the best way to minimize risk and put your mind at ease. That way you can focus on the more important stuff, like the marine forecast or rising sauerkraut prices. Whether you're towing an RV, a boat, a horse trailer, work equipment or your friend's Camry out of the mud, we have a truck or SUV on this list that'll do the job.
---
SUVS
1. Ford Excursion
Towing Capacity: 6,100 to 11,000 lbs
HP/Torque: 255/350ft lbs (5.4L V8 gas) 310/425ft lbs (6.8L V10 gas) 325/560ft lbs (6.0L V8 diesel)
When it comes to pulling big loads, the Ford Excursion trumps the competition. That's because the Excursion is bigger and stronger than any other SUV around. Unlike the Ford Expedition which is based on the F150, the Excursion is based on the heavy duty F250 frame, allowing for up to 11,000lbs of towing might. The Ford Excursion is also available with a diesel engine option, further enticing those with big towing needs. The expansive interior allows for seating up to 8 passengers comfortably, with a decent amount of room left for cargo. Due to its size, the Ford Excursion can be difficult to maneuver when space is limited, so we only suggest getting one if you truly have a lot to haul. One other drawback is that the Ford Excursion was produced from 1999 to 2005, so the interior is outdated by now. Nonetheless, the Excursion offers towing prowess that you can't get in any other SUV.
2. GMC Yukon
Towing Capacity: 5,200 to 8,300lbs
HP/Torque: 320/335ft lb (5.3L V8) 403/417ft lb (6.2L V8)
MPG: 15/21 : 14/18
The Yukon isn't as hardcore as the Excursion, but still packs a punch. The Yukon comes standard with a 320hp V8 and rear wheel drive standard, but we suggest upgrading to 4-wheel drive for towing. The Yukon is mechanically identical to the Chevrolet Tahoe, but exterior styling and luxury features make the Yukon better suited as a family vehicle with towing needs. The premium Denali version offers a more potent 403hp V8, as well as plenty of luxury amenities. In fact, the GMC Yukon made our list of best luxury cars under $30,000. We stand behind the Yukon as one of the best towing vehicles that you can also drive everyday.
3. Dodge Durango
Towing Capacity: 5,000 – 7,400lbs
HP/Torque: 290/260ft lbs (3.6L V6) 360/390ft lbs (5.7L V8)
MPG: up to 16/23
The latest generation of the Dodge Durango is more powerful and refined than ever. Under the hood, the Durango comes standard with a powerful V6 packing 290 horsepower. If you require more power, the Durango is available with a 5.7L V8 that puts out 360hp. In any trim, the Durango is a competent towing vehicle, providing stability on the highway and confident braking power, but the Durango is also fun to drive on twisty backroads, a surprising characteristic for a full size SUV. The interior is attractive, modern and functional, with plenty of new technology available. In short, the Durango is a well-rounded SUV that won't let you down.
4. Toyota Sequoia
Towing Capacity: 6,600 to 7,400 lbs
HP/Torque: 310/327ft lbs (4.6L V8) 381/401ft lbs (5.7L V8)
MPG: up to 14/20
This full size SUV comes with a 4.6L V8 good for a healthy 310hp, with available 5.7L V8 that boosts the horsepower to 381. Both engines have enough power to make the ride peppy, but the bigger V8 is better if you plan on maxing out the towing capacity. The high point of the Sequoia is the 6 speed automatic transmission that shifts smooth and lively. Although it's enormous even by SUV standards, it's only arduous when the physical size is an issue. Otherwise, the ride is sophisticated and poised, especially on the highway. The Toyota Sequoia may just outperform its domestic rivals.
5. Nissan Armada
Towing Capacity: 6,500 to 9,000lbs
HP/Torque: 317/385ft lbs (5.6L V8)
MPG: 13/19
With up to 9,000 pounds of towing capacity, the Nissan Armada is a solid towing competitor in the large SUV category. It only comes with one engine, a 317 horsepower V8, which is plenty for this truck. The Armada is based on the Nissan Titan, but somehow lags behind in terms of ride quality. If ride comfort is a main priority, the Toyota Sequoia is a better choice. The same goes for the interior, which is less spacious and user friendly. Even with those issues considered, the Armada is a solid SUV and might be the right choice if you can get a good deal.
---
Regular Duty Trucks
1. Ford F150
Towing Capacity: 5,500-9,400
HP/Torque: 302/278ft lbs (V6) 360/380ft lbs (V8)
MPG: 17-23 (V6) 15/21 (V8)
The Ford F150 has many abilities: reliability, durability and capability to name a few. That must be why the F150 has been the best selling truck in America for over 30 years. With a respectable towing capacity, the F150 is an excellent solution to most people's towing needs. The F150 also makes an excellent daily driver, providing a spacious interior and comfortable ride. With many trim options to choose from, the F150 can be configured to be a plush and stylish family car or a rugged workhorse. The F150 is a truck you can be confident in if you've got stuff to haul.
2. Ram 1500
Towing Capacity: 3,450 to 11,500 lbs
HP/Torque: 215/235ft lb (3.7L V6) 310/330ft lbs (4.7L V8) 390/407ft lbs (5.7L V8)
MPG: up to 14/20
Essentially any pick up truck you buy today will be a competent towing vehicle, but theRam 1500 offers more than just a rigid frame. With the Ram, you get a well-rounded, family friendly vehicle. Built with high quality materials and attractive trims, the interior is a head and shoulders above the competition. The exterior styling is best-in-class too, with its aggressive grille and tasteful accents. The Ram 1500 is available with 3 engine options, a base V6, mid-level V8 and premium V8. Surprisingly, the difference in gas mileage between the V6 and V8's is minimal, so if you plan on towing or ever enjoying driving your truck, go for either V8. The base V6 is best suited as a fleet vehicle for commercial purposes.
3. Toyota Tundra
Towing Capacity: 4,500 to 10,400 lbs
HP/Torque: 270HP/278ft lbs (4.0L V6) 310/327ft lbs (4.6L V8) 381/401ft lbs (5.7L V8)
MPG: up to 16/20
The Toyota Tundra is the only foreign 1/2 ton pickup to stand toe to toe with the domestic trucks. With a towing capacity of up to 10,400lbs, the Tundra can haul more than Ford F150 and Chevrolet Silverado 1500. To stay competitive with American trucks, Toyota offers enough trims and options on the Tundra to make your head spin, so there should be no issue finding one outfitted for your exact needs. The base Tundra comes with a powerful V6 attached to a 5 speed automatic transmission, which unlike the Ram 1500 and the Silverado 1500, the Tundra's V6 has enough grunt for towing. Other engine options include a 4.6L V8 that pumps out 310hp and larger 5.7L V8 that's good for 381hp. While the Tundra is powerful and rigged in all trims, it lacks an appealing exterior which puts it behind the F150 and the Ram 1500 but if looks aren't so important to you, the Tundra makes an excellent workhorse.
4. Chevrolet Silverado 1500
Towing Capacity: 4,400 to 7,000 lbs
HP/Torque: 195/260ft lbs (4.3L V6) 302/305ft lb (4.8L V8) 315/335ft lb (5.3L V8) 403/417ft lb (6.2L V8)
MPG: up to 15/22
When it comes to towing, the Chevrolet Silverado 1500 is on the same plain as any other 1/2 ton truck competitor. Depending on how your Silverado is configured, you can haul up to 7,000 lbs. The Silverado does have a few faults that put it behind the competition. First, the exterior styling is bland. Upper-level trims like the LTZ trim adds some swagger, but it still trails behind the F150 and Ram 1500 in looks. The interior has the same issue —there's nothing "wrong" with it, but it's not going to dazzle anyone. The most pressing issue for towing is that the Silverado 1500 has a larger turning radius which makes maneuvering more difficult. If you do decide to go with the Silverado and plan on towing anything larger than a jet-ski, skip the V6 and get the V8, as the V6 just doesn't put out enough power to get the job done.
---
Heavy Duty Trucks
1. Ford F450 Super Duty
Towing Capacity: 17,500
HP/Torque: 400/800ft lbs
The Ford F450 has more in common with a dump truck than the humble F150. For example, the F450 offers engine braking to help slow you down. It's rare that the average person would ever require the towing capacity that the F450 offers, but it's superb for commercial towing needs. The F450 comes standard with a crew cab, dual rear wheels, 4WD and a 6.7L V8 turbo diesel under the hood that's good for 400HP and 800 ft lbs of torque. If your business involves towing big loads often, the F450 can't be beat.
2. GMC Sierra 3500HD
Towing Capacity: up to 18,000lbs
HP/Torque: 322/380ft lbs
As far as heavy duty trucks are concerned, the Sierra 3500HD is the most refined at driving and towing. Unlike the F450 which can feel unwieldy, the steering on this truck is responsive and predictable. The Sierra 3500HD also enjoys the best ride quality and stability at highway speeds. This may not be a major concern for towing-veterans, but it could sway the decision for newbies. The towing capacity on the Sierra 3500HD is neck-and-neck with Ford's F350, so the extra handling confidence puts it ahead in our book. The Sierra 3500HD can be configured just as extensively as the Ford F350, and it has a turbo diesel option for maximum torque.
3. Ford F350 Super Duty
Towing Capacity: up to 17,500lbs
HP/Torque: 385/405ft lbs (Gas) 400/800ft lbs (Diesel)
The F450 is perfect if you need a full-fledged, load-hauling monster, but the F350 offers far more variation. The F350 is available in regular cab, Super Cab and Crew cab to suit your passenger-carrying needs. There are two bed-length options, 6.8ft and 8.2ft. The F350 comes standard with a 6.2l V8, but you can upgrade to the same 6.7l V8 turbo diesel that comes in the F450. Rear wheel drive is standard but there's an available 4WD, which we recommend. The F350 is also available with dual rear wheels for extra stability for towing big loads. If configured correctly, it can match the F450's insane towing capacity. Case in point, the F350 offers a considerable amount of variations to better suit your personal needs.
4. Ram 3500
Towing Capacity: up to 22,750
HP/Torque: 350/610ft lbs
It's tough to declare a single heavy duty truck the "best", but each truck excels in at least one specific area. The Ram 3500 for example, is the best looking. The exterior styling is the least likely to become outdated quickly. The Ram also has the most upscale interior, which is typically an afterthought for heavy duty trucks. But the Ram 3500 has less available options than the Sierra and the F350. The Ram 3500 only comes with a V8 turbo diesel, and dual rear wheels are standard. Single rear wheels are only available with a Crew Cab and short bed. The Ram 3500 is the best suited to haul a camper on a family road trip because the cabin is spacious and pleasant to be in for long periods of time.
5. Ford F250 Super Duty
Towing Capacity: up to 14,000lbs
HP/Torque: 385/405ft lbs (Gas) 400/800ft lbs (Diesel)
In most towing situations, the trucks listed above are simply overkill. On the other hand, the F250 strikes a balance between being capable and easy to use on a daily basis. The same engine options from the F350 are available on the F250, providing class-leading power. While the F250 has less towing capacity than more heavy-duty competitors, it can be configured to provide up to 14,000lbs capacity, which is sufficient enough for most applications. Ford offers plenty of configurations for the F250 to suit specific needs and because the F250 is less heavy duty, its not as costly to drive on a regular basis.
6. Chevrolet Silverado 2500HD
Towing Capacity: up to 13,000
HP/Torque: 360/380ft lbs (gas) 397/765ft lbs (diesel)
The Chevrolet Silverado 2500HD enjoys the same advantage as the 3500HD —thanks to the independent front suspension, it offers a smooth ride that's comfortable over long distances. The Silverado 2500HD also has a smaller turning radius, giving the driver more maneuverability in tight spots. Chevrolet offers two engine choices for the Silverado 2500HD, a standard 6.0L V8 and available 6.6L V8 turbo diesel. Both engines provide adequate power for everyday driving, but the torquey diesel engine is more suited for frequent towing. If you're only towing your boat to the lake 2 times a year, the gas V8 will do just fine. The Silverado 2500HD is the best choice if you're towing over long distances.
7. Ram 2500
Towing Capacity: up to 15,500lbs
HP/Torque: 383/400ft lbs (gas) 350/650ft lbs (diesel)
To avoid sounding redundant, I'd like to refrain from saying "the Ram 2500 is a great option if you need more power and capability than the Ram 1500 but not as much as the 3500," but it's true. The Ram 3500 is designed for the most demanding work, which causes it to handle like a bear in normal driving conditions. The Ram 1500 is excellent for light duty jobs, but falls behind when the going gets tough. The Ram 2500, when equipped properly, can tow up to 15,500lbs, more than enough for a Winnebago. Ram offers plenty of trim levels and options, so you can configure your truck for work, luxury and everything in between.
---
Mojo Motors is a website where shoppers Follow used cars and trucks to get alerts when dealers drop prices, sell cars and bring similar vehicles into inventory.