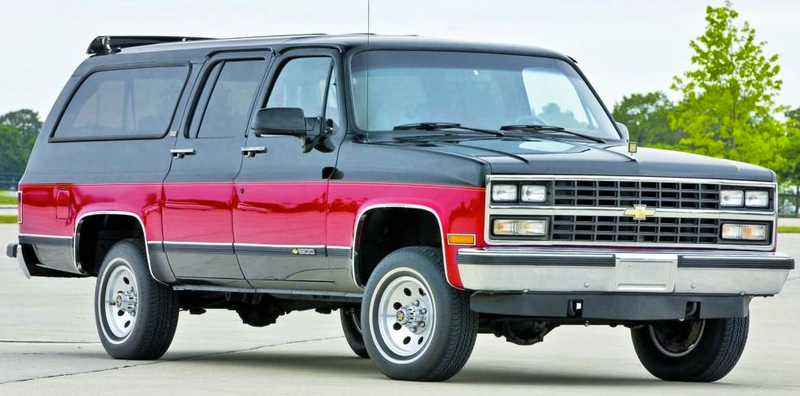 Gas prices are at historical lows and Americans are once again running to their local dealerships to buy those big SUVs and crossovers we used to love so much. This makes automakers pretty excited since the profit margin on an SUV or crossover is WAY bigger than on a compact car. Most new crossovers and SUVs have an average MSRP of well over $40,000. So what is a Jalop to do? Buy used of course.
The main indicators of the value of a used vehicle are year and mileage. We've analyzed millions of cars that have been listed on Mojo Motors in order to approximate model year ranges for the best SUVs you can get without crossing over into 5-figure prices. You aren't going to get a 2013 for under $10k, but as long as you are willing to forego integrated bluetooth and a touch-screen infotainment system, you can still get a great SUV.
The typical late-model SUV has abysmal gas mileage (we're talking in the mid-teens here). It makes up for MPG inefficiency with four wheel drive and enough ground clearance to drive over a cat without causing bodily harm to either SUV and cat. And like we said above, gas prices are stupid cheap right now so depending where you live, you're saving a lot of money on gas. Let's get started.
Chevrolet Suburban (2000-2006)
Chevrolet made the first Suburban way back in 1933 and they've been building them ever since, making it one of the longest running automotive nameplates in history. These days the Suburban is not just a rugged workhorse — it's a great family car too. If you need enough room to fit 3 kids, camping gear and a Golden Retriever, the Suburban is your best bet.
Chevrolet Tahoe (1998-2008)
The Chevrolet Tahoe is the slightly smaller (but still gargantuan) brother to the Suburban. The 12/16 MPG means you're not going to enjoy trips to the pump, but in return you get a tough 275 horsepower V8 engine and 7,400lbs of towing capacity. Who buys an SUV for the gas mileage anyway?
GMC Yukon (1998-2008)
The Yukon is identical to the Chevrolet Tahoe except for the grill and headlights. Unless you have a styling preference or just prefer saying "Chevy", you won't go wrong either way. If you're into bells, whistles, plush interior and a usable 3rd row, check out the Denali XL.
Dodge Durango (1998-2006)
The first two generations of the Durango were based on the Dodge Dakota, so they have a lot of similarities in styling as well as under the hood. The first two generations also have a solid rear axles and body-on-frame construction that provides for 7300lbs of towing capacity, but a less-than spectacular ride. For the third generation, Dodge built the Durango as a unibody which makes it way nicer to drive on a daily basis. All three generations are good in their own right, so pick the one that best suits your needs. For you dreamers out there with selective vision, that's needs, not desires.
Ford Explorer (2000-2006)
Before Ford designed the Explorer to traverse mall parking lots, it was designed to conquer off-road terrain. Luckily, older-model Explorers are still around to haul your Boston Whaler to Lake George for the weekend, all for well under $10k. You might also want to check out the Lincoln Navigator and Mercury Mountaineer, as they're pretty much the same car but with more luxury features. Because of the less-ubiquitous name plates, they're often over-looked in an SUV search.
Ford Excursion (2000-2005)
The Excursion was Ford's answer to the demand for a no-holds-barred full-size SUV. It shares the same platform as the F250 so you can bet it feels like a truck on the road. Unsurprisingly, people who bought the Excursion complained about the fuel efficiency, but what do you expect from a 6.8L V10? The Excursion is also available with a torquey diesel engine, but it's hard to find one under $10k unless it has a ton of miles.
Mitsubishi Montero (1991-2006)
If the Montero had an online dating profile, it would have to say, "Looks hot with grill guard." Not many SUVs actually look good with grill guards and big driving lamps. The Montero is perfect if you're willing to look beyond American borders for your SUV. Truth be told, it's probably harder to find a Mitsubishi Montero for more than $10k than for less, making it a great option for SUV shoppers on a budget.
Toyota 4Runner (1996-2006)
The Toyota 4Runner is perfect for someone who needs a rugged off-road vehicle but doesn't require a shipping container's worth of cargo room. You'll save a considerable amount on gas over the big SUV's and enjoy the reliability of a Toyota. You can't go wrong with that combination.
Toyota Land Cruiser (1990-2007)
Because of its benign appearance, many people don't know that the Toyota Land Cruiser is an 4×4 maverick. In fact, the Land Cruiser was originally designed by Toyota in the 1950's to compete with the Jeep, making it Toyota's longest running model. The Land Cruiser may be a little softer inside than the original, but the model still enjoys a reputation of being one of the most capable off-road vehicles ever made. Be prepared to look for models with high-mileage if you're on a budget, but like a fine wine the Land Cruiser only gets better with age. Or something like that…
Honda Pilot (2003-2010)
The Honda Pilot also made our list of best used crossovers with 3rd row seating under $20k, so needless to say we're fans. But Honda deserves all the acclaim, as the Pilot has proven itself to be a rugged, capable vehicle while being as user-friendly as a family sedan. It's got just the right amount of grunt and purr. We promise, we're not being paid to say that.
Honda Passport (1993-2002)
The Passport is virtually the same SUV as the Isuzu Rodeo, so why should you buy one over the other? For starters, Honda is still actually selling vehicles in the United States. And that's probably reason enough. Now that they're hitting two decades in age, the supply is limited so you're really at the whim of what's on the market. Passport, Rodeo, who knows the difference?
Isuzu Rodeo (1993-2002)
Badge engineering at its finest. Please see above.
Jeep Cherokee (1994-2001)
When the Ford explorer was just a twinkle in the eyes of some Ford engineer, the Jeep Cherokee XJ was bringing the pleasures of a 4X4 to the mass market. The most approachable Cherokee was no slouch off-road either, mostly because it was a Jeep that was built before Jeep went soft and started building the Patriot and Compass. If you've never driven an old XJ, take our word that it isn't quiet, doesn't have good gas mileage and you feel every pothole you run over. But does that really matter? It's a Jeep!
Volvo XC90 (2003-2007)
It's safe, has aged better than George Clooney and Molly Simms combined and it's got a solid all wheel drive system. If you can get past the uncomfortable third row and the fact that the climate/radio controls require a master's degree to operate, the XC90 makes a great family SUV. So many gizmos and doodads!
That's not every SUV you could get under $10,000 and there's certainly a few on this list you could get for way less. We based our choices on what features Mojo Motors shoppers usually want in an SUV, such as seating room, cargo room, off-road capability (even if you never leave the payment) and towing capacity. We didn't worry about things like fuel efficiency because even if you get the hybrid, you're not going to save much.
Disagree with our choices? Tell us in the comments. Or like don't or whatever.
---
Mojo Motors is a website where shoppers Follow used cars and trucks to get alerts when dealers drop prices, sell cars and bring similar vehicles into inventory.