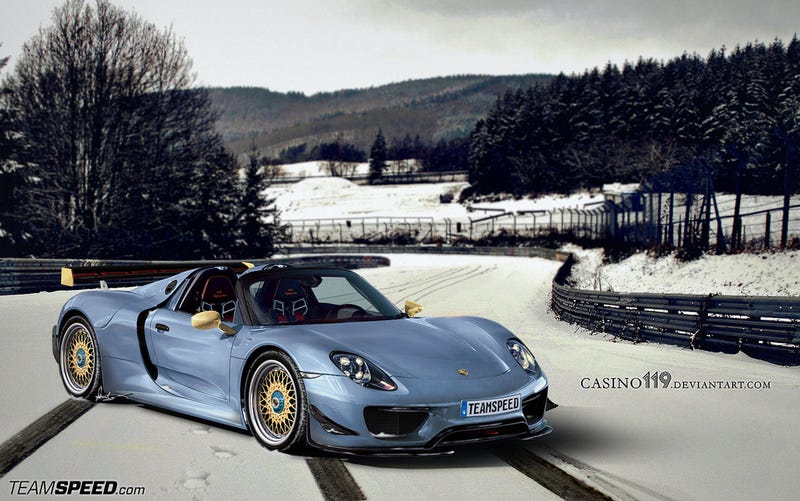 Hello lovely men, ladies, women, gentlemen, and those stuck in-between. I've done a rendering of a harder-core Porsche 918 Spyder and I figured this would be a nice spot to post it because we all like race cars in the snow here.
I am Anthony, but my mafia alias is Tom Casino, hence the branding of "Casino 119". I used to be known as "Porsche-kid" here as years ago I sent in some of my dodgy photoshops of Porsche cars I saw coming in the future in my young mind; which were received rather skeptically by those who thought it was another Porsche scam from Top Gear, but little did they know the images were mostly copy and paste jobs by some kid from Porsche's configurators. :-)
Since that time I've done a few other renderings which can be seen on my old "Carrara Design". Didn't have the leisure of posting any of those on oppo as it didn't exist at the time, but I did have the honor of having my work published in Top Gear magazine (or so I was told) without my permission, but I don't know anybody who would be angry about that (unless they're useless, greedy, and like large sums of money, as do I).
I haven't done anything in awhile, but now I'm on to something new, and I hope I can share my work here! If it helps with "being accepted" at all, I love manual, turbo-diesel station wagons, and I am currently on the search for an NA Miata. :-)
Anyway, about the rendering! With the Porsche 918 Spyder having just debuted in Frankfurt, I thought it would be wise to finally publish my 918 "RS" rendering I've been procrastinating on for 4 months (which is NOT just a copy paste photoshop job this time! Actually, I'm not wasting $4,562 on that "Adobe" program Subaru drivers from Vermont flock towards. That's too mainstream, and free "GIMP" works just as well). ;-)

I did this rendering for a Teamspeed.com member and potential customer of the 918 Spyder who wanted to see what an RS version would look like, in hopes he can persuade the oh so precise Germans at Suttgart to build it, which I don't think will happen, even though this mysterious man we speak of has bought 30+ or so new cars from Porsche (that's an estimation don't quote me!), and claims he could "get it done tomorrow" if he really wanted to. I can understand this statement as his mail box is regularly filled with invitations to Germany, cool pens, and even expensive "918 Spyder" branded leather jackets in attempts to butter him up in hopes he'll order the car. Oh, and because there are 300 or so unspoken for.
Based upon the "Weissach Package" which adds lightness and some nifty carbon fiber bits (and $100,000), the 918 RS goes Spec-Miata on steroids with an extended splitter, dive planes in the front, a Euro Teamspeed plate that is good for another 43hp to the front wheels, an RSR style rear wing, a tow hook for those sticky situations when your PDK stalls out on Rodeo Drive, mesh covered intakes, black and gold accents, some snow and many other minute changes (such as no more glaring panel gap! Yay.)
The wheels I chose to go with are HRE 501's apart of their vintage series, but because this is the 918 and we don't like the simplicity of 5 lug wheels, they have been converted to center locks. I've noticed nobody seems to like these wheels though, so I made two others.
Here is one in the classic Chartreuse Green with the RS Spyder center locks.
And another in Guards Red with HRE P40SCs.
A huge thanks goes out to Adam or jdmek on flickr for letting me use his awesome photo of a snow covered Nürburgring Nordschleife! He has many great automotive related photos if you're interested.
The base I used for this rendering to prove I didn't copy and paste 93% of it can be found here.
Thank you for taking the time to read this if you weren't bored after the first sentence (sorry for the length, just thought I'd do a proper intro). I hope you like it and please tell me what you think!