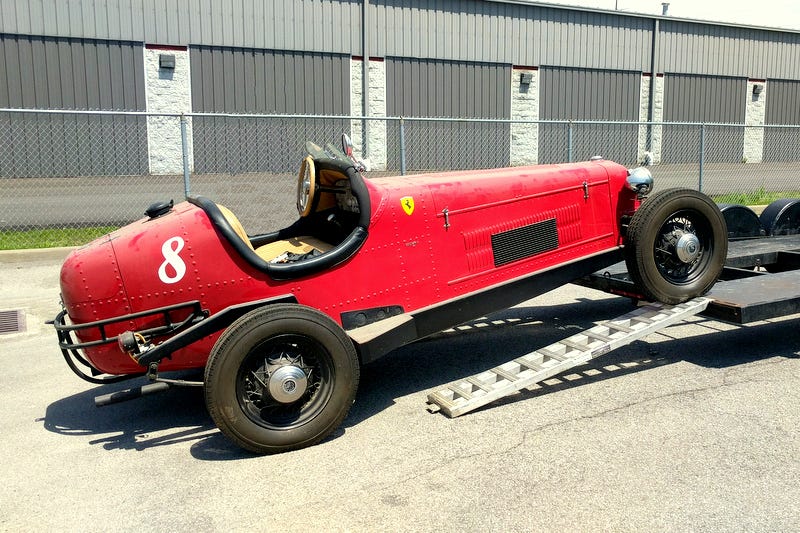 Many Ebay car buyers feel protected by the little shield and the words "Vehicle Purchase Protection" which appear on each car ad on the site. That shield and those words do not do what most people expect, and I have the stories to prove it.
I've written about this before but I got a call this past week from a guy going through a bit of hell with a car he bought on Ebay. That's the car in the top pic. And yes, this means I have done a topic based on a request. Erik told me I could use his story (and pics and name) as a cautionary tale for others who might let their guards down when car-buying on Ebay.
If you are curious, that car is a 1932 Alfa Romeo 8C Monza Base Convertible tribute car and Erik was the high bidder. Although the seller was in Canada and the car was in a storage facility with unpaid fees, he managed to get possession of the car.
This tale goes sideways when the title showed up. It was a mish-mosh of skips, missing signatures and other things which only make DMV workers tell you No. Unable to solve the title issues in any way that might seem reasonable, Erik filed a claim with Ebay's VPP and then found out that this transaction was not covered by the plan because he had gotten A title. It wasn't relevant that the title he got was useless; it was only relevant that he had gotten A title.
You can go read the VPP rules yourself. They are weird and maddening. And, they are quick to point out that they are not insurance and they are not Ebay. But that's another story.

Here is the audio:
And the video:

Follow me on Twitter: @stevelehto
Hear my podcast on iTunes: Lehto's Law
Steve Lehto has been practicing law for 25 years, almost exclusively in consumer protection and Michigan lemon law. He wrote The Lemon Law Bible and Preston Tucker and His Battle to Build the Car of Tomorrow.
This website may supply general information about the law but it is for informational purposes only. This does not create an attorney-client relationship and is not meant to constitute legal advice, so the good news is we're not billing you by the hour for reading this. The bad news is that you shouldn't act upon any of the information without consulting a qualified professional attorney who will, probably, bill you by the hour.