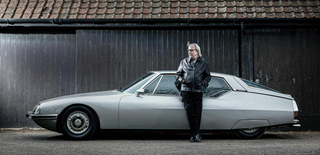 After 44 years of ownership. The former Rolling Stones bass-player bought it in 1971 and in this period he only managed to travel 45.000 kilometers with it. I wonder if this low mileage has anything to do with reliability of the car or if he's just very careful with it...
His fellow Rolling Stone Charlie Watts bought an SM at the same time and story goes he didn't drive it at all. And the whereabouts of this car are a bit unclear.
Bonhams is supposed to be selling this one, along with some of Wyman's Mercedes-Benzes, in an auction in June. It's not on the site yet, info (and picture) is coming from Dutch magazine Octane.