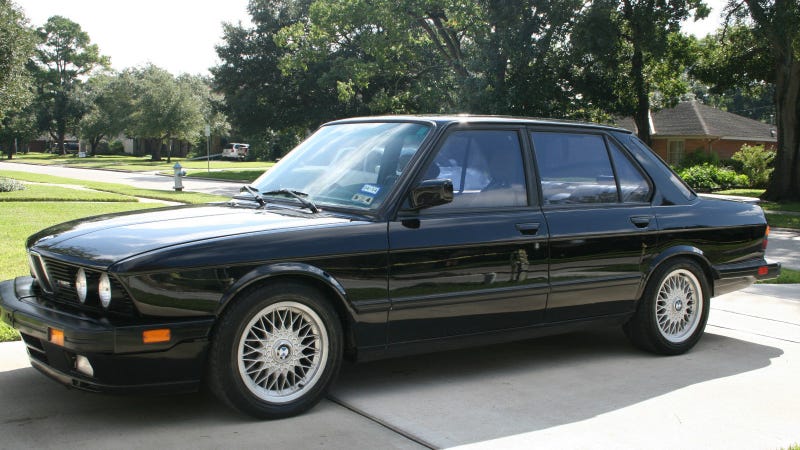 Darth Vader would have looked like a chump in a Laguna Seca blue suit, so why would you want an ///M car covered in anything other than black? Find this 1988 BMW M5 E28 currently bidding for $13,700 on ebay with 3 days to go in Houston, TX.
The E28 generation BMW M5 was only imported for one year and is one of the few affordable used BMW ///M cars. It was also the first ///M car and was only imported to the US in 1988 and only came in black with a manual transmission. In fact, the only option was heated seats as the base M5 was decked out with leather, a big inline-6 and all the creature comforts you'd want in 1988.
The E28 is an uncommon sight on the road today, with only 2000 built for worldwide consumption. Expect prices to be bullish for the next few decades as these transform from cheap drivers to garage queens. It is certainly part of the automotive cycle and Adam Kaslikowski of Petrolicious recently wrote a short article in support of the garage queen that was featured in must read is certainly worth a read.
Standard for the M5, but uncommonly good, was the big six under the hood, a dual-overhead-cam 3.5 liter S38B35 pumping out 256 horsepower back when the 5.7 liter V8 in the Corvette only made 245 hp. The S38 is a cantankerous and thristy monster, so be aware that small jobs are going to cost Honda rebuild prices..but the noise it makes at a boil justifies the price tag.
The interior of this one looks in good shape and those original seats look uncommonly good for a piece of cowhide that has been sat on for 108,000 miles. Someone with a soft butt (or seat covers) took good care of this black beauty.
See a better E28M5 for less? email us here: tips@dailyturismo.com
Originally posted as 15k: Always Bet On Black: 1988 BMW M5 E28 on Daily Turismo.
Photo credits: ebay.