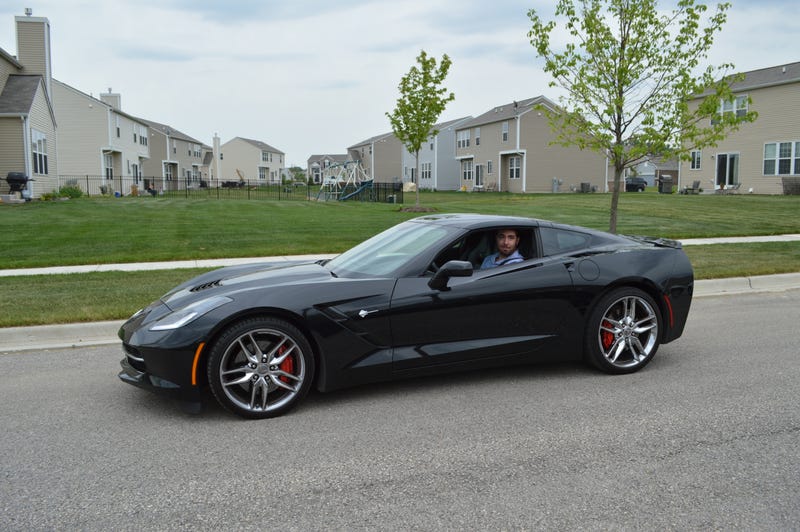 It's been a couple days since I drove something I never thought I'd get to drive. And the experience has left me speechless, something I'm not prone to do as all of you can attest. My mind couldn't come up with any lovely descriptors or anything with rich prose. Rather, it just keeps coming up with dirtier expletives!
And fittingly so the 2014 Corvette C7 is an expletive car. The looks, expletive. The engine, major expletive. The entire package, holy shit this should be illegal. Sorry the expletives couldn't be held back any longer.
This little adventure of mine started out about a month and a half ago when my soon to be cousin-in-law told me that he had rented a brand new Stingray convertible for his wedding. I restrained myself from being a terrible person and asking him if I could drive it. Using an advanced form of non-terrible person telepathy called "speech"; I begged and pleaded with him to let me have the keys for a little bit! He knew I wrote about cars and said sure. (Jumping up and down in my head!)
When the big day came (big meaning the wedding for my cousin and the Corvette for me) the ceremony was wonderful, but I didn't see the car. The weather that weekend had been a bit cloudy and rainy so I wondered if he had still rented it. I wouldn't have blamed him if he hadn't. Nevertheless, as my wife and I strolled back to our car I caught a glimpse of something in the parking lot, a black C7 hardtop. I knew he had specifically stated that he went for a red convertible so I didn't get too excited just yet.
An hour later, we finally got to the reception, we said our hellos and congrats and again, I restrained myself from immediately asking about the car. (I wanted it to be the first thing out of my mouth.) After all the thank yous, I asked and my new cousin said he did rent it and pointed down the street to where the car was parked. A brand spanking new black C7 hardtop, looking as menacing as can be.
I actually waited a full 15 minutes to relax a bit and not bug the newlyweds. Then I couldn't take it any longer and asked if I could have a go. He threw me the keys and I calmly walked to car. (Meaning I ran like an idiot as fast as humanly possible.)
I opened up the door, slid myself into the buckets and pressed the starter button. (Here come the expletives.) The monstrous V8 roared into life like it was ready to attack innocent bystanders. Whereas a Ferrari V8 has more of a high-pitched shriek to it, this American V8 sounds like it's busting through the gates of hell to pillage its way through your damn Commie Town! When the engine starts, it sends shivers down my spine like it's coming for your soul.
I rolled it on down the street to where the wedding was so I could grab my wife and my camera gear. At this point, someone yelled out, "do a burnout!" I looked over to the new groom and he gave me the thumbs up! Therefore, I gave my tech savvy brother my camera and told him to shoot a video! This did not work.
I ripped a great burnout, and the only video I have is blurry and silent. GREAT!
Apart from my technical difficulties, sadly, this Corvette wasn't the 7-speed manual, but rather the 6-speed auto. Now I know that there has been a lot of bad press about this transmission, but I think they got their reviews all wrong. This 6-speed coupled with this "oh-shit" engine, this is how Chevy describes it, are actually perfect mates.
The engine is so ferocious that you need a little pause in the transmission so that you can brace yourself once again before the savagery of the next shift. It was these pauses that I absolutely loved because you knew what was about to hit you!
And this car is most definitely a savage. The speed at which you get to very, very illegal speeds boggles your mind. You just plant your foot and you are easily doing 100-140mph, "allegedly."
(This is me giggling like an idiot)
During my limited time, I also persuaded my dad to hop into the car. His experience with cars is pretty limited. He has a BMW Z3, which he absolutely loves, but that is pretty much his knowledge base on cars and speed. While waiting for a gap in traffic I asked him "what is the fastest car he has ever been in?" He started by saying the Z, and then quickly remembered he had once gotten a ride in a C5 Vette. I knew at that moment he was in for a trip. When I got the gap I needed, I pulled out and said, "just wait" and punched it. The look on his face was priceless. It was a mixture of terror, g-force, and ultimate enjoyment! With this, I was laughing hysterically! After I got off the gas he turned and looked at me and said, "Yeah, now that was fast!"
This car in the strictest sense is a beast, but it remains a beast you could live with daily. The suspension is comfortable even in track mode, which I never took off. The seats are super comfortable and are great at keeping you in place while let's just say going around a turn vigorously.
My only real gripe and realistically it would be more of an adjustment, would be for Chevy to lower the seats a bit more because at 6'4", it's a tight fit. In addition, the steering would benefit from a bit more weight. It wasn't numb by any means, but it could use a little more resistance built in. However, while actually driving this car the steering is beyond accurate, almost telepathic.
Like the Camaro article that you all "loved", this car showed me what American cars could be. Over the course of my life, I have had the opportunity to drive many amazing cars, but this one has made the very top of my list. This my friends was my first Vette, and for it to be this model, I was awestruck.
I can't find better words than "world beater" and "holy crap, holy crap, holy crap" when talking about this car. It's hard to see how any other sports car could live up to this. If measured only by the number of smiles alone, it should cost ten times what it does. Chevy knocked it out of the park with this car, and I can't wait to see what they do with the bonkers Z06!
Skip to around 745 for a better burnout with sound!
You can find me here on Twitter too!
Here are a few more pictures, I took a lot.