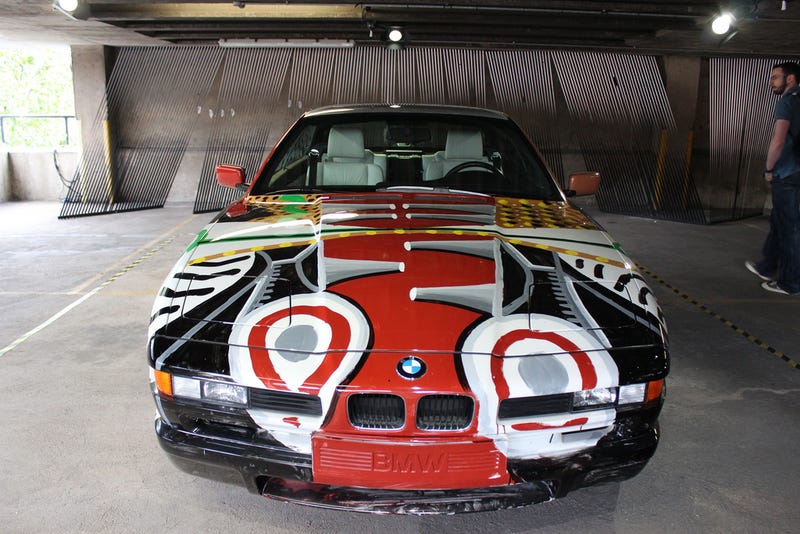 "We see the beauty within and cannot say no."- Dave, Eggers, A Heartbreaking Work of Staggering Genius. Welcome to another chapter of the BMW Art Car series, where we look at David Hockney's project and his inner perspective of this 1995 BMW 850 CSi.
How would a car look like if the exterior displayed the inner workings of the car, with its engine roaring, the owner shifting his/her life away, and all that comes along with said owner: dog, grocery bags, suitcase, cellphone, etc…? Hockney spent several months painting his car to look just like that.
You can feel the scorching heat of the 5.6-liter V12 vigorously pumping out its 380 horses just by looking at it. At the same time you can appreciate the artist's openness by giving away his personal space through his paintbrush. However, he also included the outward landscape because "traveling around in a car means experiencing landscapes", giving us the reason why he chose to use the color green in some parts of his BMW.
Here is an interview with the artist and his car.
Here are links with more information about the car:
http://www.bmwdrives.com/artcars/bmw-ar…
http://www.bmwartcarcollection.com/2011/05/14-dav…
http://www.carstyling.ru/en/entry/BMW_8…
Thanks to CraigM and his awesome photos! Visit his flickr page and enjoy!