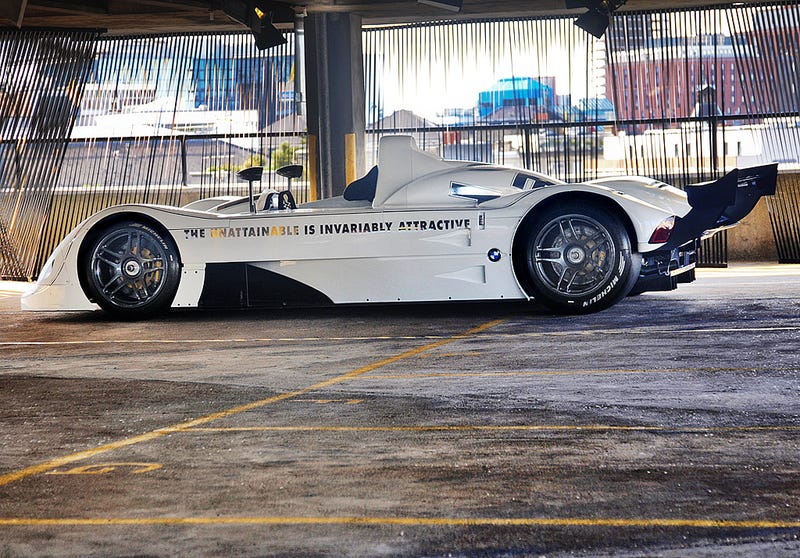 Welcome to another chapter of the BMW Art Car series, where we look at the intimidating yet minimalistic approach of Jenny Holzer's project, using a BMW V12 LMR as her starting point.
The only things done to this car were some phrases painted in all sides of the vehicle. However, if you read them, you'll understand how each word fits the epicness this car oozed when it was at Le Mans eating Toyotas, Mercedes, Audis and Nissans for breakfast, brunch, lunch, dinner, and midnight snack (it won the 1999 Sebring 12 Hours and the 1999 Le Mans 24 Hours). To help it eat like a champ, a 6.1L V12 provided 580 horsepower to propel its 2000 pounds of carbon and aluminum.
"Protect me from what I want", " You are so complex you don't respond to danger", "The unattainable is invariably attractive", "Lack of charisma can be fatal" and "Monomania is a prerequisite of success"…epic phrases for a badass car.
Here is a video clip (skip to 2:25) and a sound bite of the BMW LMR V12.
http://en.wikipedia.org/wiki/File:BMW_…
You can find more information about this car in these links:
http://www.bmwdrives.com/artcars/bmw-ar…
http://zerodownforce.blogspot.com/2009/09/my-5-l…