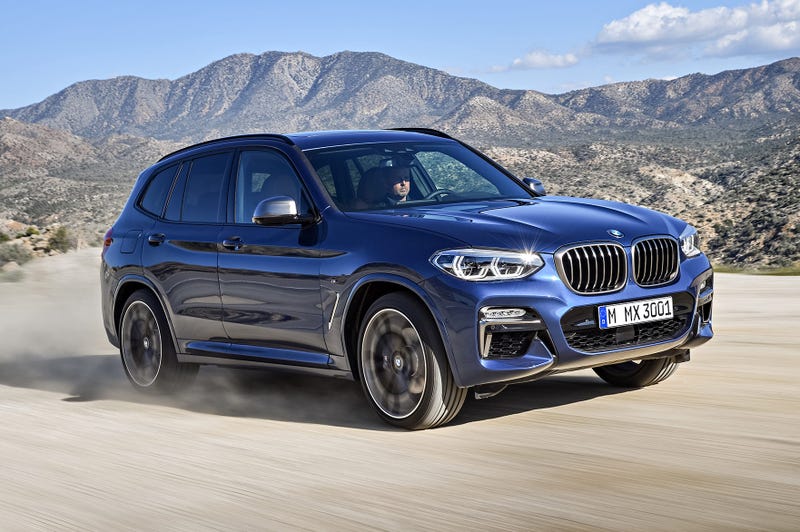 The new 2018 BMW X3, like most of the rest of BMW's lineup, comes equipped either with the B48 single turbo inline-4, tuned to 248 hp, or the B58 single turbo inline-6, tuned to 355 hp. But several of the articles about the new X3 talk about twin turbo motors. These articles are incorrect.
BMW calls any turbo motor equipped with a twin-scroll turbo a TwinPower Turbo, regardless of how many turbos are attached to the motor. For example, the N20 & B48 single turbo inline-4, and N55 & B58 single turbo inline-6 motors have TwinPower Turbo branding, in spite of having only one turbo. This is the B58 as installed in an F30 340i:
For comparison, here is an F01 750Li, equipped with the N63 twin turbo V8:

Which one has how many turbos? You wouldn't know from looking at their plastic engine covers.
I started reading about the new 2018 X3, which looks potentially promising to me in spite of many people hating the ever-growing proliferation of crossovers, because I am on record as genuinely enjoying the previous X3 xDrive35i M Sport.

Several articles refers to the new X3 as coming with twin-turbo motors, which confused me, because the rest of BMW's current lineup comes with the single-turbo B48 and B58. At first I wondered if BMW was introducing some new mass-produced twin turbo motors on the X3, but the B48 and B58 are both very new. Then I realized, these articles must've been confused by the TwinPower Turbo branding.
Here are articles referring to the supposedly twin turbo new X3:
BMWBlog (really, guys?)
Here are articles that don't say twin turbo, but also don't specify number of turbos:

Here are articles that either mention at least one exact engine code, or specifically say single turbo, or refer to the 2018 X3 as having the same engine(s) as other known, single-turbo models:
Yes, BMW calling a single turbo motor TwinPower Turbo is stupid and confusing. But come on auto writers, at least don't call it a twin turbo motor!