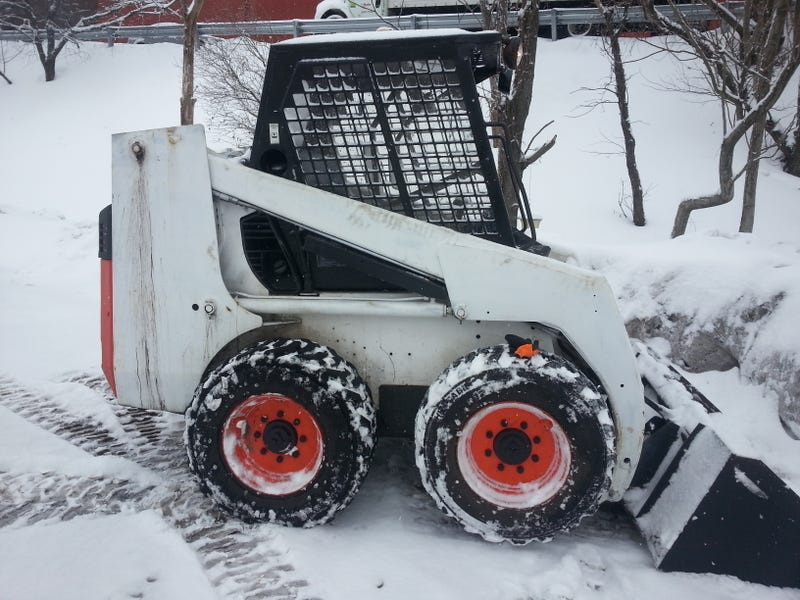 It's diesel, all wheel drive, and weighs more than a pickup truck. Did I mention it is a diesel?!
[full disclosure - Bobcat produced this machine years ago so that I can operate it to clean snow and freeze my ass off.]
The Bobcat skid steer is a well known machine that dates back to the M60 loader of the late 1950s. The Bobcat has taken the Jeep wrangler approach through out its evolution. For instance, the post 2000 models have heat, a/c, doors, and addresses the NVH issues (optional). If you need a machine that can accomplish your contracting/farming business while suffering in the weather, this is the one you need.
Exterior 5/10
It is white and allows it to be seen in working conditions. It is a homely looking machine, there is nothing captivating about its design. There is no Hoffmeister kink, mean drunk tail lights, nor flared quarter panels. It is just a machine with many functions in mind. Almost all Bobcats have a functional look. It's not going to win best show from the guys of cars and coffee. The roll over protection prevents you on being the front cover of Tractor Roll Over Magazine.
Interior 4/10
I only took one picture of the 853 so here is something I dug up from the internet
It has a seat, a throttle control, foot pedals to control the bucket/arm, and the two sticks. There is a safety bar to prevent the machine from creeping and holding you in place after hitting a collar on a manhole. The throttle has the settings of turtle slow to distance runner sprinting fast. Control and direction of the Bobcat are guided with the two sticks like a tank. Full aft forward of the sticks makes you go forward. You get the idea. A gauge cluster hangs at the top of the cabin.
Gearbox 7/10
It is a hydrostatic transmission that delivers the traction through chain drive. So it is only two speeds which are reverse and forward. If you wanted a manual transmission on this, you are nuts. This transmission endures a lot of work from the machine so I give a bonus in points for it. It's not triptronic steptronic crap so if you're looking for this on a skidsteer you're asking too much or should ask Ferrari to build you one.
Ride and Handling 0/10
LOL. It won't oversteer around a bend but it will turn on its own axis.
Toys 0/10
ROFL You're kidding me right?
Audio 5/10
I like the sound of a four pot Kubota diesel, it sounds angry. Giving it full throttle sounds like it is about to shoot a rod out the block. The benefit from all the noise is that you can't hear what the outside world is doing. So you can either sing Radiohead to yourself without looking like an oddball or curse the damn ice forming on the road. Also at idle, you can't really hear what your boss is saying.
Practicality 9/10
It has the length of a classic mini and fits onto a trailer with ease. It weighs 6500lbs and fits in the smallest of spaces with its skid steer turns. The bucket can scoop and pile any material with no problem. I love the practicality of the Bobcat and can go on about it.
Acceleration 9/10
This Kubota engine has guts. If you goose the throttle and slam the stick forward hard enough, the Bobcat can do a wheelie and all of your NHRA drag race wheelies will be lived. Actually no I don't recommend this and assume no legal responsibilities. Ir's quick for a 6500lb object that is made of pure steel. Horsepower isn't the end goal here but torque is needed.
Comfort 2/10
It has a seat that I can sit and feel no shakes. The no heater option and no door on the Bobcat really take a toll on you when you operate in those conditions. You can fart in the cabin with no repercussions, so at least that is a viable option. The vibration of the machine isn't bad but the windows rattle due to it.
Value 10/10
Yes it has better resale than your MOAB ready 1999 Wrangler painted primer with obvious Bondo patches even though you are asking 15,000 firm on Craigslist...and it is a 2.5L for further insult. This machine has great resale value especially if you are willing to un-mothball an example like this one which sat in neglect for sometime. You can make a profit by renting it out or doing clean up for example. Parts are expensive and obtained through no nonsense dealers, but its a price you have to pay for a machine of this caliber. Also what other machine can accomplish this:
Maybe other skidsteers, but this is a Bobcat verdammt!
Subtotal 51
Yes I can count and which amazes me even further. Overall the Bobcat 853, is a great skid steer for its practicality and its attitude of function over form. There are other skid steer brands that are better but I haven't operated them, only bobcats so I can't tell you how a John Deere is better. I'll give it 9 extra points for being a diesel since Oppo likes compression ignition engines a lot
Final score 70/100 Or Equivalent to 9.5/10 on a IGN rating.
It's like Skyrim but with diesel skidsteers.
Specs
Rated Operating Capacity (SAE)
1700 lbs
Tipping Load
3420 lbs
Operating Weight
| | |
| --- | --- |
| Engine Cooling | Liquid |
| Emissions Tier (EPA) | N/A |
| Engine Fuel | Diesel |
| Horsepower | 58 HP |