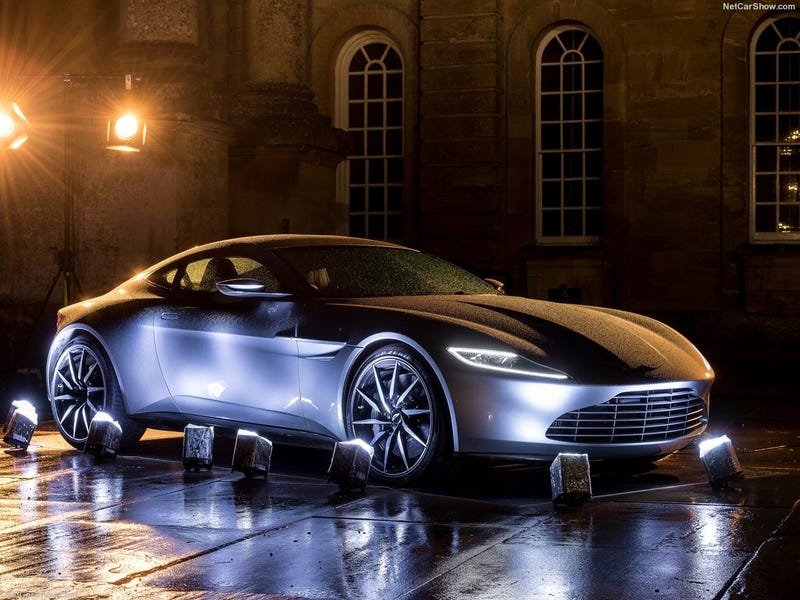 Today, I was bored in class and began to think about things (as you do). Being a massive Bond fan, I'm always striving to figure out in what ways I can live a Bond lifestyle on a budget. One of the biggest ways to live a Bond life is to drive a Bond car...and I wondered, what is the cheapest Bond car you can buy today? So, I decided to do some research, and this is what I came up with: Every Bond car ranked from cheapest to most expensive.
22. Renault 11 - $1200
Some of you may be ready to close off this tab and go look at something else, but the Renault 11 is very much officially a Bond car, though it may be the most unorthodox on this list. Though it was only featured in the beginning of A View to a Kill, and was subsequently chopped to bits, it was driven by Bond, and I think that counts enough. I found one for sale in the UK, all it needs is a spray of blue and you can ride with all those DB5s for under $2000.

21. BMW Z3 Roadster - $4000-$10,000
Only getting a whopping 5 minutes of total screen time, I always thought the Z3 was the biggest missed opportunity of Goldeneye, even if it's my favorite film in the series. However, if you completely disavow the Renault above, you can have this for anywhere in the sub-10k range, and the best part is they still look great.
20. BMW 750iL - $5000-$10,000
Not a day goes by that I don't think about buying an E38 7 Series, and Tomorrow Never Dies certainly helped my lust for them. Thankfully you can capture one of these top of the line examples for under 10 grand. Re-inflating tires not included.
19. AMC Matador Coupe - $10,000
So, this one wasn't driven by Bond, it was in fact driven by The Man with the Golden Gun's baddie, Scaramanga. Still, it's a memorable car in the franchise because it's the first (and only one so far) in the franchise to fly. You can get one of these gorgeous early Malaise boats for somewhere around 10 grand.
18. Lincoln Mark VII LSC - $5000-$13,000
Now you're really thinking I'm crazy, but yes, Bond did indeed drive a Lincoln Mark VII in Licence to Kill. I love Licence to Kill, so I thought it best to include one of the lesser known cars here, and they're really a bang for the buck.
17. AMC Hornet - $13,000
The other famous AMC from TMWTGG is the AMC Hornet which Bond used to chase after the Matador featured above. They're just slightly more expensive than the Matador, but still a decent price. I wouldn't recommend doing a barrel roll with one, however.
16. Jaguar XKR - $9000-$15,000
This is another one that's not driven by Bond, instead being driven by former Fast and Furious baddie Rick Yune in Die Another Day. It did gain some fame, however, being the first baddie car to be decked out with the same amount of gadgets as Bond's Aston Martin. I really like these, so I'm usually looking to buy one in the first place, and I'm happy to say they seem to stick around the low ten thousands.
15. Sunbeam Alpine - $10,000-$15,000
Anyone who's anyone knows that the Alpine is genesis for Bond cars. Driven in a small chase during Dr. No, this small roadster began a long line of Bond staples that lasted throughout the whole series. It's not a half bad little roadster, either.
14. Alfa Romeo GTV6 - $18,000
Yes, even James Bond has had a taste of the Italian flair of Alfa Romeo, stealing this choice grey/brown GTV6 from a fraulein in Octopussy. Top Gear ranked this the best Bond bang for your buck in their special on Bond cars, and I wouldn't disagree.
13. 1969 Mercury Cougar Convertible - $20,000-$40,000
Another car that was never driven by Bond, in fact it was driven by his wife, Tracy. But it is quite a special car, as it takes place in a thrilling ice chase that involves a lot of Mini Coopers as well. As with all American muscle cars of this era, they're steadily climbing in value, but they aren't exactly expensive.
12. 1971 Ford Mustang Mach 1 - $20,000-$50,000
Another Ford product, as per some big advertising deal they did for Diamonds Are Forever, and this one is very famous. It is that very Mustang that Bond drove on two wheels in a Las Vegas alleyway. Just like the Cougar, it's steadily rising in prices, however they're still somewhere within a sweet spot for now.
11. Lotus Esprit Turbo - $50,000
Don't get too excited, this isn't the submarine. In fact, it only shows up for a minute before self-destructing. But, the Esprit Turbo is too radical to not include, and depending on condition, I'd say it's a better buy than the first generation submarine.
10. Lotus Esprit S1 - $30,000-$60,000
This is the one you're looking for. Yes, this is the Lotus Esprit that famously turned into a submarine in The Spy Who Loved Me. That plus it's year could probably account for it being slightly more expensive than the turbo, but I'd say it's a price to pay for that gorgeous wedge shape. Can you swim?
9. Aston Martin V12 Vanquish - $55,000-$140,000
This is probably my favorite Bond car of all time. Yes, Die Another Day was shit, but seeing these gorgeous lines back when I was 7 made me love Aston Martin immediately. It was so badass then and it's still badass now. Thankfully, you can't buy one that turns invisible with some gimmick, but regular Vanquishes can be had for under 100 grand, or you could splurge for the faster Vanquish S for a few ten thousand more...
8. BMW Z8 - $150,000
Another personal favorite, because I believe this was the first Bond film I ever saw. I also cried like a bitch when I saw the Z8 get cut in half, but I digress. Still, I'd say this is the point where the cars start to become unobtanium, because Z8s are definitely not cheap. Still, for that design and those internals, I'd be willing to sell some organs.
7. 1969 Aston Martin DBS - $170,000
Ahh, yes, the forgotten Aston Martin driven by the forgotten Bond, George Lazenby. These aren't really that sought after, so compared to other Aston Martins of the vintage, they aren't that expensive. But they're still an Aston, so it's not like you're gonna find one for the price of a Camry.
6. Aston Martin DBS V12 - $120,000-$190,000
Now, this is what most people think of when they think, "James Bond DBS." When this car came on the screen back in 2006, most gearheads creamed upon seeing those lines, and creamed again after hearing its noises echo throughout Montenegro. The good news is that they've come down on price. The bad news is they're still more expensive than most new sports cars. Decisions, decisions.
5. 1987 Aston Martin V8 Vantage - $400,000
Alright, before someone yells at me, I know that the V8 coupe in The Living Daylights was not a real Vantage, but I like to believe. And I believe that the prices on these 80s Vantages are outrageous.

4. Toyota 2000GT - $300,000-$500,000
We've had French, German, Italian, and American, but this is the only Japanese car on this list, and how shocking that it's one of the most expensive cars here. But can you blame it? Unfortunately, unless you carry the weight of Sean Connery, you won't be able to get a topless one, unless you break out a sawzall on your $500k car.
3. Bentley 3 1/2 Litre - $500,000-$1,000,000
Though it doesn't have much screentime, this Bentley is a very special car for Bond fans, as it is the original Bond car from the Fleming novels. It only got a small part in From Russia With Love, and by Goldfinger, it was deemed that it'd, "had its day." In fact, this was the only car for this list that I couldn't find a definitive price on, but reports put it around the $500k range, and I could imagine it fetching more.
2. 1964 Aston Martin DB5 - $1,000,000
I bet you were expecting this car to reach number 1. After all, it is the most famous Bond car, ever. It's been featured in seven films (eight if you count deleted scenes), and has gained worldwide notoriety for just being...it. The price shows it, too. But that was to be expected.
1. Aston Martin DB10 - $3,500,000
But in fact, the most expensive and hardest to obtain Bond car from this entire list is the most recent one, the DB10 from Spectre, which recently went for a cool 3.5 million at an auction. They only built 10 of these, so that might explain that. They say one's at the bottom of the Tiber...so if you want to go fishing, be my guest.