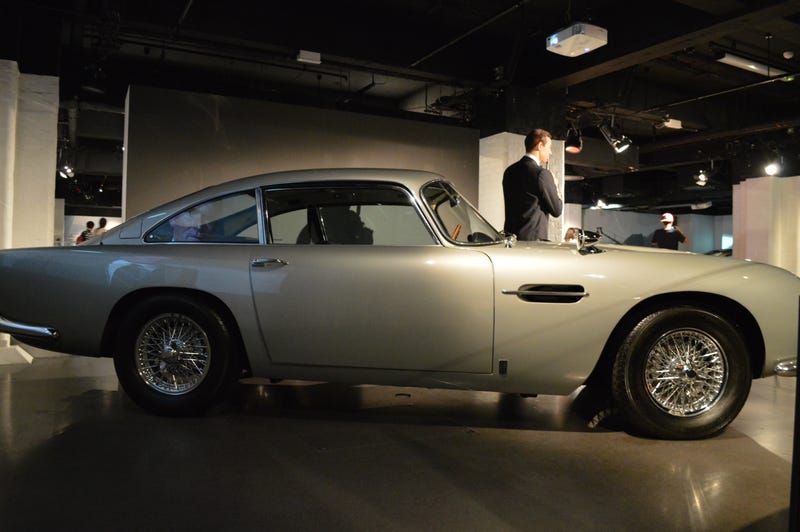 James Bond is a cultural icon, and the vehicles used by the British spy have become icons themselves. The London Film Museum is currently hosting many of these mobile icons, and I'm not just talking about the ones on four wheels.

When you come into the entrance, you are greeted by Little Nellie overhead. It is the bare minimum needed to propel a human and shoot down enemy helicopters. Only the bravest or most insane need apply.
Upstairs, the exhibit features story boards and concept art. The story boards are beautiful in themselves and could be a comic book.
Heading back down stairs, you enter a dream world where vehicles and items that you only knew from film stand before you.
Behind most of the vehicles they play movie clips featuring the vehicle. Through most of the exhibit, it was dark and flash photography was not allowed. My wife and her camera did their best.
Bond doesn't travel just by land though, as we are reminded by these exhibits.

And for when you have to travel by land and sea...
While the Lotus sub is impressive, nothing will give you chills quite like the original Aston Martin spy car. The DB5 is so beautiful in person, it exceeded my already high expectations.
They even had cars from the recent Bond movies as well, in all states of condition.
Scattered throughout the exhibits were models, props, and smaller vehicles.
If you have the chance to see this exhibit, please go and see it! It does cost money to get in but IT IS WORTH IT! You have until November 11th to make it though so don't wait too long.
Images courtesy of my awesome wife.